Book a Boston Field Trip Charter Bus Rental in Less than 60 Seconds
Looking for a charter bus in Boston for your next academic event? Look no further than CharterUP! We offer an easy-to-use app that instantly connects you to more than 4,000 vehicles across the country that are perfect for school trip bus rentals, whether you need a campus shuttle at Boston colleges, a safe field trip charter bus rental to the Boston Commons, and everything in between. Use our app today and book your perfect group transportation solution in 60 seconds or less!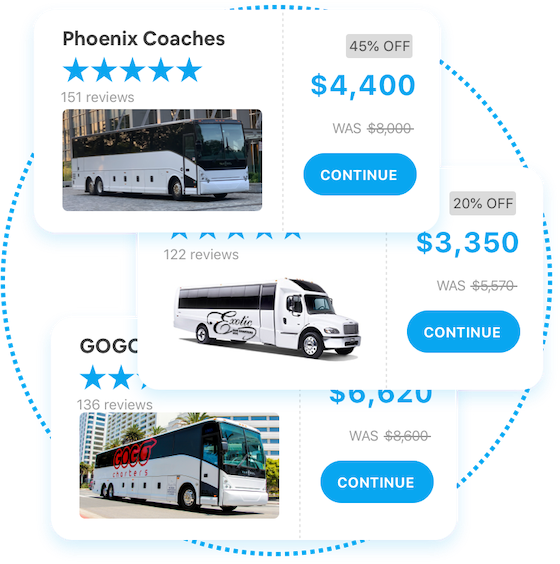 Clients that have trusted us with their transportation needs
Fully Vetted Charter Bus Drivers
The safety and trust of our customers are at the heart of what we do at CharterUP. We only partner with charter bus providers that share our vision for delivering the highest level of service and safety to all customers. In order to participate in our marketplace, each Boston charter bus provider agrees and follows a strict set of standards around timeliness, cleanliness, and customer satisfaction. This means the regular maintenance of each bus in addition to employing trained and highly vetted charter bus drivers to keep you safe.
Choose from Different Charter Bus Amenities
Using our intuitive app, you can filter through Boston charter buses for bus amenities that suit your group's specific needs. Whether this means an ADA-accessible Boston charter bus for students with wheelchairs on the way to the next field trip, or power outlets and WiFi to help college students stay on top of their work on the way to class, you can find what you need in our network. Other common charter bus amenities include onboard restrooms, A/C, TVs, radio, and undercarriage storage. You can check out all the options for amenities on your Boston charter bus when you use our app.
Customizable Shuttle Routes
Need a campus shuttle bus rental at Boston University for a weekend event? What about a recurring shuttle service for students on campus to local hotspots nearby? Or even a Boston charter bus rental to Cape Cod for weekend trips for your high school seniors? No matter what your logistics needs are, whether you need a Boston charter bus for the day, week, weekend, or beyond, CharterUP is ready to take the wheel. You can use our charter bus marketplace to book a single Boston bus or an entire fleet for any amount of time.
Rent Academic Charter Buses in Boston Today
At CharterUP, we value accessibility, accountability, and transparency. As the first charter bus marketplace of our kind, we offer you access to thousands of charter buses in Boston from reputable companies, along with the ability to filter by specific amenities and pricing. We're empowering customers to take their transportation into their own hands. Check out our app today to see how easy it is to book a Boston charter bus for school trips of any kind. You can book one in a minute or less!
Get a Quote for your Charter Bus with our Online Marketplace!
Type of Buses Available and their amenities
Pax
Wifi
Reclining
seats
TV
Power
Outlets
PA
System
Restrooms
Luggage

Charter Bus

55

Minibus

23

Van
Testimonials
"I swear this is the best way to rent a bus."
AbiVegas
10/22/2022
"Charter up is a great service that I and my family has used several times to rent buses and compare prices. Pricing is more transparent and the people at Charter up are super accommodating. The cancellation policy makes it a lot easier to book without any risk. It's such a relief to know where our bus is and who the driver is ahead of time."
Ellen89
01/12/2022
"On the day of the trip I received a tracking link when the bus was on the way. Got a notification that the bus was in front of the lobby to get picked up. The driver was very courteous and thoughtful! We were really satisfied with CharterUp and ended up giving the driver a nice gratuity at the end."
blakecummings
10/06/2021
"CharterUP doesn't cut corners in their customer service. Our trip was on a a busy weekend and we couldn't find available buses to charter our kids to a summer camp. A nice CharterUP agent found us a bus at a reasonable price. So glad we made it happen.. our parents and kids had a happy trip!"
Stevenson
07/03/2022
"We are new to charterUP and could not be happier with our decision. Been through a different bus companies and travel agents and CharterUP is the real deal. Find the costs very competitive to booking directly with the companies but they save you the time and headaches."
Marie D
09/20/2022
"Could not have been more satisfied with the experience of using CharterUP. Amazing staff and the bus we had was very nice and had leather seats."
Tarsha
03/22/2023
"Never thought I would leave a review for CharterUP or any bus rental app out there, but CharterUP delivered on what we asked for. CharterUP was awesome and made our first bus charter experience an amazing one. Their system is great and makes choosing from different bus companies worth our time. The representative agent I spoke to answered all the questions that a first timer like us had."
Imani
08/26/2022
"I used CharterUP for my wedding in Nahant, MA. We had about 100 guests that needed to be shuttled from Salem, MA, to Nahant, MA, which was about a 30 minute trip. I had to make several changes in the itinerary leading up to the wedding, and CharterUP was great at updating the changes and communicating them with the local company. I had a positive experience overall and would recommend them!"
Teresa Z
10/22/2022