Book Your Chicago Charter Bus or Minibus In Under 60 Seconds
Explore the Second City in style with CharterUP. While Chicago may be known for its iconic skyscrapers and bustling streets, its complex underground road system can sometimes leave visitors feeling lost in a maze. Allow us to be your trusted transportation partner in the Windy City, so you can focus on creating unforgettable memories in one of America's most iconic cities.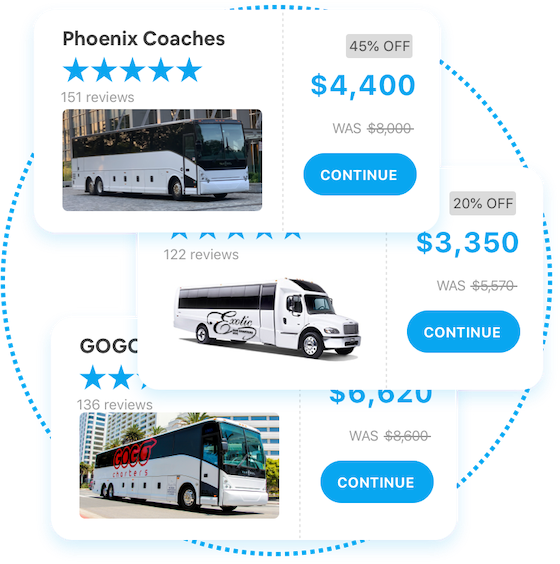 Clients that have trusted us with their transportation needs
How it Works
Charter a bus in under 60 seconds with our revolutionary marketplace

Tell us about your trip
Simply enter your trip details, including the pickup location, destination, travel dates and the number of passengers.

Compare quotes
CharterUP instantly calculates price quotes from different vendors in your area and displays them along with ratings, reviews and pictures of the buses.

Book with confidence
As soon as you confirm your reservation via our secure booking page, you can review your full itinerary and other details about your trip.
Chicago's First and Only Charter Bus Marketplace
Planning a group trip to Chicago, Illinois? Don't stress about the travel arrangements! CharterUP is here to make your life easier. As the first and only marketplace for charter buses in Chicago, we provide instant quotes, vehicle comparisons, and customer reviews so you can find the perfect transportation for your crew.
With Chicago's bustling streets and infamous traffic, navigating the city can be a challenge. But fear not! CharterUP has you covered. Whether you're exploring the Magnificent Mile, catching a Cubs game at Wrigley Field, or taking in the stunning skyline from the Willis Tower, our wide network of drivers and vehicles ensures that you get just what you need to experience the best of the Windy City.
From cozy mini buses for family reunions to spacious motorcoaches for corporate retreats, we have buses of all sizes and types to suit your needs. And if you have specific amenities in mind, like extra storage or Wi-Fi, you can compare vehicles to find your perfect match.
Safety is a top priority at CharterUP. We vet all bus operators in our network to ensure a safe and smooth travel experience. Plus, you can read reviews from real customers to book with confidence.
Ready to book your Chicago adventure with CharterUP? We guarantee a hassle-free experience from start to finish. So sit back, relax, and enjoy the ride as we take you on an unforgettable journey through the vibrant streets of the Windy City!
Discover the Best of Chicago with Safe and Convenient Charter Bus Services
As one of the most iconic cities in the Midwest, Chicago is a vibrant destination that offers a wide array of attractions and events for visitors to explore. Whether you're a local or a tourist, finding reliable transportation can be a challenge. However, with CharterUP's extensive network of verified bus operators, you can easily navigate the bustling streets of Chicago and enjoy all that the city has to offer without worrying about the logistics.
Sporting Events in the Windy City
Chicago is known for its rich sports culture, with a passionate fan base that supports teams like the Chicago Bears (NFL), the Chicago Bulls (NBA), the Chicago Blackhawks (NHL), and the Chicago Cubs and Chicago White Sox (MLB). A charter bus is a great way to transport your group to these thrilling sporting events, whether it's tailgating before a Bears game at Soldier Field or catching a Cubs game at Wrigley Field. CharterUP's network can also help you secure transportation during high-demand times, such as the World Series or playoff games, ensuring a seamless and convenient experience for your group.
Experience Festivals and Events in the City
Chicago is known for its vibrant festival scene, with events taking place year-round that celebrate various cultures, music genres, and culinary delights. From the Taste of Chicago, a food lover's paradise, to Lollapalooza, one of the country's most iconic music festivals, there's always something happening in the city. CharterUP can provide reliable transportation for your group to enjoy these events without the hassle of parking or navigating public transportation.
Explore Nearby Destinations
Located in the heart of the Midwest, Chicago is also a gateway to many nearby destinations that are worth exploring. With a charter bus rental from CharterUP, you can easily take day trips to cities like Milwaukee, WI, just a short drive away, known for its breweries and lakefront attractions. Or venture to Indianapolis, IN, to catch a Colts game or explore the city's rich sports history. Other nearby destinations like St. Louis, MO, and Louisville, KY, are also within driving distance and offer unique experiences for visitors. Let CharterUP take care of the transportation logistics, so you can focus on enjoying your trip to the fullest.
Elevate Your Wedding Experience with Charter Buses for Wedding Parties
Planning a wedding involves coordinating various aspects, and transportation is an important consideration. Charter buses can be a convenient and efficient option for transporting wedding parties, whether it's a bachelorette party on a minibar bus or shuttling guests from hotels to the wedding venue on a spacious motorcoach. CharterUP can provide reliable and comfortable transportation solutions that will enhance your special day and make it a memorable experience.
Bachelorette Parties on Minibuses
A bachelorette party is a fun and exciting celebration that brings together the bride-to-be and her closest friends. Chartering a minibar bus can add a touch of luxury and convenience to the occasion. With a minibar bus, you can travel in style and comfort while enjoying onboard amenities such as a bar area, plush seating, and mood lighting. It's a perfect way to kick off a bachelorette party in style and create unforgettable memories with the bride-to-be and her squad.
Shuttling Guests to Wedding Venues
Transporting guests from hotels to the wedding venue can be a logistical challenge, especially if the wedding is held at a location that is not easily accessible or if there are multiple wedding events in different locations. Charter buses can simplify transportation logistics and ensure that your guests arrive at the venue on time and in comfort.
Popular wedding venues in Chicago such as the Adler Planetarium, the Art Institute of Chicago, and the Chicago Cultural Center are easily accessible by charter buses. Picturesque locations for wedding photography such as Millennium Park, the Chicago Riverwalk, and the Lincoln Park Conservatory can also be conveniently reached with charter bus transportation. Shuttle services can be customized to fit your wedding timeline and needs, ensuring that your guests arrive at each event punctually and without any hassle.
Convenience and Comfort
Charter buses offer convenience and comfort for wedding parties. With spacious interiors, ample seating, and climate control, charter buses provide a comfortable and enjoyable travel experience for wedding guests. Many charter buses also come with onboard amenities such as restrooms, Wi-Fi, and entertainment systems, allowing guests to relax and enjoy the journey.
Customized Transportation Solutions
CharterUP understands that every wedding is unique, and we can provide customized transportation solutions that fit your specific needs. Whether it's a small intimate wedding or a grand affair, we can assist you in selecting the right type of charter bus and creating a tailored itinerary that meets your requirements. Our experienced team can work with you to plan the logistics, routes, and timing, ensuring that your wedding transportation is seamless and stress-free.
Enhance Your Wedding Experience with Charter Buses
Charter buses offer a convenient, comfortable, and reliable transportation option for wedding parties. From bachelorette parties on minibuses to shuttling guests to wedding venues, CharterUP can provide customized transportation solutions to elevate your wedding experience. Contact us to learn more about our charter bus services and let us help you plan a memorable and hassle-free wedding transportation experience.
Explore the Best of Chicago with City Tours and Neighborhood Excursions
Chicago is a vibrant city with a rich history, diverse culture, and iconic landmarks that make it a popular tourist destination. One of the best ways to experience all that Chicago has to offer is through city tours and neighborhood excursions. CharterUP can provide reliable and comfortable transportation for your group, allowing you to sit back, relax, and take in the sights without worrying about navigation or parking.
City Tours
Chicago offers a variety of city tours that showcase its famous landmarks and attractions. Hop on a double-decker bus for a classic sightseeing tour that takes you to iconic spots like the Navy Pier, Millennium Park, the Magnificent Mile, and the Art Institute of Chicago. Learn about the city's rich history, architecture, and culture from knowledgeable guides as you explore the Windy City's top highlights.
For a unique and thrilling experience, consider a Chicago River architecture tour. Cruise along the Chicago River while expert guides share fascinating insights about the city's iconic architecture, including the famous skyscrapers designed by renowned architects like Frank Lloyd Wright, Mies van der Rohe, and Jeanne Gang. See the city's skyline from a different perspective and marvel at the stunning architectural marvels that have made Chicago famous.
Neighborhood Excursions
Chicago is known for its diverse neighborhoods, each with its own distinct character and charm. Take a neighborhood excursion to explore the different areas of the city and experience its local culture. From the trendy and hipster vibes of Wicker Park and Logan Square to the historic and cultural richness of Pilsen and Chinatown, there is something for everyone.
Indulge in delicious food in Little Italy, stroll through the beautiful gardens of Lincoln Park, or shop for unique finds in Andersonville. Take a step back in time with a visit to the historic Pullman neighborhood or immerse yourself in the vibrant street art scene of Pilsen. With a charter bus rental from CharterUP, you can easily navigate through Chicago's neighborhoods and discover the hidden gems that make each one special.
Customized Tours
If you have a specific interest or theme in mind, CharterUP can help you customize a tour that suits your group's preferences. Whether it's a foodie tour, a brewery tour, an art tour, or a sports tour, our experienced team can work with you to create a tailored itinerary that matches your interests. Sit back, relax, and let us take care of the transportation while you enjoy a unique and memorable tour of the Windy City.
Make your Chicago trip unforgettable with city tours and neighborhood excursions that allow you to explore the best of what the city has to offer. With CharterUP's reliable and convenient transportation services, you can focus on the sights, sounds, and tastes of Chicago without worrying about the logistics. Contact us for a quote and let us help you plan an unforgettable tour of the Windy City.
Explore nearby destinations with CharterUP
Thinking about touring a few cities outside of Chicago? With a CharterUP bus rental, you don't have to be limited to the Chicago metro area. Book a bus for a trip to these nearby cities and beyond:
(Miles and times are approximate)
Transporting Chicago Students with CharterUP
CharterUP provides reliable and safe transportation solutions for schools in Chicago and the surrounding areas. With our extensive network of charter buses, we can accommodate various student transportation needs, including field trips and sporting events. Our dedicated team works closely with schools to ensure that students are transported comfortably and efficiently, making their educational and extracurricular experiences enjoyable and memorable.
Field Trips Made Easy
Field trips are an essential part of a student's educational experience, allowing them to learn beyond the classroom and explore new places. CharterUP can help make field trips easy and hassle-free with our reliable and comfortable charter buses. Our buses are equipped with modern amenities such as air conditioning, comfortable seating, and onboard restrooms to ensure a comfortable journey for students and chaperones alike.
Whether it's a visit to the Field Museum, the Museum of Science and Industry, or a trip to the Lincoln Park Zoo, our charter buses can provide safe and efficient transportation for students of all ages. Our experienced drivers are trained to prioritize student safety and follow all relevant regulations, ensuring a secure and enjoyable field trip experience.
Sporting Events on Charter Buses
Chicago has a rich sports culture, and many schools participate in various sporting events throughout the year. CharterUP can provide reliable transportation solutions for school sports teams, ensuring that athletes, coaches, and supporters can travel together conveniently and comfortably.
Our charter buses can accommodate sports teams of all sizes, from basketball and football teams to track and field teams. With ample storage space for sports equipment, comfortable seating, and onboard amenities such as Wi-Fi and entertainment systems, our charter buses can enhance the overall experience of traveling to and from sporting events. Our professional drivers are experienced in handling sports team transportation and will ensure that your team arrives at the destination on time and in good spirits.
Efficient Corporate Transportation in Chicago
From thriving startups to Fortune 500 companies such as Boeing, McDonald's, and United Airlines, Chicago boasts a dynamic corporate and economic climate. When it comes to corporate transportation, reliability, safety, and professionalism are essential. CharterUP understands the unique needs of the business community in Chicago and provides efficient corporate shuttle services for employees. With our extensive network of carefully vetted bus operators, we ensure that all passengers arrive at their destinations on time and in comfort, allowing you to focus on growing your business with peace of mind.
Conferences and Trade Shows
Chicago's central location and world-class facilities, such as McCormick Place, make it a premier destination for conferences and trade shows. The city hosts numerous events throughout the year, attracting attendees from all over the world. When you're in Chicago for a corporate event, CharterUP can provide reliable transportation from airports or nearby hotels to the venue. Our comfortable and well-maintained charter buses offer a stress-free transportation solution for conference and trade show attendees, ensuring they arrive at their destinations comfortably and on time.
Experience Chicago's Vibrant Culture and Thriving Economy with CharterUP
Chicago is known for its rich culture, iconic landmarks, and booming economy. Whether you're exploring the renowned museums, attending a sporting event at Soldier Field or Wrigley Field, or running a business in the Windy City, CharterUP's safe and affordable transportation services can help you get there. Our dedicated team works with you to plan the logistics of your transportation, ensuring a seamless and enjoyable experience for all passengers.
Book Your Charter Bus Rental in Chicago with CharterUP
CharterUP is your trusted partner for corporate transportation and event shuttles in Chicago. We prioritize safety, reliability, and professionalism, and our experienced drivers and well-maintained charter buses are ready to serve your transportation needs. Contact us today to schedule your charter bus rental and experience the convenience and comfort of CharterUP's services in Chicago.
Frequently Asked Questions
How do I know that my group will be safe when we travel with CharterUP?
CharterUP only partners with bus operators who share our vision for delivering the highest level of service and safety to all passengers. All bus operators go through a rigorous vetting process, which includes reviewing safety records, on-time performance, and customer reviews. Additionally, CharterUP requires bus operators to maintain high standards surrounding timeliness, cleanliness, and overall customer satisfaction.
What types of groups typically use CharterUP's services?
CharterUP's services are designed to meet the needs of schools, corporations, sports teams, church groups, wedding parties, and more. Groups and companies that travel frequently can partner with CharterUP to take advantage of additional benefits reserved for recurring customers.
Can I view pictures and reviews of the buses and operators before making a reservation?
CharterUP's online marketplace displays safety ratings, recent reviews, and detailed vehicle descriptions so you can see exactly what to expect when you make your reservation. Our platform also allows you to communicate directly with bus operators, giving you the opportunity to ask any questions you may have and ensure that you're booking the right bus for your group.
How can I make a reservation for a charter bus on CharterUP's marketplace?
Simply input your travel details and our platform will generate real-time pricing and availability from our network of hundreds of bus operators across the U.S.
From there, you can compare vehicles, prices, operator reviews, on-time performance, safety records, and amenities all in one place. Once you've selected the bus that best fits your needs, you can book your reservation and receive confirmation right away.
What kinds of vehicles and amenities can I find on CharterUP?
CharterUP's network of more than 4,000 vehicles includes minibuses, coach buses, and luxurious motor coaches. Amenities can include reclining seats, air conditioning, on-board restrooms, Wi-Fi, power outlets, and entertainment options such as TV screens or DVD players.
What if I need to change my itinerary or cancel my trip?
At CharterUP, we understand that sometimes plans change, and we're here to help make any adjustments as smooth as possible. While it's always best to finalize your itinerary in advance, we know that there are many moving pieces involved in travel, and we're happy to work with you to make any necessary changes or cancellations. Changes can only be made up to 3 days before your trip.
CharterUP also offers a flexible refund policy:
100% refund: Cancellations 30 days or more from pickup
90% refund: Cancellations between 29 days and 72 hours from pickup
No refund: Cancellations fewer than 72 hours from pickup
*All refund percentages are based on the total amount of the booked trip.
For more information about our policies, refer to our complete Terms & Conditions.
How do I pay for my charter bus rental? Is the full cost due at booking?
Once you've found the perfect bus for your trip and accepted a quote, you will be directed to a payment page to confirm your reservation. At that time, a deposit of 10% will be due to secure your booking. The confirmation screen will also show the date by which the remainder of the payment is due. We require a valid credit card to be on file to secure a reservation.
Get a Quote for your Charter Bus with our Online Marketplace!
Type of Buses Available and their amenities
Pax
Wifi
Reclining
seats
TV
Power
Outlets
PA
System
Restrooms
Luggage

Charter Bus

55

Minibus

23

Van
Testimonials
"I swear this is the best way to rent a bus."
AbiVegas
10/22/2022
"Charter up is a great service that I and my family has used several times to rent buses and compare prices. Pricing is more transparent and the people at Charter up are super accommodating. The cancellation policy makes it a lot easier to book without any risk. It's such a relief to know where our bus is and who the driver is ahead of time."
Ellen89
01/12/2022
"On the day of the trip I received a tracking link when the bus was on the way. Got a notification that the bus was in front of the lobby to get picked up. The driver was very courteous and thoughtful! We were really satisfied with CharterUp and ended up giving the driver a nice gratuity at the end."
blakecummings
10/06/2021
"CharterUP doesn't cut corners in their customer service. Our trip was on a a busy weekend and we couldn't find available buses to charter our kids to a summer camp. A nice CharterUP agent found us a bus at a reasonable price. So glad we made it happen.. our parents and kids had a happy trip!"
Stevenson
07/03/2022
"We are new to charterUP and could not be happier with our decision. Been through a different bus companies and travel agents and CharterUP is the real deal. Find the costs very competitive to booking directly with the companies but they save you the time and headaches."
Marie D
09/20/2022
"Could not have been more satisfied with the experience of using CharterUP. Amazing staff and the bus we had was very nice and had leather seats."
Tarsha
03/22/2023
"Never thought I would leave a review for CharterUP or any bus rental app out there, but CharterUP delivered on what we asked for. CharterUP was awesome and made our first bus charter experience an amazing one. Their system is great and makes choosing from different bus companies worth our time. The representative agent I spoke to answered all the questions that a first timer like us had."
Imani
08/26/2022
"I used CharterUP for my wedding in Nahant, MA. We had about 100 guests that needed to be shuttled from Salem, MA, to Nahant, MA, which was about a 30 minute trip. I had to make several changes in the itinerary leading up to the wedding, and CharterUP was great at updating the changes and communicating them with the local company. I had a positive experience overall and would recommend them!"
Teresa Z
10/22/2022