Los Angeles Charter Bus & Minibus Rentals
We believe that every traveler, whether a star or not, deserves a red-carpet experience from start to finish. With our seamless and sophisticated booking process, we'll make you feel like a celebrity on the move. Get ready to indulge in the luxury of hassle-free group transportation with CharterUP. It's time to elevate your journey to A-list status.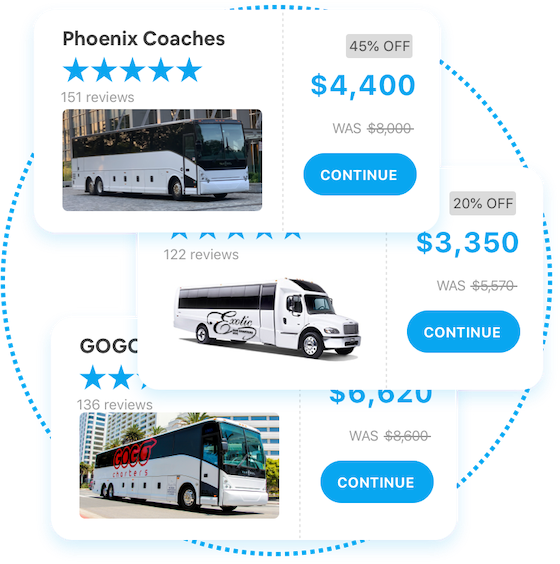 Clients that have trusted us with their transportation needs
How it Works
Charter a bus in under 60 seconds with our revolutionary marketplace

Tell us about your trip
Simply enter your trip details, including the pickup location, destination, travel dates and the number of passengers.

Compare quotes
CharterUP instantly calculates price quotes from different vendors in your area and displays them along with ratings, reviews and pictures of the buses.

Book with confidence
As soon as you confirm your reservation via our secure booking page, you can review your full itinerary and other details about your trip.
Los Angeles' First and Only Charter Bus Marketplace
Planning a trip to Los Angeles with a group of people? Don't stress about the travel arrangements! CharterUP is here to make your life easier. As the only marketplace for charter buses in Los Angeles, we provide instant quotes, vehicle comparisons and customer reviews so you can find the perfect transportation for your crew.
No matter what size or type of group you have, we have a bus that suits your needs. From cozy minibuses for family reunions to spacious motorcoaches for corporate retreats, our wide network of drivers and vehicles ensures that you get just what you need. And if you have specific amenities in mind (like extra storage or Wi-Fi), you can compare vehicles to find your perfect match.
But the best part? You can rest assured that your travel experience will be safe and smooth because CharterUP vets all drivers and buses in our network. Plus, you can read reviews from real customers to book with confidence. Ready to explore Los Angeles with CharterUP? We guarantee a hassle-free experience from start to finish. So sit back, relax and enjoy the ride!
Explore Los Angeles with Safe and Affordable Charter Bus Services
As the entertainment capital of the world and a city rich in culture and history, Los Angeles offers endless opportunities for exploration and adventure. From the iconic Hollywood Sign to the bustling Downtown LA area with its diverse culinary scene, there's something for everyone in this city. Request a quote from CharterUP to make your transportation stress-free and explore landmarks like the Griffith Observatory, the Getty Center and the Los Angeles County Museum of Art (LACMA).
Comfortable Los Angeles Charter Bus Rentals for Sporting Events
Los Angeles is home to various sporting events like the Los Angeles Rams (NFL), the Los Angeles Lakers (NBA), the Los Angeles Dodgers (MLB), and the LA Galaxy (professional soccer). With a charter bus, you can get your group to the game with ease and enjoy a safe ride back home. 
CharterUP's network can also match you to a rental during high-demand times, like for the annual Rose Bowl Game. Plus, you can responsibly enjoy the festivities knowing you have hired a professional designated driver.
Experience the Magic of Hollywood
Los Angeles is synonymous with the glitz and glamour of Hollywood. From the iconic Walk of Fame to the historic TCL Chinese Theatre, there's no shortage of attractions for movie buffs and star-struck visitors. CharterUP can provide convenient transportation for large groups or small, ensuring that all passengers arrive at their destination in comfort.
Explore Nearby Destinations
Just a short drive away from Los Angeles, there are even more exciting destinations to discover. With a charter bus rental, groups can easily explore nearby cities like Santa Monica, home to the famous Santa Monica Pier, and Pasadena, known for its beautiful architecture and the annual Rose Parade. 
CharterUP can even help with a short trip to Disneyland or Universal Studios Hollywood for a day of fun and adventure.
With a CharterUP bus rental, you're free to focus on the fun, not the logistics of getting there. Whether you're planning a family vacation, corporate retreat, or a school trip, a charter bus rental makes it easy to explore the best of what Southern California has to offer.
Popular Day Trips from Los Angeles:
San Diego, CA:

120 miles (2-2.5 hours)

Palm Springs, CA: 100 miles (1.5-2 hours)

Santa Barbara, CA: 95 miles (1.5-2 hours)

Las Vegas, NV

: 270 miles (4-4.5 hours)

San Francisco, CA:

380 miles (5.5-6 hours)

Yosemite National Park, CA: 280 miles (4.5-5 hours)
(Miles and times are approximate.)
Explore The Diverse Culture of Los Angeles With Live Entertainment
Los Angeles showcases its diverse culture through various festivals and events that attract visitors from around the globe. From the LA Pride Festival, celebrating the LGBTQ community, to the LA Times Festival of Books, highlighting the city's literary scene, there is always something big on the calendar.
The Crypto Arena (formerly known as the Staples Center) and the Hollywood Bowl are two popular venues that host concerts, plays, and other performances. No matter your taste in music or entertainment, CharterUP can provide convenient transportation for large groups or small.
Let CharterUP coordinate the details so you can coordinate the fun.
Hassle-Free Airport Transfers
Los Angeles International Airport (LAX) is one of the busiest airports in the world, serving millions of passengers each year. However, one challenge that groups often face is that the airport is located outside of the city center, which means that they need to coordinate transportation to their destination within the city.
That's where CharterUP comes in, providing hassle-free transportation services so that groups can easily and conveniently get to their final destination. With our reliable and comfortable charter buses, groups can travel in comfort and style, while also enjoying the convenience of being picked up and dropped off directly at their destination. 
Contact us today to learn more about our airport transfer services and how we can help make your trip to Los Angeles hassle-free.
Say 'I Do' to Stress-Free Transportation for Your LA Wedding with CharterUP
With a mix of neighborhoods offering vibrant nightlife and eloquent venues, Los Angeles is a popular destination for bachelor and bachelorette parties and wedding ceremonies. Wedding parties gravitate to charming neighborhoods like Beverly Hills for pre-wedding festivities, and venues including the Walt Disney Concert Hall, the Natural History Museum of Los Angeles County, and the Griffith Observatory offer a beautiful location for nuptials.
Enhance the experience with transportation through CharterUP. If you have reserved a block of rooms for your big day at a Los Angeles hotel, offering a shuttle to the venue will be appreciated by your guests.
A Safe And Convenient Alternative To The Traditional Yellow School Bus
Schools from across Southern California plan field trips to Los Angeles because of the city's abundance of education and cultural resources. The California Science Center is one of the top destinations for school groups, offering interactive exhibits that engage students in science, history and culture. The Getty Villa, located just outside the city, offers a unique experience that transports students back in time to ancient Greece and Rome. The Los Angeles County Museum of Art (LACMA) is another popular destination for school groups, featuring a vast collection of art from around the world. With so much to see and do, it's no wonder that schools choose Los Angeles for their field trip destinations.
Museums and Galleries
Los Angeles is home to numerous museums and galleries that showcase the city's rich history and culture. Some of the popular venues include the Getty Center, the Museum of Contemporary Art (MOCA), and the Petersen Automotive Museum, which features a collection of classic cars and motorcycles. Whether you're interested in arts, history, or science, Los Angeles has something for everyone.
CharterUP can provide safe and reliable transportation for school field trips or private groups, ensuring that all passengers arrive at their destination in comfort.
Historic Sites
Los Angeles is a city steeped in history, with many historic sites that offer insight into the city's past. The Griffith Observatory, located in Griffith Park, is a must-visit location that offers stunning views of the city and the stars. Other fascinating historic sites include the Los Angeles Union Station, the Bradbury Building and the Watts Towers, which is a unique collection of 17 interconnected sculptures. With CharterUP's affordable bus charters, you can explore Los Angeles's rich history with ease.
CharterUP offers a safe and convenient alternative to traditional yellow school buses for schools planning trips to Los Angeles.
With our modern fleet of charter buses, schools can transport students comfortably and securely, without worrying about the maintenance and logistics of a school bus. 
Our network of professional drivers are trained to handle the needs of school groups, and our 24/7 customer service team is always available to answer any questions or concerns. Whether you're planning a day trip or an overnight excursion, CharterUP's charter bus rental is the perfect transportation solution for school groups of any size.
Efficient Corporate Transportation in Los Angeles
From small startups to major corporations including Disney and Warner Bros., Los Angeles is home to a diverse range of businesses. When it comes to corporate transportation, safety, reliability and professionalism are paramount. 
CharterUP understands the needs of the business community and provides efficient corporate shuttle services for employees. Our extensive network of vetted bus operators ensures that all passengers arrive at their destination on time and in comfort. You can trust us to handle your transportation logistics while you focus on growing your business.
Conferences and Trade Shows
Los Angeles's central location and world-class facilities make it an ideal destination for conferences and trade shows. The Los Angeles Convention Center and the Crypto Arena host numerous events throughout the year, attracting attendees from all over the country. 
When you're in Los Angeles for a corporate event, CharterUP's network can provide transportation from any airport or nearby hotels to the venue. Our comfortable and reliable charter buses provide a stress-free transportation solution for attendees.
Experience Los Angeles's vibrant culture and growing economy with CharterUP's safe and affordable transportation services. Whether you're exploring museums, attending a sporting event, or running a business, we've got you covered. Contact us today to schedule your charter bus rental in Los Angeles!
Frequently Asked Questions
How do I know that my group will be safe when we travel with CharterUP?
CharterUP only partners with bus operators who share our vision for delivering the highest level of service and safety to all passengers. All bus operators go through a rigorous vetting process, which includes reviewing safety records, on-time performance, and customer reviews. Additionally, CharterUP requires bus operators to maintain high standards surrounding timeliness, cleanliness, and overall customer satisfaction.
What types of groups typically use CharterUP's services?
CharterUP's services are designed to meet the needs of schools, corporations, sports teams, church groups, wedding parties, and more. Groups and companies that travel frequently can partner with CharterUP to take advantage of additional benefits reserved for recurring customers.
Can I view pictures and reviews of the buses and operators before making a reservation?
CharterUP's online marketplace displays safety ratings, recent reviews, and detailed vehicle descriptions so you can see exactly what to expect when you make your reservation. Our platform also allows you to communicate directly with bus operators, giving you the opportunity to ask any questions you may have and ensure that you're booking the right bus for your group.
How can I make a reservation for a charter bus on CharterUP's marketplace?
Simply input your travel details and our platform will generate real-time pricing and availability from our network of hundreds of bus operators across the U.S.
From there, you can compare vehicles, prices, operator reviews, on-time performance, safety records, and amenities all in one place. Once you've selected the bus that best fits your needs, you can book your reservation and receive confirmation right away.
What kinds of vehicles and amenities can I find on CharterUP?
CharterUP's network of more than 4,000 vehicles includes minibuses, coach buses, and luxurious motor coaches. Amenities can include reclining seats, air conditioning, on-board restrooms, Wi-Fi, power outlets, and entertainment options such as TV screens or DVD players.
What if I need to change my itinerary or cancel my trip?
At CharterUP, we understand that sometimes plans change, and we're here to help make any adjustments as smooth as possible. While it's always best to finalize your itinerary in advance, we know that there are many moving pieces involved in travel, and we're happy to work with you to make any necessary changes or cancellations. Changes can only be made up to 3 days before your trip.
CharterUP also offers a flexible refund policy:
100% refund: Cancellations 30 days or more from pickup
90% refund: Cancellations between 29 days and 72 hours from pickup
No refund: Cancellations fewer than 72 hours from pickup
*All refund percentages are based on the total amount of the booked trip.
For more information about our policies, refer to our complete Terms & Conditions.
How do I pay for my charter bus rental? Is the full cost due at booking?
Once you've found the perfect bus for your trip and accepted a quote, you will be directed to a payment page to confirm your reservation. At that time, a deposit of 10% will be due to secure your booking. The confirmation screen will also show the date by which the remainder of the payment is due. We require a valid credit card to be on file to secure a reservation.
Get a Quote for your Charter Bus with our Online Marketplace!
Type of Buses Available and their amenities
Pax
Wifi
Reclining
seats
TV
Power
Outlets
PA
System
Restrooms
Luggage

Charter Bus

55

Minibus

23

Van
Testimonials
"I swear this is the best way to rent a bus."
AbiVegas
10/22/2022
"Charter up is a great service that I and my family has used several times to rent buses and compare prices. Pricing is more transparent and the people at Charter up are super accommodating. The cancellation policy makes it a lot easier to book without any risk. It's such a relief to know where our bus is and who the driver is ahead of time."
Ellen89
01/12/2022
"On the day of the trip I received a tracking link when the bus was on the way. Got a notification that the bus was in front of the lobby to get picked up. The driver was very courteous and thoughtful! We were really satisfied with CharterUp and ended up giving the driver a nice gratuity at the end."
blakecummings
10/06/2021
"CharterUP doesn't cut corners in their customer service. Our trip was on a a busy weekend and we couldn't find available buses to charter our kids to a summer camp. A nice CharterUP agent found us a bus at a reasonable price. So glad we made it happen.. our parents and kids had a happy trip!"
Stevenson
07/03/2022
"We are new to charterUP and could not be happier with our decision. Been through a different bus companies and travel agents and CharterUP is the real deal. Find the costs very competitive to booking directly with the companies but they save you the time and headaches."
Marie D
09/20/2022
"Could not have been more satisfied with the experience of using CharterUP. Amazing staff and the bus we had was very nice and had leather seats."
Tarsha
03/22/2023
"Never thought I would leave a review for CharterUP or any bus rental app out there, but CharterUP delivered on what we asked for. CharterUP was awesome and made our first bus charter experience an amazing one. Their system is great and makes choosing from different bus companies worth our time. The representative agent I spoke to answered all the questions that a first timer like us had."
Imani
08/26/2022
"I used CharterUP for my wedding in Nahant, MA. We had about 100 guests that needed to be shuttled from Salem, MA, to Nahant, MA, which was about a 30 minute trip. I had to make several changes in the itinerary leading up to the wedding, and CharterUP was great at updating the changes and communicating them with the local company. I had a positive experience overall and would recommend them!"
Teresa Z
10/22/2022