Book Your Atlanta Charter Bus or Minibus In Under 60 Seconds
Save time planning your Atlanta group transportation with quick and seamless booking through CharterUP. Reserve a charter bus rental for business travel, leisure, or anything in between for occasions in ATL. The CharterUP marketplace makes it easy to book the right charter bus or minibus for every type of Atlanta group.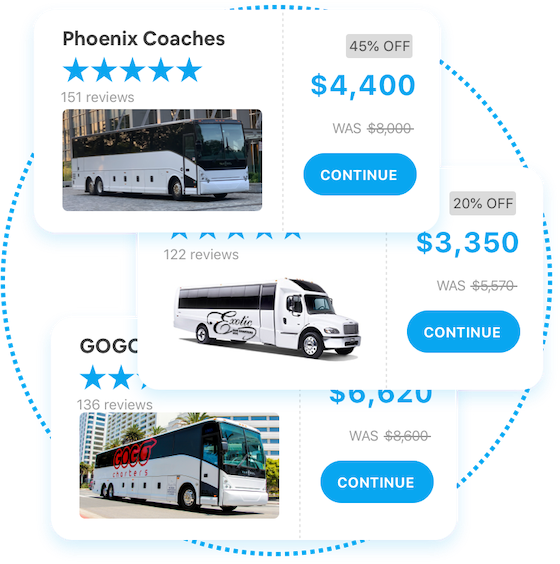 Clients that have trusted us with their transportation needs
How it Works
Charter a bus in under 60 seconds with our revolutionary marketplace

Tell us about your trip
Simply enter your trip details, including the pickup location, destination, travel dates and the number of passengers.

Compare quotes
CharterUP instantly calculates price quotes from different vendors in your area and displays them along with ratings, reviews and pictures of the buses.

Book with confidence
As soon as you confirm your reservation via our secure booking page, you can review your full itinerary and other details about your trip.
Atlanta's First and Only Charter Bus Marketplace
As one of the busiest cities in the South, planning group travel in Atlanta can be stressful. CharterUP can take some travel-related stress off your plate with simple and fast bus rental bookings.
CharterUP is Atlanta's premier marketplace for booking charter bus services in less than a minute. You'll have the ability to instantly receive transportation options for your Atlanta travel needs and compare prices, reviews, and vehicles from local Atlanta bus companies. Find the perfect ride for private group tours of the Georgia Aquarium, airport transfer from Hartsfield-Jackson, or shuttle services for Atlanta universities, all in just a few moments.
When you book through CharterUP, you can compare Atlanta bus rentals with features like WiFi, climate controls, televisions, and more!
Beat Atlanta Traffic with a Bus Rental from CharterUP
Atlanta is notorious for having some of the worst traffic in the country and difficult-to-navigate roads. CharterUP works with a network of professional drivers to ensure your charter bus rental is only operated by the best. With a charter bus rental and professional driver, you can relax as you shuttle through traffic on I-285. You won't have to worry about splitting a large group into several vehicles, navigating congested roads, or getting lost looking for one of several "Peachtree" roads.
Explore Atlanta with a Private Shuttle Bus Rental
Renting a bus in Atlanta will allow you to explore all the city has to offer. Whatever your travel occasion and whether you're locals or visitors, you'll find the right Atlanta bus rental on the CharterUP marketplace.
Cheer on the Falcons, the Hawks, and More Teams with an Atlanta Bus Rental
Whether you're fans of the Atlanta Falcons, Braves, Hawks, United FC, or even local college teams—trust that you'll find the right transportation for upcoming big games. A private charter bus rental is the perfect way to travel to Atlanta's top venues like Mercedes Benz Stadium and Truist Park to cheer on your favorite team.
With an Atlanta charter bus rental booked through CharterUP, your group of fans won't need to split into multiple vehicles and risk ending up in separate parking areas. You also won't need to stress about needing multiple designed drivers after some tailgating festivities. Rent a bus in Atlanta with CharterUP to keep gameday running smoothly!
Simple Wedding Bus Rentals in Atlanta
Looking for a way to simplify transportation for your wedding events? You'll find what you need on CharterUP! Instantly book a bus rental for your wild bachelorette party hopping around Midtown Atlanta bars or reserve a fleet of rides to serve as day-of transportation for your guests.
On the CharterUP marketplace, you can view a variety of vehicles from Atlanta bus companies that will be best suited for your wedding events. Reserve a sleek minibus rental with a professional driver to shuttle your friends around for your bachelor or bachelorette celebration. You can book a bus with features like WiFi and a sound system for the perfect party experience. If you're looking for a fleet of buses to service your ceremony, you'll be able to build a custom fleet of Atlanta shuttle buses to transport your guests to your venue.
Learn About Civil Rights History in Atlanta
As the birthplace of Martin Luther King Jr. and the cradle of the Civil Rights Movement, Atlanta is an important place to learn about major moments in American history. CharterUP can provide access to transportation solutions for private group tours and school trips to the National Center for Civil and Human Rights and the Martin Luther King, Jr. National Historical Park. Focus on a day of learning while professionals handle safe transportation between sites.
Explore Destinations Near Atlanta with CharterUP
Mountain and Hiking Trips
Atlanta is just a short drive from some of the most beautiful hiking destinations in the south. Groups of locals or tourists interested in an outdoor excursion should consider booking an Atlanta charter bus into nearby mountain towns. With a private charter bus rental, you can spend a day or even a weekend exploring gorgeous views at Amicalola Falls State Park and Tallulah Gorge State Park.
Nearby Destinations
If you're more interested in exploring nearby cities, renting a charter bus in Atlanta is still one of the best ways for groups to travel. Rather than splitting into multiple cars and struggling to get through traffic out of the city, you can hop on a bus rental from CharterUP to travel with ease. Travel to Nashville to enjoy a day full of live music or head to cities like Jacksonville to enjoy some fun in the sun.
Popular Weekend Trips from Atlanta
Birmingham, AL: 150 miles (2-2.5 hours)
Nashville, TN: 220 miles (3.5-4 hours)
Jacksonville, FL: 320 miles (5-6 hours)
Memphis, TN: 340 miles (5.5-7 hours)
Charlotte, NC: 230 miles (4-5 hours)
Orlando, FL: 430 miles (6-7 hours)
Event and Festival Shuttle Bus Rentals in Atlanta
Got tickets to an upcoming festival or big event in Atlanta? Reserve a ride with CharterUP to happenings like Dragon Con, Shaky Knees Music Festival, and the Atlanta Jazz Festival. Both event organizers and private groups can work with CharterUP to find customized transportation solutions for big events in ATL.
Roads are already congested in Atlanta and large events can make traffic even worse. Groups traveling to big events can opt to take MARTA public transportation or opt for a comfortable, private ride with a charter bus rental.
Atlanta Airport Transfer Shuttles
Hartsfield-Jackson Atlanta International Airport has held the title of the world's busiest airport by passenger traffic since 1998. This being said, having stress-free ground transportation is a must for groups traveling through the Atlanta airport. Book an Atlanta charter bus with CharetrUP to serve as an easy transfer shuttle to and from the airport.
Rather than hauling large pieces of luggage on MARTA or calling multiple rideshares, a shuttle can swiftly and simply transport your travel group to Hartsfield-Jackson. With a charter bus rental, you'll have the exact amount of space you'll need for your group and the amount of luggage. You also won't need to worry about stressful airport traffic or dealing with possible delays on the train. A professional charter bus driver will handle the hectic traffic for you and ensure you arrive on time at the airport.
Safe Academic Travels with Atlanta Bus Rentals from CharterUP
School Field Trips Bus Rentals
Atlanta area schools looking to upgrade their field trip transportation to the Georgia Aquarium, Atlanta Zoo, or Fernbank Museum will find safe, reliable bus rentals with CharterUP. CharterUP only works with certified Atlanta bus companies and professional, vetted drivers. Schools and youth organizations can trust the CharterUP network for the safest transportation possible for school field trips throughout Atlanta and beyond.
In addition to being safe and reliable transportation options, charter bus rentals offer entertainment features for long-distance academic travel with kids. Rent a bus in Atlanta with features like WiFi and flatscreen TVs for optimal entertainment on the roads. Keep kids entertained on a modern, safe, and cost-effective bus rental booked with CharterUP.
School Sports Team Transportation
Rent a bus in Atlanta for everything from high school sports transportation to college athletics events. Work with CharterUP to book an Atlanta bus rental for home or away games. A bus rental service can be arranged for high school teams to travel safely across long distances for big games or competitions. Groups of alumni or students traveling to UGA or Tech games can travel around the Atlanta or Athens areas with a safe charter bus rental.
Reliable and Timely Business Transportation in Atlanta
Employee Shuttles in Atlanta
A shuttle service is an easy way to improve daily commutes or inter-office travel for your employees in Atlanta. CharterUP works with a large network of Atlanta bus companies to provide a variety of shuttle service options for businesses of all sizes. Employee shuttle services can be customized to your company's work schedule, travel routes, and other transportation needs. Work with CharterUP to book an employee shuttle service between offices, off-site parking lots, or team-training events.
Conference and Convention Transportation in Atlanta
CharterUP can provide Atlanta charter bus solutions for big business events happening at the Georgia World Congress Center or another nearby venue. Create a customized transportation plan to shuttle business event guests between hotels, venues, office parks, and even the Atlanta airport. Business event shuttle services can help alleviate traffic around conference centers and allow attendees to focus on important panels, talks, or other events ahead.
Secure Your Atlanta Charter Bus Rental Today
When you work with CharterUP, getting a quote is quick and simple. Utilize our intuitive online marketplace platform to get personal transportation solutions in under a minute. You'll just need to have travel details and transportation needs hashed out to get an accurate Atlanta bus rental quote.
Frequently Asked Questions
How do I know that my group will be safe when we travel with CharterUP?
CharterUP only partners with bus operators who share our vision for delivering the highest level of service and safety to all passengers. All bus operators go through a rigorous vetting process, which includes reviewing safety records, on-time performance, and customer reviews. Additionally, CharterUP requires bus operators to maintain high standards surrounding timeliness, cleanliness, and overall customer satisfaction.
What types of groups typically use CharterUP's services?
CharterUP's services are designed to meet the needs of schools, corporations, sports teams, church groups, wedding parties, and more. Groups and companies that travel frequently can partner with CharterUP to take advantage of additional benefits reserved for recurring customers.
Can I view pictures and reviews of the buses and operators before making a reservation?
CharterUP's online marketplace displays safety ratings, recent reviews, and detailed vehicle descriptions so you can see exactly what to expect when you make your reservation. Our platform also allows you to communicate directly with bus operators, giving you the opportunity to ask any questions you may have and ensure that you're booking the right bus for your group.
How can I make a reservation for a charter bus on CharterUP's marketplace?
Simply input your travel details and our platform will generate real-time pricing and availability from our network of hundreds of bus operators across the U.S.
From there, you can compare vehicles, prices, operator reviews, on-time performance, safety records, and amenities all in one place. Once you've selected the bus that best fits your needs, you can book your reservation and receive confirmation right away.
What kinds of vehicles and amenities can I find on CharterUP?
CharterUP's network of more than 4,000 vehicles includes minibuses, coach buses, and luxurious motor coaches. Amenities can include reclining seats, air conditioning, on-board restrooms, Wi-Fi, power outlets, and entertainment options such as TV screens or DVD players.
What if I need to change my itinerary or cancel my trip?
At CharterUP, we understand that sometimes plans change, and we're here to help make any adjustments as smooth as possible. While it's always best to finalize your itinerary in advance, we know that there are many moving pieces involved in travel, and we're happy to work with you to make any necessary changes or cancellations. Changes can only be made up to 3 days before your trip.
CharterUP also offers a flexible refund policy:
100% refund: Cancellations 30 days or more from pickup
90% refund: Cancellations between 29 days and 72 hours from pickup
No refund: Cancellations fewer than 72 hours from pickup
*All refund percentages are based on the total amount of the booked trip.
For more information about our policies, refer to our complete Terms & Conditions.
How do I pay for my charter bus rental? Is the full cost due at booking?
Once you've found the perfect bus for your trip and accepted a quote, you will be directed to a payment page to confirm your reservation. At that time, a deposit of 10% will be due to secure your booking. The confirmation screen will also show the date by which the remainder of the payment is due. We require a valid credit card to be on file to secure a reservation.
Get a Quote for your Charter Bus with our Online Marketplace!
Type of Buses Available and their amenities
Pax
Wifi
Reclining
seats
TV
Power
Outlets
PA
System
Restrooms
Luggage

Charter Bus

55

Minibus

23

Van
Testimonials
"I swear this is the best way to rent a bus."
AbiVegas
10/22/2022
"Charter up is a great service that I and my family has used several times to rent buses and compare prices. Pricing is more transparent and the people at Charter up are super accommodating. The cancellation policy makes it a lot easier to book without any risk. It's such a relief to know where our bus is and who the driver is ahead of time."
Ellen89
01/12/2022
"On the day of the trip I received a tracking link when the bus was on the way. Got a notification that the bus was in front of the lobby to get picked up. The driver was very courteous and thoughtful! We were really satisfied with CharterUp and ended up giving the driver a nice gratuity at the end."
blakecummings
10/06/2021
"CharterUP doesn't cut corners in their customer service. Our trip was on a a busy weekend and we couldn't find available buses to charter our kids to a summer camp. A nice CharterUP agent found us a bus at a reasonable price. So glad we made it happen.. our parents and kids had a happy trip!"
Stevenson
07/03/2022
"We are new to charterUP and could not be happier with our decision. Been through a different bus companies and travel agents and CharterUP is the real deal. Find the costs very competitive to booking directly with the companies but they save you the time and headaches."
Marie D
09/20/2022
"Could not have been more satisfied with the experience of using CharterUP. Amazing staff and the bus we had was very nice and had leather seats."
Tarsha
03/22/2023
"Never thought I would leave a review for CharterUP or any bus rental app out there, but CharterUP delivered on what we asked for. CharterUP was awesome and made our first bus charter experience an amazing one. Their system is great and makes choosing from different bus companies worth our time. The representative agent I spoke to answered all the questions that a first timer like us had."
Imani
08/26/2022
"I used CharterUP for my wedding in Nahant, MA. We had about 100 guests that needed to be shuttled from Salem, MA, to Nahant, MA, which was about a 30 minute trip. I had to make several changes in the itinerary leading up to the wedding, and CharterUP was great at updating the changes and communicating them with the local company. I had a positive experience overall and would recommend them!"
Teresa Z
10/22/2022