Rent a Las Vegas Charter Bus for Academic Events in Less Than 60 Seconds
The CharterUP marketplace includes safe, reliable, and comfortable Las Vegas charter bus rentals for academic events of all occasions. From small-scale school volunteer events to large-scale, multi-class field trips, Las Vegas academic institutions can customize transportation to any specification. Craft a fleet of Las Vegas bus rentals for elementary school field trips, high school college tours, or university events for current students. When you book through CharterUP, you'll have access to rental quotes from professional Las Vegas charter bus companies in less than a minute!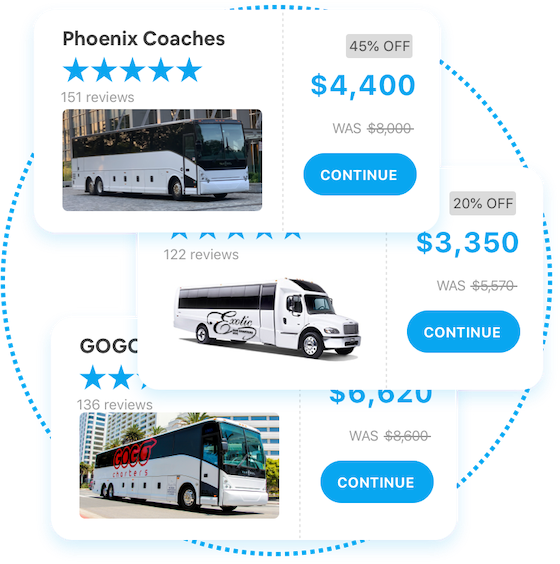 Clients that have trusted us with their transportation needs
Safe Las Vegas Bus Rentals for Academic Trips
At CharterUP, safety is always a top priority. With more than 4,000 vehicles on our platform, including numerous professional transportation companies in Las Vegas. Schools and academic organizations will have access to modern charter buses equipped with safety features and comfort amenities for the best travel experience. Each charter bus rental will also include the services of a certified bus driver who is focused on keeping students and staff safe. Booking buses for school trips with CharterUP will ensure your student safety from start to finish of your outing.
School Trip Bus Rentals in Las Vegas
We understand that educators and educational trip organizers likely have a full plate. Booking a Las Vegas school trip bus rental takes less than a minute when you reserve through CharterUP's simple self-serve platform! Plan a field trip to The Neon Museum or Red Rock Canyon, then book safe, comfortable, and reliable transport through CharterUP. You'll have access to a variety of charter bus rental models to suit your school group size and travel occasion. You can even reserve a school trip bus rental with features like WiFi and flatscreen TVs to keep students entertained on the road during long trips.
Las Vegas Charter Bus Rentals for Academic Tournaments and Events
Whether your school club is traveling to an academic tournament outside of Las Vegas or you need shuttles for an upcoming high school football game, you'll find the right transportation solution on CharterUP. Organize a safe and convenient Las Vegas bus rental to serve academic events anywhere in the city. Even if academic tournaments take your group to nearby major cities like Los Angeles, San Diego, or Phoenix, your school group will have a suitable ride for long distances. Reserve a charter bus rental with reclining seats, cozy interiors, and plenty of storage space for backpacks, presentation materials, equipment, and other items.
University Tour and Event Transportation in Las Vegas
Booking a bus rental for a school trip in Las Vegas also includes transportation for college events. With CharterUP, you can quickly reserve a shuttle bus rental for tours at the University of Nevada, Las Vegas, or transportation for campus events at Nevada State University. Our self-serve platform makes it simple to book multiple shuttles, multi-stop transportation, or large-scale event rides for university happenings.
Book a Las Vegas School Trip Bus Rental
You can have a Las Vegas school trip ride booked in less than a minute when you reserve through CharterUP. Browse a variety of vehicles in the Las Vegas metro area, compare prices, and book your perfect transportation. If you have concerns about booking or need additional assistance, a representative would be happy to help you at 1-855-920-2287!
Get a Quote for your Charter Bus with our Online Marketplace!
Type of Buses Available and their amenities
Pax
Wifi
Reclining
seats
TV
Power
Outlets
PA
System
Restrooms
Luggage

Charter Bus

55

Minibus

23

Van
Testimonials
"I swear this is the best way to rent a bus."
AbiVegas
10/22/2022
"Charter up is a great service that I and my family has used several times to rent buses and compare prices. Pricing is more transparent and the people at Charter up are super accommodating. The cancellation policy makes it a lot easier to book without any risk. It's such a relief to know where our bus is and who the driver is ahead of time."
Ellen89
01/12/2022
"On the day of the trip I received a tracking link when the bus was on the way. Got a notification that the bus was in front of the lobby to get picked up. The driver was very courteous and thoughtful! We were really satisfied with CharterUp and ended up giving the driver a nice gratuity at the end."
blakecummings
10/06/2021
"CharterUP doesn't cut corners in their customer service. Our trip was on a a busy weekend and we couldn't find available buses to charter our kids to a summer camp. A nice CharterUP agent found us a bus at a reasonable price. So glad we made it happen.. our parents and kids had a happy trip!"
Stevenson
07/03/2022
"We are new to charterUP and could not be happier with our decision. Been through a different bus companies and travel agents and CharterUP is the real deal. Find the costs very competitive to booking directly with the companies but they save you the time and headaches."
Marie D
09/20/2022
"Could not have been more satisfied with the experience of using CharterUP. Amazing staff and the bus we had was very nice and had leather seats."
Tarsha
03/22/2023
"Never thought I would leave a review for CharterUP or any bus rental app out there, but CharterUP delivered on what we asked for. CharterUP was awesome and made our first bus charter experience an amazing one. Their system is great and makes choosing from different bus companies worth our time. The representative agent I spoke to answered all the questions that a first timer like us had."
Imani
08/26/2022
"I used CharterUP for my wedding in Nahant, MA. We had about 100 guests that needed to be shuttled from Salem, MA, to Nahant, MA, which was about a 30 minute trip. I had to make several changes in the itinerary leading up to the wedding, and CharterUP was great at updating the changes and communicating them with the local company. I had a positive experience overall and would recommend them!"
Teresa Z
10/22/2022