Miami Charter Bus & Minibus Rentals
Book a ride for your large group in Miami in less time than it takes to order a Cubano sandwich. Whether you're traveling through the Paradise City for business, pleasure, or a little bit of both, CharterUP makes it easy to find the perfect charter bus, minibus or private shuttle.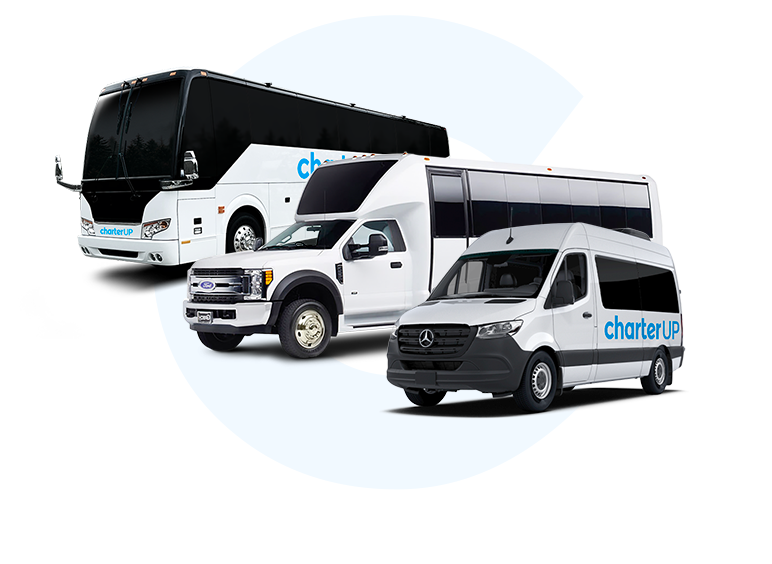 Clients that have trusted us with their transportation needs
How it Works
Charter a bus in under 60 seconds with our revolutionary marketplace

Tell us about your trip
Simply enter your trip details, including the pickup location, destination, travel dates and the number of passengers.

Compare quotes
CharterUP instantly calculates price quotes from different vendors in your area and displays them along with ratings, reviews and pictures of the buses.

Book with confidence
As soon as you confirm your reservation via our secure booking page, you can review your full itinerary and other details about your trip.
Miami's First and Only Charter Bus Marketplace
There should be nothing stressful about traveling to Miami, the land of sunny skies and relaxed vibes. Coordinating travel for a large group may seem like a daunting task, but CharterUP makes the process as effortless as the sea breeze.
CharterUP is Miami's first and only charter bus marketplace that allows travelers to instantly compare quotes, vehicles and reviews. Just provide a few details – the number of passengers and where you'd like to be picked up and dropped off in Miami – to see real-time pricing and availability.
With CharterUP, you can find the perfect charter bus for your group, whether you're looking for a minibus for your bachelorette bash or a motorcoach for your school field trip. Explore our extensive network of drivers and buses to find a vehicle that meets all the requirements for your group (and maybe a few extras from the wishlist, too). Compare vehicles to find the amenities that matter most, whether you need extra storage for luggage or sports equipment, or need Wi-Fi to entertain a bus full of teenagers.
Your group can travel in confidence knowing that your driver is part of CharterUP's vetted network of bus operators and you have had the opportunity to review safety records and customer reviews.
Book your trip in Miami with CharterUP so you can sit back and enjoy the ride.
Avoid Congested Miami Highways With A CharterUP Rental
Miami's roads can be congested and confusing, especially for those unfamiliar with the area. The maze of one-way streets and limited-access highways are difficult for out-of-town travelers to navigate, and heavy traffic during rush hour and holiday periods can cause frustrating delays.
Our network of professional drivers have logged thousands of miles on I-95, US-1 and the Florida Turnpike and know exactly how to navigate the streets of Miami to ensure your group is picked up and dropped off on time.
Explore The Magic City In Comfort With A Private Shuttle
From the vibrant art deco district of Miami Beach to the bustling streets of downtown Miami, the Magic City offers endless opportunities for exploration and adventure.
Sporting events
Have tickets to a big game? Whether you're cheering on the Miami Dolphins (NFL), the Miami Heat (NBA), the Miami Marlins (MLB), the Florida Panthers (NHL), or a University of Miami sports team, a charter bus is a great way to get your group to the event.
There's no fun in splitting up your group in multiple cars. With a chartered ride, your group –– big or small – can celebrate the win or mourn the loss together. Plus, you can drink responsibly at the tailgate knowing you have hired a professional designated driver.
Request a quote from CharterUP and let the games begin.
Wedding parties
With its unique blend of sand, sun and nightlife, Miami is a top destination for wedding parties. From beachfront bars to luxury spas, you can craft the perfect bachelorette or bachelor party experience. Whether you're looking for a wild night out or a more relaxing getaway, elevate the experience with transportation through CharterUP.
After the last fling before the ring, you can still count on CharterUP to make the wedding planning a little less stressful. If you reserved a block of rooms at a Miami hotel for your big day, offering a shuttle to the venue will be appreciated by your guests. Your friends and family can focus on being a part of your special day instead of worrying about how they'll get back to the hotel after all those champagne toasts.
Experience the Miami culture and nightlife
From the colorful Little Havana neighborhood to the historic Art Deco District, Miami offers a vibrant mix of cultures, historical sites and natural beauty. Sightseeing by bus is a convenient way to explore the city's rich history, sample the local cuisine and enjoy the nightlife.
Explore Miami beaches and nearby destinations with CharterUP
Beach excursions
From vibrant Miami Beach to the crystal blue waters of Key Biscayne, the area offers endless opportunities to enjoy the beautiful weather and make lasting memories. With a charter bus rental, groups can focus on the glittering beaches instead of the frustrating details of getting there. With a charter bus rental, you're sure to have a stress-free beach outing.
Nearby destinations
Just a short drive away from Miami, there are even more exciting destinations to discover. With a charter bus rental, groups can easily explore nearby cities like Orlando, known for its world-famous theme parks and attractions. With a CharterUP bus rental, you're free to focus on the fun, not the logistics of getting there. Whether you're planning a family vacation, corporate retreat, or a school trip, a charter bus rental makes it easy to explore the best of what Florida has to offer.
Popular Day Trips from Miami:
Orlando, FL: 230 miles (4-5 hours)
Tampa, FL: 250 miles (4-5 hours)
Key West, FL: 125 miles (2-3 hours)
Fort Lauderdale, FL:  30 miles (30 minutes-1 hour)
West Palm Beach, FL: 70 miles (1-2 hours)
Fort Myers, FL: 160 miles (2-3 hours)
(Miles and times are approximate)
Festivals
Miami's eclectic culture is showcased through the major festivals and events that attract visitors from around the globe. From the Calle Ocho Festival, celebrating the Cuban culture in Little Havana, to the Miami International Film Festival, showcasing the latest in independent and foreign films, there is always something big on the calendar.
Don't let chaotic festival parking lots or gross porta potties ruin the experience. Let your CharterUP driver drop your group off at the gate  – after using your clean on-board restrooms, of course.
Hassle-Free Airport And Cruise Transfers in Miami
Ground transportation between Miami International Airport and the major cruise ports in the area can be a challenge for visitors. With heavy traffic and a maze of roads, navigating the city can be confusing and time-consuming. This can be particularly stressful for travelers who have limited time between flights or need to catch a cruise ship on a tight schedule.
Finding reliable and affordable transportation options in the Cruise Capital of the World can also be a challenge. Taxis, ride-shares, and shuttles can be expensive, and it can be difficult to guarantee the quality of the service. For groups traveling together, the cost and inconvenience can add up quickly. This is why many visitors opt for a charter bus, which provides a cost-effective and convenient solution for group transportation between the airport and cruise ports.
Whether you're headed straight to the cruise port from the airport or need a ride from your hotel, CharterUP makes booking a bus for your group easier than purchasing an airline ticket.
Transport Students Safely With CharterUP's Verified Bus Network
Field trips
With more than 345,000 students across more than 400 schools, the Miami-Dade County Public School District is the fourth-largest public school district in the U.S. Miami-Dade teachers often seek educational experiences beyond the traditional classroom setting, and field trips are a popular way to help students learn and explore. Some of the most popular field trip locations include the Miami Science Museum, the Vizcaya Museum and Gardens, the Deering Estate, and the Museum of Contemporary Art. These venues offer hands-on experiences, interactive exhibits, and unique perspectives that students can incorporate into their studies. Whether it's a trip to a museum, a park, or an environmental center, students in Miami have access to a wealth of educational opportunities that foster their growth and development.
Chartering a bus can be an affordable, reliable and safe alternative to the yellow school bus. Transportation safety is non-negotiable when kids are involved. Through the CharterUP marketplace, schools can compare safety records and reviews to book their field trip in confidence.
Sports teams
Miami is a hub of athleticism and competitive spirit at the high school and collegiate levels. The city is home to numerous top-tier high schools with highly competitive sports programs, as well as several universities with Division I athletics. When it comes time for the student-athletes in Miami to showcase their talents, travel to other areas of the state – and even the country – is often required.
With ample space for athletes and equipment, air conditioning, and comfortable seating, charter buses are the top transportation choice for school-sponsored and club teams as they travel to games and tournaments. Keep your head in the game – out of the hassle of coordinating transportation – by booking your team's transportation through CharterUP.
Provide Safe And Reliable Transportation For Your Miami Employees
Employee shuttle
CharterUP understands the importance of safe, reliable and professional transportation for Miami's thriving business community. With numerous corporate headquarters and a growing startup scene, Miami's economic climate demands efficient transportation solutions. CharterUP can provide corporate shuttle services to transport employees between campuses or offer commuter benefits for employees. Our network of vetted bus operators ensures that your employees are in good hands, whether you need transportation for a team-building retreat or a conference at the Miami Beach Convention Center. With CharterUP, you can focus on growing your business while we take care of the transportation logistics.
Conferences/trade shows
Miami's tropical climate and variety of facilities make the city an ideal destination for major trade shows and conferences. When you're in Miami for a corporate event, whether you're showcasing your latest designs in the Miami Home Design and Remodeling Show or scoping out the latest tech during eMerge Americas premier technology event, make sure your team arrives at the venue safely and in comfort.
CharterUP's network can provide transportation from any airport, nearby hotels or office buildings to the many event venues around the city, including the Miami Beach Convention Center, the Miami Airport Convention Center and the Miami-Dade County's Fair Expo Center.
Frequently Asked Questions
How do I know that my group will be safe when we travel with CharterUP?
CharterUP only partners with bus operators who share our vision for delivering the highest level of service and safety to all passengers. All bus operators go through a rigorous vetting process, which includes reviewing safety records, on-time performance, and customer reviews. Additionally, CharterUP requires bus operators to maintain high standards surrounding timeliness, cleanliness, and overall customer satisfaction.
What types of groups typically use CharterUP's services?
CharterUP's services are designed to meet the needs of schools, corporations, sports teams, church groups, wedding parties, and more. Groups and companies that travel frequently can partner with CharterUP to take advantage of additional benefits reserved for recurring customers.
Can I view pictures and reviews of the buses and operators before making a reservation?
CharterUP's online marketplace displays safety ratings, recent reviews, and detailed vehicle descriptions so you can see exactly what to expect when you make your reservation. Our platform also allows you to communicate directly with bus operators, giving you the opportunity to ask any questions you may have and ensure that you're booking the right bus for your group.
How can I make a reservation for a charter bus on CharterUP's marketplace?
Simply input your travel details and our platform will generate real-time pricing and availability from our network of hundreds of bus operators across the U.S.
From there, you can compare vehicles, prices, operator reviews, on-time performance, safety records, and amenities all in one place. Once you've selected the bus that best fits your needs, you can book your reservation and receive confirmation right away.
What kinds of vehicles and amenities can I find on CharterUP?
CharterUP's network of more than 4,000 vehicles includes minibuses, coach buses, and luxurious motor coaches. Amenities can include reclining seats, air conditioning, on-board restrooms, Wi-Fi, power outlets, and entertainment options such as TV screens or DVD players.
What if I need to change my itinerary or cancel my trip?
At CharterUP, we understand that sometimes plans change, and we're here to help make any adjustments as smooth as possible. While it's always best to finalize your itinerary in advance, we know that there are many moving pieces involved in travel, and we're happy to work with you to make any necessary changes or cancellations. Changes can only be made up to 3 days before your trip.
CharterUP also offers a flexible refund policy:
100% refund: Cancellations 30 days or more from pickup
90% refund: Cancellations between 29 days and 72 hours from pickup
No refund: Cancellations fewer than 72 hours from pickup
*All refund percentages are based on the total amount of the booked trip.
For more information about our policies, refer to our complete Terms & Conditions.
How do I pay for my charter bus rental? Is the full cost due at booking?
Once you've found the perfect bus for your trip and accepted a quote, you will be directed to a payment page to confirm your reservation. At that time, a deposit of 10% will be due to secure your booking. The confirmation screen will also show the date by which the remainder of the payment is due. We require a valid credit card to be on file to secure a reservation.
Get a Quote for your Charter Bus with our Online Marketplace!
Type of Buses Available and their amenities
Pax
Wifi
Reclining
seats
TV
Power
Outlets
PA
System
Restrooms
Luggage

Charter Bus

55

Minibus

23

Van
Testimonials
"I swear this is the best way to rent a bus."
AbiVegas
10/22/2022
"Charter up is a great service that I and my family has used several times to rent buses and compare prices. Pricing is more transparent and the people at Charter up are super accommodating. The cancellation policy makes it a lot easier to book without any risk. It's such a relief to know where our bus is and who the driver is ahead of time."
Ellen89
01/12/2022
"On the day of the trip I received a tracking link when the bus was on the way. Got a notification that the bus was in front of the lobby to get picked up. The driver was very courteous and thoughtful! We were really satisfied with CharterUp and ended up giving the driver a nice gratuity at the end."
blakecummings
10/06/2021
"CharterUP doesn't cut corners in their customer service. Our trip was on a a busy weekend and we couldn't find available buses to charter our kids to a summer camp. A nice CharterUP agent found us a bus at a reasonable price. So glad we made it happen.. our parents and kids had a happy trip!"
Stevenson
07/03/2022
"We are new to charterUP and could not be happier with our decision. Been through a different bus companies and travel agents and CharterUP is the real deal. Find the costs very competitive to booking directly with the companies but they save you the time and headaches."
Marie D
09/20/2022
"Could not have been more satisfied with the experience of using CharterUP. Amazing staff and the bus we had was very nice and had leather seats."
Tarsha
03/22/2023
"Never thought I would leave a review for CharterUP or any bus rental app out there, but CharterUP delivered on what we asked for. CharterUP was awesome and made our first bus charter experience an amazing one. Their system is great and makes choosing from different bus companies worth our time. The representative agent I spoke to answered all the questions that a first timer like us had."
Imani
08/26/2022
"I used CharterUP for my wedding in Nahant, MA. We had about 100 guests that needed to be shuttled from Salem, MA, to Nahant, MA, which was about a 30 minute trip. I had to make several changes in the itinerary leading up to the wedding, and CharterUP was great at updating the changes and communicating them with the local company. I had a positive experience overall and would recommend them!"
Teresa Z
10/22/2022