Columbus Charter Bus & Minibus Rentals
No matter what brings your group into Columbus, CharterUP has the perfect charter bus rental for you! With our self-serve app, you can browse bus models, compare pricing, and book a charter bus that's tailored to your group's unique needs. So whether you need one minibus or a custom fleet of full-size motorcoaches, we have everything you need to get your Columbus group transportation sorted. Check out our app to see more Columbus bus rental options!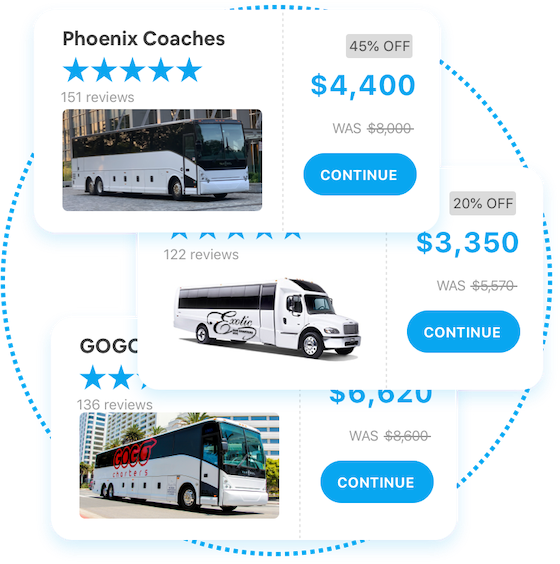 Clients that have trusted us with their transportation needs
How it Works
Charter a bus in under 60 seconds with our revolutionary marketplace

Tell us about your trip
Simply enter your trip details, including the pickup location, destination, travel dates and the number of passengers.

Compare quotes
CharterUP instantly calculates price quotes from different vendors in your area and displays them along with ratings, reviews and pictures of the buses.

Book with confidence
As soon as you confirm your reservation via our secure booking page, you can review your full itinerary and other details about your trip.
Columbus's First and Only Charter Bus Marketplace
Traveling in Columbus with a group should be as simple and easy as a summer afternoon in Schiller Park. That's where CharterUP comes in.
As the first and only charter bus rental marketplace in Columbus, CharterUP is your solution to finding the perfect group transportation for any trip or event. Whether you need a one-way trip (like an airport transfer), round trip transportation for a field trip, or six or more vehicles for a large event, a self-service CharterUP bus rental is just a few clicks away.
With our easy-to-use app, travelers can explore our network of drivers and vehicles, and instantly compare quotes, vehicles, and reviews. Simply provide a few details of your trip, including the number of passengers in your group and your pick-up/drop-off points in Columbus, and see bus rental pricing and availability in real-time.
No matter the needs or size of your group, there's a bus rental for you in Columbus. Whether you're looking for a compact minibus or full-size motorcoach, you can find a bus that accommodates everyone and includes amenities like WiFi, TV screens, an onboard restroom, and more. CharterUP collects safety records for all vehicles included on the marketplace and requires operators to meet high expectations for both safe travel and customer service, so all you need to do is show up and enjoy the ride.
Beat Busy Columbus Roads with a CharterUP Bus Rental
From navigating Columbus's congested downtown routes to planning around events like OSU game days, traveling with a group in this city can be a challenge—but it doesn't have to be. The professional drivers in our network have years of experience navigating confusing roads and know how to adjust a course on the fly. If you have a group of travelers in Columbus that need to be picked up and dropped off on a tight schedule, book a bus with CharterUP.
Explore the Best of Columbus with a Charter Bus
Columbus is home to Ohio State University—one of the largest college campuses in the country—so you can expect constant energy and innovation stemming from the university's events and athletics. But as more than just a college town, Columbus is a booming, cosmopolitan city that's home to a thriving arts scene, diverse neighborhoods, and tons of recreational spaces.
Travel Around the Midwest and Beyond with CharterUP
Columbus is a stone's throw away from many major American cities in the Midwest, Northeast, and South, making it the perfect starting point for an exciting road trip.
Popular Trips from Columbus
Cleveland, OH: 150 miles (2-3 hours)
Cincinnati, OH: 100 miles (2-3 hours)
Indianapolis, ID: 200 miles (3-4 hours)
Pittsburgh, PA: 200 miles (3-4 hours)
Detroit, MI: 200 miles (3-4 hours)
Buffalo, NY: 300 miles (5-6 hours)
Chicago, IL: 350 miles (5-6 hours)
(Miles and times are approximate)
Attend Festivals You'll Only Find in Columbus
With one of the most robust art scenes and diverse cultures in the Midwest, Columbus always has a reason to celebrate! Whether it's fried Twinkies at the Ohio State Fair, lagers and lederhosen at Columbus Oktoberfest, or smooth jazz and barbecue ribs at the aptly named Jazz & Rib Fest, there's something attracting visitors to Columbus year-round.
In the Spring, Arnold Schwarzenegger's famous Arnold Sports Festival attracts more than 20,000 athletes from 80 nations to Columbus to compete in this multi-sport event. Everything from bodybuilding and CrossFit to baton twirling and medieval sword fighting is on the event schedule! If you need a safe and reliable ride to the Greater Columbus Convention Center for this event, CharterUP has a spacious bus rental for even the most buff among us. (And don't worry, there's plenty of storage for your 14th-century armor and weapons on board, too.)
Stress-Free Transfers to Columbus Airports
Travel with a group to John Glenn Columbus International Airport via a CharterUP bus rental, and you'll never want to travel any other way again. A private airport shuttle can simplify group pickups and drop offs at busy terminals more than a rideshare or public transportation would. Rather than splitting your group up between multiple vehicles or running on the COTA bus line's schedule, a CharterUP shuttle is a convenient solution for groups who need to travel to the airport all together and on time.
Provide a Safe Ride for Students in Columbus
Private Shuttles for University & College Groups
With more than 50 college and university campuses, the Columbus area has one of the largest concentrations of higher education in the US. Whether you're looking for transportation across the sprawling Ohio State University campus or need a private lift for an extracurricular group or sports team, count on CharterUP for campus transportation in Columbus.
Stress-Free Field Trips for Schools in Columbus
With so much history, arts, and recreation within city limits, there's no shortage of field trip ideas for grade school students in Columbus. The COSI (Center of Science and Industry) has more than 300 interactive exhibits for young minds to explore (not to mention the revered Dinosaur Gallery), and a guided tour at the Ohio Statehouse can introduce school children to local government and civics.
If you're planning a school field trip in Columbus, a charter bus rental is a safe way to transport students in Columbus. With CharterUP, you can book a bus with features like TV screens and a DVD player to screen educational videos, or use an onboard PA system to engage a class with trivia and conversation en route. You can also book a charter bus for destinations beyond Columbus. Want to take kids to the Lake Erie Nature & Science Center in Cleveland? Not a problem with CharterUP.
Provide Reliable Transit For Columbus Employees
Coordinate Private Commuter Shuttles in Columbus
On average, Columbus commuters travel about 45 minutes a day between home and the office. Why not capitalize on that time? With private commuter shuttles from CharterUP, you can offer your employees a convenient alternative to public transportation, carpooling, or driving. Whether you want to offer door-to-door shuttles or private pick-ups at major COTA stops, employee shuttle service is completely customizable.
Make Business Trip Travel Easy and Simple
As a newfound home for rising tech start-ups, and the longtime headquarters of corporate titans like Big Lots, Bath and Body Works, and Nationwide Insurance, there are plenty of reasons for the business traveler to pass through Columbus. If you're visiting Columbus from out of town for an important meeting or business conference, use CharterUP to book group transportation easily. Bus rentals can come equipped with amenities like WiFi and power outlets so passengers can easily stay productive and connected while on the road.
Arrange Columbus Wedding Day Group Transportation
Private Shuttles for your Wedding Party and Guests
Saying "I do" at Franklin Park Conservatory but hosting your reception at The Ivory Room downtown? Making sure that you, your wedding party, and all of your guests arrive at the right venue at the right time is essential on your big day in Columbus! One way to ensure this happens is with a private, dedicated bus service with CharterUP. Arrange transportation for everyone to travel from the hotel block rooms, to the ceremony, to the reception, and back again—all aboard one, convenient bus rental.
Book Your Columbus Charter Bus Rental Today
If you want a quote for your Columbus charter bus trip in less than 60 seconds, you've come to the right place. All you need to know is where you're going and how many people you're traveling with, and CharterUP will take it from there.
Arrange Columbus Wedding Day Group Transportation
Private Shuttles for your Wedding Party and Guests
Saying "I do" at Franklin Park Conservatory but hosting your reception at The Ivory Room downtown? Making sure that you, your wedding party, and all of your guests arrive at the right venue at the right time is essential on your big day in Columbus! One way to ensure this happens is with a private, dedicated bus service with CharterUP. Arrange transportation for everyone to travel from the hotel block rooms, to the ceremony, to the reception, and back again—all aboard one, convenient bus rental.
Frequently Asked Questions
How do I know that my group will be safe when we travel with CharterUP?
CharterUP only partners with bus operators who share our vision for delivering the highest level of service and safety to all passengers. All bus operators go through a rigorous vetting process, which includes reviewing safety records, on-time performance, and customer reviews. Additionally, CharterUP requires bus operators to maintain high standards surrounding timeliness, cleanliness, and overall customer satisfaction.
What types of groups typically use CharterUP's services?
CharterUP's services are designed to meet the needs of schools, corporations, sports teams, church groups, wedding parties, and more. Groups and companies that travel frequently can partner with CharterUP to take advantage of additional benefits reserved for recurring customers.
Can I view pictures and reviews of the buses and operators before making a reservation?
CharterUP's online marketplace displays safety ratings, recent reviews, and detailed vehicle descriptions so you can see exactly what to expect when you make your reservation. Our platform also allows you to communicate directly with bus operators, giving you the opportunity to ask any questions you may have and ensure that you're booking the right bus for your group.
How can I make a reservation for a charter bus on CharterUP's marketplace?
Simply input your travel details and our platform will generate real-time pricing and availability from our network of hundreds of bus operators across the U.S.
From there, you can compare vehicles, prices, operator reviews, on-time performance, safety records, and amenities all in one place. Once you've selected the bus that best fits your needs, you can book your reservation and receive confirmation right away.
What kinds of vehicles and amenities can I find on CharterUP?
CharterUP's network of more than 4,000 vehicles includes minibuses, coach buses, and luxurious motor coaches. Amenities can include reclining seats, air conditioning, on-board restrooms, Wi-Fi, power outlets, and entertainment options such as TV screens or DVD players.
What if I need to change my itinerary or cancel my trip?
At CharterUP, we understand that sometimes plans change, and we're here to help make any adjustments as smooth as possible. While it's always best to finalize your itinerary in advance, we know that there are many moving pieces involved in travel, and we're happy to work with you to make any necessary changes or cancellations. Changes can only be made up to 3 days before your trip.
CharterUP also offers a flexible refund policy:
100% refund: Cancellations 30 days or more from pickup
90% refund: Cancellations between 29 days and 72 hours from pickup
No refund: Cancellations fewer than 72 hours from pickup
*All refund percentages are based on the total amount of the booked trip.
For more information about our policies, refer to our complete Terms & Conditions.
How do I pay for my charter bus rental? Is the full cost due at booking?
Once you've found the perfect bus for your trip and accepted a quote, you will be directed to a payment page to confirm your reservation. At that time, a deposit of 10% will be due to secure your booking. The confirmation screen will also show the date by which the remainder of the payment is due. We require a valid credit card to be on file to secure a reservation.
Get a Quote for your Charter Bus with our Online Marketplace!
Type of Buses Available and their amenities
Pax
Wifi
Reclining
seats
TV
Power
Outlets
PA
System
Restrooms
Luggage

Charter Bus

55

Minibus

23

Van
Testimonials
"I swear this is the best way to rent a bus."
AbiVegas
10/22/2022
"Charter up is a great service that I and my family has used several times to rent buses and compare prices. Pricing is more transparent and the people at Charter up are super accommodating. The cancellation policy makes it a lot easier to book without any risk. It's such a relief to know where our bus is and who the driver is ahead of time."
Ellen89
01/12/2022
"On the day of the trip I received a tracking link when the bus was on the way. Got a notification that the bus was in front of the lobby to get picked up. The driver was very courteous and thoughtful! We were really satisfied with CharterUp and ended up giving the driver a nice gratuity at the end."
blakecummings
10/06/2021
"CharterUP doesn't cut corners in their customer service. Our trip was on a a busy weekend and we couldn't find available buses to charter our kids to a summer camp. A nice CharterUP agent found us a bus at a reasonable price. So glad we made it happen.. our parents and kids had a happy trip!"
Stevenson
07/03/2022
"We are new to charterUP and could not be happier with our decision. Been through a different bus companies and travel agents and CharterUP is the real deal. Find the costs very competitive to booking directly with the companies but they save you the time and headaches."
Marie D
09/20/2022
"Could not have been more satisfied with the experience of using CharterUP. Amazing staff and the bus we had was very nice and had leather seats."
Tarsha
03/22/2023
"Never thought I would leave a review for CharterUP or any bus rental app out there, but CharterUP delivered on what we asked for. CharterUP was awesome and made our first bus charter experience an amazing one. Their system is great and makes choosing from different bus companies worth our time. The representative agent I spoke to answered all the questions that a first timer like us had."
Imani
08/26/2022
"I used CharterUP for my wedding in Nahant, MA. We had about 100 guests that needed to be shuttled from Salem, MA, to Nahant, MA, which was about a 30 minute trip. I had to make several changes in the itinerary leading up to the wedding, and CharterUP was great at updating the changes and communicating them with the local company. I had a positive experience overall and would recommend them!"
Teresa Z
10/22/2022