Book a New York City Corporate Event Bus Rentals + Employee Shuttles in Less than 60 Seconds
As a world-class city and major hub for business and innovation, New York City is teeming with hard-working professionals on the go. From business trips and important meetings to corporate events and office parties, everyone from local commuters to international executives are traveling for work in New York City—and battling with its rush hour traffic and crowded parking lots, too. Want to mitigate some of the stress of navigating NYC while on the clock? Use the CharterUP marketplace to get a quote for a corporate event charter bus rental or employee shuttle service in New York City.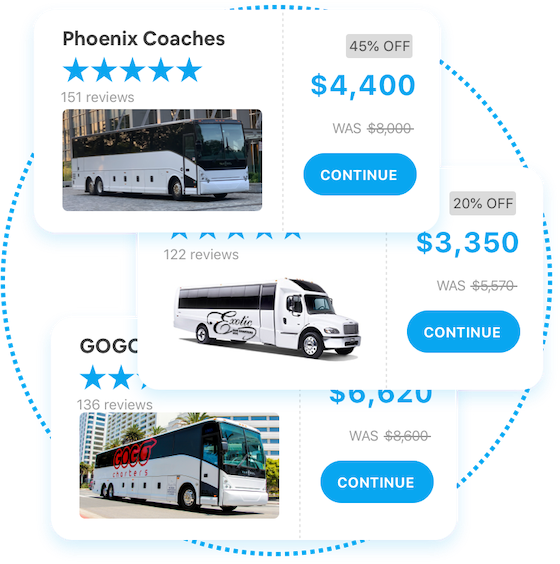 Clients that have trusted us with their transportation needs
Why Book Employee Shuttle Service in New York City?
More than one million people commute to New York City every day, and whether they choose to drive, bike, or ride the subway, about 600,000 of them spend more than 90 minutes traveling to work. As an NYC-based business, why not capitalize on that time spent on the road with a private commuter service for employees?
Charter bus rentals include valuable amenities for commuters that other modes of transportation don't have. Book shuttle bus rentals with a WiFi hotspot, power outlets, and a professional driver, and empower your employees to use their commute to get ahead on e-mails, finish a presentation, or choose to unwind and decompress after a busy day.
A private employee shuttle service can also make your company stand out from the NYC competition for attracting new talent. Increase your appeal and offer the benefit of dedicated commuter shuttles that operate on a custom schedule and route.
Private Commuter Shuttles for New York City Businesses
Want to show your NYC employees that you appreciate their hard work? Offer them private commuter shuttle service during rush hour traffic in the city. You can arrange service to your office building from anywhere in the city, whether you want to pick up out-of-town commuters from Penn Station and Grand Central Terminal or design a custom route with stops at major transit hubs and landmarks. Charter bus rentals include amenities like air-conditioning, footrests, seat-back trays, and reclining seats to ensure a comfortable ride—plus, a professional bus driver navigates traffic and parking from the beginning to the end of the trip.
Bus Rentals for New York City Business Trips
From the moment you arrive in New York City for an important meeting or industry event, you can ease your stresses and rely on a charter bus rental for inner-city travel. Start by booking an airport shuttle bus to pick you and your team up at JFK International or LaGuardia Airport, and then keep a bus rental service for the duration of your trip to ensure adequate and timely transportation between destinations. Craft an itinerary that includes your hotel, event venues, restaurants, transit hubs, and anywhere in between in NYC.
Travel Safely to Corporate Events in NYC
No matter if you're attending an industry conference at the Javits Center or planning a company outing to Chelsea Piers, a charter bus rental simplifies and streamlines transportation for your employees and colleagues. Skip crowded subway trains and rideshare services and opt for a bus rental to transport professionals to a conference, tradeshow, corporate gala, ceremony, fundraiser, or holiday party. If you're an event organizer, you can also use CharterUP to book six or more buses for a large-scale corporate event that transports attendees from parking lots and train stations directly to the front gates of your event venue.
Book Corporate Transportation with New York City's First and Only Charter Bus Marketplace
CharterUP is the first online marketplace for charter buses and private shuttles that instantly connects customers with a network of more than 600 bus companies operating more than 4,000 vehicles across the U.S. When you need corporate transportation in New York City, there's no service better than CharterUP for finding the perfect bus rental that fits your needs. Get a quote or call 1-855-920-2287 and book a corporate event bus rental or employee shuttle service in New York City today.
Get a Quote for your Charter Bus with our Online Marketplace!
Type of Buses Available and their amenities
Pax
Wifi
Reclining
seats
TV
Power
Outlets
PA
System
Restrooms
Luggage

Charter Bus

55

Minibus

23

Van
Testimonials
"I swear this is the best way to rent a bus."
AbiVegas
10/22/2022
"Charter up is a great service that I and my family has used several times to rent buses and compare prices. Pricing is more transparent and the people at Charter up are super accommodating. The cancellation policy makes it a lot easier to book without any risk. It's such a relief to know where our bus is and who the driver is ahead of time."
Ellen89
01/12/2022
"On the day of the trip I received a tracking link when the bus was on the way. Got a notification that the bus was in front of the lobby to get picked up. The driver was very courteous and thoughtful! We were really satisfied with CharterUp and ended up giving the driver a nice gratuity at the end."
blakecummings
10/06/2021
"CharterUP doesn't cut corners in their customer service. Our trip was on a a busy weekend and we couldn't find available buses to charter our kids to a summer camp. A nice CharterUP agent found us a bus at a reasonable price. So glad we made it happen.. our parents and kids had a happy trip!"
Stevenson
07/03/2022
"We are new to charterUP and could not be happier with our decision. Been through a different bus companies and travel agents and CharterUP is the real deal. Find the costs very competitive to booking directly with the companies but they save you the time and headaches."
Marie D
09/20/2022
"Could not have been more satisfied with the experience of using CharterUP. Amazing staff and the bus we had was very nice and had leather seats."
Tarsha
03/22/2023
"Never thought I would leave a review for CharterUP or any bus rental app out there, but CharterUP delivered on what we asked for. CharterUP was awesome and made our first bus charter experience an amazing one. Their system is great and makes choosing from different bus companies worth our time. The representative agent I spoke to answered all the questions that a first timer like us had."
Imani
08/26/2022
"I used CharterUP for my wedding in Nahant, MA. We had about 100 guests that needed to be shuttled from Salem, MA, to Nahant, MA, which was about a 30 minute trip. I had to make several changes in the itinerary leading up to the wedding, and CharterUP was great at updating the changes and communicating them with the local company. I had a positive experience overall and would recommend them!"
Teresa Z
10/22/2022