Newark Charter Bus & Minibus Rentals
Need group transportation in or around Newark, NJ? CharterUP is here to help! Trust our network of charter bus providers and easy-to-use marketplace to streamline your group transportation services—no matter where you're going or how many people are hopping aboard. Check out our self-service platform today and rent a Newark charter bus rental in a minute or less!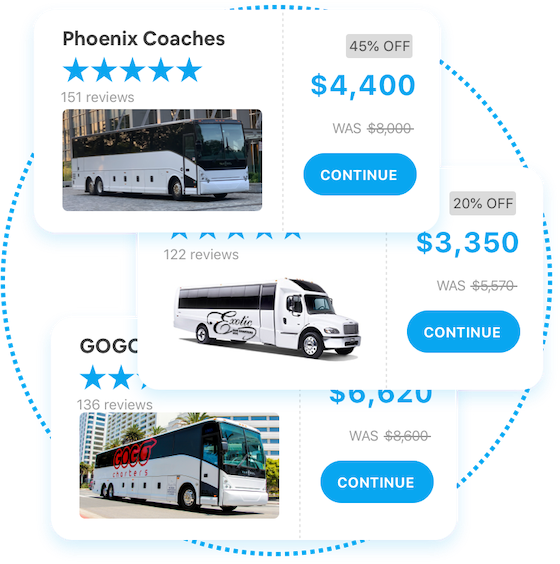 Clients that have trusted us with their transportation needs
How it Works
Charter a bus in under 60 seconds with our revolutionary marketplace

Tell us about your trip
Simply enter your trip details, including the pickup location, destination, travel dates and the number of passengers.

Compare quotes
CharterUP instantly calculates price quotes from different vendors in your area and displays them along with ratings, reviews and pictures of the buses.

Book with confidence
As soon as you confirm your reservation via our secure booking page, you can review your full itinerary and other details about your trip.
Newark's First and Only Charter Bus Marketplace
CharterUP is the first marketplace for charter bus rentals and private shuttle services, connecting travelers to over 600 bus companies and over 4,000 motorcoach options across the United States. Our all-in-one platform gathers real-time information about every detail of the booking process—from pricing to vehicle availability, on-time performance to operator reviews, and much more. You'll never have to call around the local bus companies to shop for quotes or give your credit card information over the phone. Instead, you can book your Newark bus rental within 60 seconds and hit the road with confidence!
Easy Group Travels through Newark's Busy Streets
Traversing the New York Metropolitan area is no easy feat—especially when traveling with a large group. Whether you don't want your out-of-town travelers to worry about unfamiliar public transit systems or your group of locals don't want to split up into multiple cabs, there are plenty of reasons why a minibus shuttle or a charter bus rental can be the right choice for your next group outing.
When you reserve a Newark bus rental, your group will have a private transportation service that sticks to your schedule and only goes where you want it to—no need to make transfers or wait around for your charter bus to arrive. Instead, all passengers can hop aboard and enjoy premium amenities like WiFi, power outlets, TV screens, a DVD player, onboard restrooms, and more while a professional bus driver handles the logistics between destinations.
Make the Most of Newark with a Private Bus Rental
Whether you're in town to visit and see the sights or just passing through on the way to NYC, Newark has a lot to offer for all kinds of travelers. And what do tours of the Newark Museum of Art, family reunions along the waterfront, and tailgates outside the Prudential Center all have in common? They can benefit from a private bus rental service! Book a charter bus or minibus from the online CharterUP network, and you'll never have to worry about parking or splitting into multiple cabs. Instead, a professional bus driver will take over all the on-the-road logistics so your group can sit back, relax, and enjoy the ride.
Cheer on Your Favorite Local Sports Team
While Newark doesn't host many sports teams within city limits, the city's central location in the New York Metropolitan area grants locals and visitors alike easy access to the area's top sports venues. So whether you're a hockey fan group in town to catch a New Jersey Devils match, a crowd of Yankees fans venturing out to the Bronx, or a college alumni association gearing up to watch your local alma mater play, you'll always be close to the action when you stay in Newark.
Ease your fan group's rides to your favorite stadiums by booking a sporting event shuttle bus! The CharterUP network includes a variety of motorcoach models to suit headcounts of all sizes—from sprinter vans and minibus shuttles for small local clubs to large-scale charter bus transportation for big groups traveling across the region. Rest assured you'll always find a ride with plenty of storage space for your coolers, tents, and luggage—as well as ample legroom and reclining seats in a climate-controlled cabin.
Newark Wedding Shuttles Made Easy
Planning your wedding transportation plan has never been easier, now that CharterUP is here to help! While shuttling them between Newark wedding venues like Crystal Plaza and The Grand, treat your guests with plush leather seating, extra legroom, and entertainment options like AUX ports and WiFi for streaming music—all available on our full-service charter bus marketplace. From day-of shuttle services between your ceremony and reception to reliable DDs for your bachelor/bachelorette parties, our provider network is sure to have just the right bus rental to simplify your nuptial transportation needs.
Explore Nearby Destinations with CharterUP
Newark not only is home to iconic landmarks of its own, but the city is also a great launch point for road trips throughout the East Coast. Whether it's a day trip to other New Jersey cities, a weekend getaway to New York's best wineries, or a week-long history tour of the country's oldest cities, you can find the ideal bus rental for the job when you book through the CharterUP marketplace. Let our 600+ providers offer comfortable coach buses with premium amenities that'll make the miles fly by—WiFi, TV screens, a DVD player, reclining seats, onboard restrooms, you name it!
Popular Day Trips from Newark:
(Miles and times are approximate)
Stress-Free Airport Shuttles in Newark
Flying into or out of Newark Liberty International Airport? No need to worry about long-term parking, juggling luggage into multiple cabs, or running late for your flight—not with the CharterUP bus rental platform on your side! We've worked with countless airlines and groups of flyers to provide seamless airport shuttle services between hotels, terminals, and other popular Newark destinations. It only takes 60 seconds to book efficient ground transportation that can comfortably accommodate your travelers and all their luggage, as well as provide free WiFi and power outlets aboard their Newark airport bus rental.
Transport Newark Students with Peace of Mind
Reliable Field Trip Bus Rentals
When you rent a field trip bus rental with the CharterUP network, you'll never have to worry about the safety of your students and chaperones. Rest assured that all 600 bus companies on our marketplace are thoroughly vetted and maintain safe, sanitized fleets. Easily find a charter bus rental that offers onboard amenities to keep the kiddos entertained for the long haul—including TV screens and a DVD player for movie marathons and fast WiFi for streaming mobile games and music. With the transportation plan out of the way, you can focus on making the most out of your student orchestra outings to the Newark Symphony Hall, class field trips to the Brook Branch Park, and days exploring the New Jersey Historical Society with your little history buffs!
Newark Shuttle Services for School Athletic Events
Make your students' gameday experience stress-free and easy with a point-to-point sporting event shuttle—no matter what fills their itinerary. Whether it's a one-time tournament across the state or an ongoing shuttle service for every Newark game day this season, the CharterUP bus rental network makes it simple to keep your athletes together and comfortable while on the road. Stash sports equipment in the luggage bay under the bus, so everyone has enough room to stretch out, limber up, and gear up for the game in a climate-controlled and comfortable cabin.
Flexible University and College Transportation
From seamless cross-campus and off-campus housing shuttles to college tours across New Jersey for your prospective students, the CharterUP bus rental marketplace has a variety of options for all your university transportation needs. Just let us know when you need a ride, how many people will be hopping aboard, and what kind of amenities will keep them comfy, and you'll be able to pinpoint the ideal charter bus or minibus service for all your college and university travels around Newark.
Seamless Newark Corporate Shuttle Bus Services
Employee Shuttle Programs in Newark and Beyond
Newark's proximity to the country's biggest business centers means it's a great place to find work—but it can be frustrating to navigate come rush hour. Impress your company's most desired talent and improve employee retention by offering a reliable ride to and from your Newark office: a private employee shuttle program! With features like onboard WiFi, power outlets, and tray tables, your team will arrive at the office refreshed and ready to get to business.
Hassle-Free Newark Conference Transportation
Planning a conference at the Newark Waterfront Center? A team-building outing at the Wellness and Events Center? A networking event at your favorite Newark restaurant? No matter what fills your attendees' itinerary, you can keep them right on time and relaxed by booking a corporate shuttle rental through CharterUP. Rest assured your bus rental will be a clean, top-of-the-line motorcoach with all the latest safety features and entertainment options to impress your VIPs and clients. Request a ride with plush leather interiors, extra luggage storage, and WiFi today!
Book Your Newark Charter Bus Rental with Confidence
Ready to get started? The CharterUP marketplace makes it simple to book a Newark bus rental anytime, anywhere. Once you know your headcount, desired amenities, and a rough itinerary, you can lock in your charter bus rental or minibus shuttle within 60 seconds. Let our all-in-one platform ease your group transportation services throughout the city and beyond—so you can get back to enjoying the sights and experiences of Newark!
Frequently Asked Questions
How do I know that my group will be safe when we travel with CharterUP?
CharterUP only partners with bus operators who share our vision for delivering the highest level of service and safety to all passengers. All bus operators go through a rigorous vetting process, which includes reviewing safety records, on-time performance, and customer reviews. Additionally, CharterUP requires bus operators to maintain high standards surrounding timeliness, cleanliness, and overall customer satisfaction.
What types of groups typically use CharterUP's services?
CharterUP's services are designed to meet the needs of schools, corporations, sports teams, church groups, wedding parties, and more. Groups and companies that travel frequently can partner with CharterUP to take advantage of additional benefits reserved for recurring customers.
Can I view pictures and reviews of the buses and operators before making a reservation?
CharterUP's online marketplace displays safety ratings, recent reviews, and detailed vehicle descriptions so you can see exactly what to expect when you make your reservation. Our platform also allows you to communicate directly with bus operators, giving you the opportunity to ask any questions you may have and ensure that you're booking the right bus for your group.
How can I make a reservation for a charter bus on CharterUP's marketplace?
Simply input your travel details and our platform will generate real-time pricing and availability from our network of hundreds of bus operators across the U.S.
From there, you can compare vehicles, prices, operator reviews, on-time performance, safety records, and amenities all in one place. Once you've selected the bus that best fits your needs, you can book your reservation and receive confirmation right away.
What kinds of vehicles and amenities can I find on CharterUP?
CharterUP's network of more than 4,000 vehicles includes minibuses, coach buses, and luxurious motor coaches. Amenities can include reclining seats, air conditioning, on-board restrooms, Wi-Fi, power outlets, and entertainment options such as TV screens or DVD players.
What if I need to change my itinerary or cancel my trip?
At CharterUP, we understand that sometimes plans change, and we're here to help make any adjustments as smooth as possible. While it's always best to finalize your itinerary in advance, we know that there are many moving pieces involved in travel, and we're happy to work with you to make any necessary changes or cancellations. Changes can only be made up to 3 days before your trip.
CharterUP also offers a flexible refund policy:
100% refund: Cancellations 30 days or more from pickup
90% refund: Cancellations between 29 days and 72 hours from pickup
No refund: Cancellations fewer than 72 hours from pickup
*All refund percentages are based on the total amount of the booked trip.
For more information about our policies, refer to our complete Terms & Conditions.
How do I pay for my charter bus rental? Is the full cost due at booking?
Once you've found the perfect bus for your trip and accepted a quote, you will be directed to a payment page to confirm your reservation. At that time, a deposit of 10% will be due to secure your booking. The confirmation screen will also show the date by which the remainder of the payment is due. We require a valid credit card to be on file to secure a reservation.
Get a Quote for your Charter Bus with our Online Marketplace!
Type of Buses Available and their amenities
Pax
Wifi
Reclining
seats
TV
Power
Outlets
PA
System
Restrooms
Luggage

Charter Bus

55

Minibus

23

Van
Testimonials
"I swear this is the best way to rent a bus."
AbiVegas
10/22/2022
"Charter up is a great service that I and my family has used several times to rent buses and compare prices. Pricing is more transparent and the people at Charter up are super accommodating. The cancellation policy makes it a lot easier to book without any risk. It's such a relief to know where our bus is and who the driver is ahead of time."
Ellen89
01/12/2022
"On the day of the trip I received a tracking link when the bus was on the way. Got a notification that the bus was in front of the lobby to get picked up. The driver was very courteous and thoughtful! We were really satisfied with CharterUp and ended up giving the driver a nice gratuity at the end."
blakecummings
10/06/2021
"CharterUP doesn't cut corners in their customer service. Our trip was on a a busy weekend and we couldn't find available buses to charter our kids to a summer camp. A nice CharterUP agent found us a bus at a reasonable price. So glad we made it happen.. our parents and kids had a happy trip!"
Stevenson
07/03/2022
"We are new to charterUP and could not be happier with our decision. Been through a different bus companies and travel agents and CharterUP is the real deal. Find the costs very competitive to booking directly with the companies but they save you the time and headaches."
Marie D
09/20/2022
"Could not have been more satisfied with the experience of using CharterUP. Amazing staff and the bus we had was very nice and had leather seats."
Tarsha
03/22/2023
"Never thought I would leave a review for CharterUP or any bus rental app out there, but CharterUP delivered on what we asked for. CharterUP was awesome and made our first bus charter experience an amazing one. Their system is great and makes choosing from different bus companies worth our time. The representative agent I spoke to answered all the questions that a first timer like us had."
Imani
08/26/2022
"I used CharterUP for my wedding in Nahant, MA. We had about 100 guests that needed to be shuttled from Salem, MA, to Nahant, MA, which was about a 30 minute trip. I had to make several changes in the itinerary leading up to the wedding, and CharterUP was great at updating the changes and communicating them with the local company. I had a positive experience overall and would recommend them!"
Teresa Z
10/22/2022