Book a New York City Bus Rental for Field Trips, School Events + University Tours in Less than 60 Seconds
New York City is home to the largest public school system in the United States with more than a million students learning, growing, and exploring within the city. This number doesn't even include the university and college students across more than 100 institutions that contribute to NYC's reputation as a leader in higher education and industry experience. Safely transporting students of all ages for school-related functions is an essential part of education in New York City, and the CharterUP network can provide reliable, comfortable NYC bus rentals for any such occasion.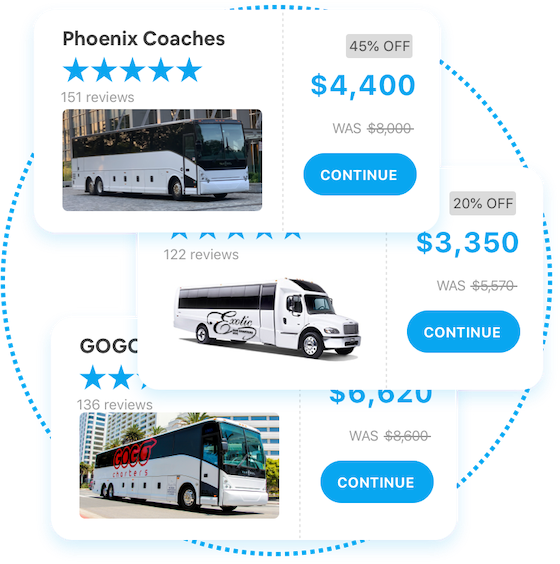 Clients that have trusted us with their transportation needs
Why Book a Bus for Your Academic Group in New York City?
Charter bus rentals for schools allow students, faculty, and staff to travel confidently and safely for school functions and educational purposes. All types of groups can benefit from private bus transportation, from high school sports teams traveling for an away game to classroom field trips to the Statue of Liberty.
Also, charter buses have safety features that most standard school buses don't have. You can reserve a charter bus rental with seatbelts, dedicated storage for belongings, and services provided by a professional, thoroughly vetted bus driver. Plus, the entertainment amenities are unbeatable. Young students will love to connect to WiFi or watch movies with onboard TVs on their way to educational New York City attractions like the American Museum of Natural History, the 9/11 Memorial Museum, and more.
Arrange for Students to Travel Safely in New York City
If you're a teacher or student group leader, then you know that student safety is a number one priority during a field trip or excursion—and a charter bus rental is one of the safest ways to travel in NYC. A student group can travel all together aboard a single vehicle, and there's plenty of space to stow away backpacks, books, and personal belongings without taking up seating space or legroom.
Long-term student transportation is also an option with CharterUP. As a New York City college or university transportation manager, you can arrange an ongoing contract for campus shuttle bus service and offer private transit on campus or between university buildings. This way, students don't need to rely on unpredictable subway transit or motor scooters and bicycles to travel to class. They can simply hop on a campus shuttle, stow away their backpack, connect to a WiFi hotspot, and focus on their studies during a stress-free, cross-campus trip.
Tour NYC University Campuses with a Private Shuttle
Book a bus to bring prospective college students to New York City and plan a custom tour of campuses across the city. A private bus rental allows you and a group to travel on a personal schedule and visit the schools at the top of your list without wasting time. Plan admissions tours at top New York City schools like New York University, Columbia University, Barnard College, and Baruch College, and travel to them at your own pace.
Rent a Charter Bus for New York City School Events
Charter bus rentals with professional drivers are perfect for transporting New York City students traveling to school-sponsored events as a group. A charter bus, minibus, or sprinter van service can safely transport students to Prom, Homecoming, sporting events, graduations, theatrical performances, and other functions. Faculty and staff can ensure students are on time and cared for and assure parents of their children's safety while they're on the road.
Arrange Group Transportation for Students with New York City's First and Only Charter Bus Marketplace
CharterUP only partners with bus operators who share a vision for delivering the highest level of service and safety to all passengers. When you need transportation for students in New York City, CharterUP has the charter bus rental service you're looking for. Get a quote or call 1-855-920-2287 and book a bus rental for a field trip, school event, or university tour in NYC.
Get a Quote for your Charter Bus with our Online Marketplace!
Type of Buses Available and their amenities
Pax
Wifi
Reclining
seats
TV
Power
Outlets
PA
System
Restrooms
Luggage

Charter Bus

55

Minibus

23

Van
Testimonials
"I swear this is the best way to rent a bus."
AbiVegas
10/22/2022
"Charter up is a great service that I and my family has used several times to rent buses and compare prices. Pricing is more transparent and the people at Charter up are super accommodating. The cancellation policy makes it a lot easier to book without any risk. It's such a relief to know where our bus is and who the driver is ahead of time."
Ellen89
01/12/2022
"On the day of the trip I received a tracking link when the bus was on the way. Got a notification that the bus was in front of the lobby to get picked up. The driver was very courteous and thoughtful! We were really satisfied with CharterUp and ended up giving the driver a nice gratuity at the end."
blakecummings
10/06/2021
"CharterUP doesn't cut corners in their customer service. Our trip was on a a busy weekend and we couldn't find available buses to charter our kids to a summer camp. A nice CharterUP agent found us a bus at a reasonable price. So glad we made it happen.. our parents and kids had a happy trip!"
Stevenson
07/03/2022
"We are new to charterUP and could not be happier with our decision. Been through a different bus companies and travel agents and CharterUP is the real deal. Find the costs very competitive to booking directly with the companies but they save you the time and headaches."
Marie D
09/20/2022
"Could not have been more satisfied with the experience of using CharterUP. Amazing staff and the bus we had was very nice and had leather seats."
Tarsha
03/22/2023
"Never thought I would leave a review for CharterUP or any bus rental app out there, but CharterUP delivered on what we asked for. CharterUP was awesome and made our first bus charter experience an amazing one. Their system is great and makes choosing from different bus companies worth our time. The representative agent I spoke to answered all the questions that a first timer like us had."
Imani
08/26/2022
"I used CharterUP for my wedding in Nahant, MA. We had about 100 guests that needed to be shuttled from Salem, MA, to Nahant, MA, which was about a 30 minute trip. I had to make several changes in the itinerary leading up to the wedding, and CharterUP was great at updating the changes and communicating them with the local company. I had a positive experience overall and would recommend them!"
Teresa Z
10/22/2022