St. Louis Charter Bus & Minibus Rentals
You can rent a St. Louis charter bus for your next group outing in less than 60 seconds when you book with CharterUP! Our game-changing app provides you with instant access to a vast marketplace of bus rentals available across the country. With our platform, you can compare quotes, vehicles, amenities, and reviews for charter bus rentals in St. Louis and anywhere else in the United States.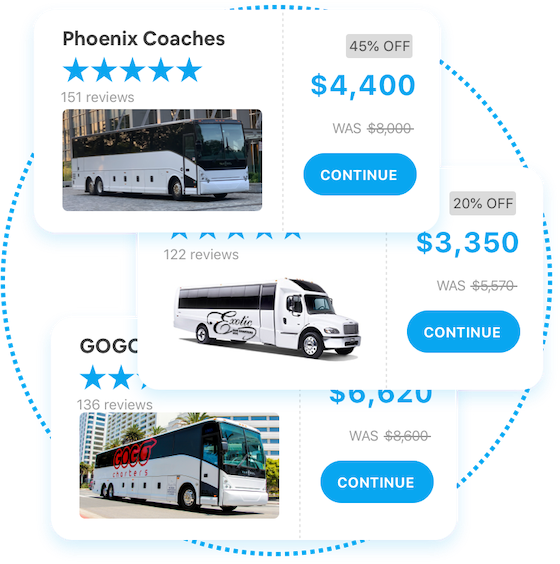 Clients that have trusted us with their transportation needs
How it Works
Charter a bus in under 60 seconds with our revolutionary marketplace

Tell us about your trip
Simply enter your trip details, including the pickup location, destination, travel dates and the number of passengers.

Compare quotes
CharterUP instantly calculates price quotes from different vendors in your area and displays them along with ratings, reviews and pictures of the buses.

Book with confidence
As soon as you confirm your reservation via our secure booking page, you can review your full itinerary and other details about your trip.
The First and Only Charter Bus Marketplace in St. Louis
The CharterUP app is making group transportation simpler than ever. Our large bus marketplace makes it easy for you to find a St. Louis bus rental for all occasions, from weddings to graduation parties to road trips and more. Each charter bus provider in our network has been vetted to ensure your safety, meaning you get a professional bus driver who has a clean background and motor vehicle record, along with a safe bus that's been maintained and inspected regularly.
What type of bus can you rent in St. Louis? The answer is, with CharterUP, almost anything! The providers in our network have everything from minibuses for smaller events to full-size coach buses for larger occasions. It's easy to compare and contrast features and amenities of different bus rentals within the app, meaning you can get exactly what you are looking for when it comes to your group transportation needs.
Benefits of Booking a St. Louis Charter Bus
Renting a St. Louis charter bus can elevate your group travel experience for many reasons. With your own private bus rental, you are in charge of your transportation, meaning your bus can take you anywhere you want to go, when you want to go there, and all together as a group. No staggered arrivals, fighting for parking spots, or having to rely on limited public transportation or rideshares that may not even be available in the area you want to explore. A charter bus rental also comes with amenities regular transportation may not have, such as onboard WiFi, an onboard restroom, and TVs to keep your group entertained during the ride.
See St. Louis with a Private Charter Bus
No matter your reason for being in St. Louis, CharterUP can connect you with the right charter bus. From seeing the animals at the St. Louis Zoo to sightseeing the Gateway Arch to visiting one of the city's many museums, there is something for everyone! And there is group transportation available for everyone, too! There's nowhere in the city that a St. Louis bus rental from CharterUP can't take you.
Catch a Sports Game in St. Louis with a Private Charter Bus
Feel like catching a Cardinals game at Busch Stadium, or an ice hockey game at Enterprise Stadium, home of the St. Louis Blues? Spectators and players alike can rent a charter bus in St. Louis for your upcoming game. Each bus rental comes with a designated driver, plenty of storage space for tailgating gear and personal belongings, and amenities to keep you comfortable during the drive like A/C and cushioned seats. Plus, you won't stress about battling other fans for a parking spot – your charter bus driver has got you covered. Most charter bus companies in our network allow drinking on the charter buses, as long as you keep the bus clean, meaning you can pregame safely in the car with your group without having to worry.
Book a St. Louis Wedding Shuttle for Your Big Day
With many beautiful parks, the iconic Gateway Arch, and a vibrant downtown area, there is a wedding venue for every kind of couple in St. Louis. CharterUP is proud to offer numerous St. Louis wedding shuttle rentals for all wedding sizes, from intimate elopements to weddings with hundreds of people. Take some of the stress of wedding planning away with a reliable wedding shuttle option that can be there for you every step of your wedding. Your St. Louis charter bus rental can take you to and from the bachelor and bachelorette party, provide transportation to the rehearsal dinner, and everything else. Booking a wedding shuttle is easier than ever when you use CharterUP's app.
See the Top Sights in St. Louis
Looking to see the sights of St. Louis? We offer charters for travel agents and individual parties that are looking to see the best that St. Louis has to offer. A charter bus rental is perfect for sightseeing, offering big bay windows for maximum viewing, comfortable accommodations with onboard WiFi and other amenities, and a highly vetted and trained charter bus driver behind the wheel to handle the transportation. With CharterUP's app, you can compare pricing and features on hundreds of St. Louis buses, and only choose what works best for your group. And if you're looking for an overnight or weekend getaway, maybe to a neighboring city like Chicago, CharterUP can help you book that, too!
Explore nearby destinations with CharterUP
CharterUP aims to empower travelers to get the most out of their group transportation. With us, you can go beyond St. Louis with a private shuttle bus rental to popular cities nearby. See Millennium Park and Wrigley Field in Chicago, watch a race at the Indianapolis Motor Speedway, or even visit Chattanooga for a weekend! We have St. Louis bus rentals for any of your upcoming day trips, weekend trips, or even weeklong trips.
Popular Trips from St. Louis:
Atlanta, GA: 554 miles (8-9 hours)
Chattanooga, TN: 439 miles (6-7 hours)
Nashville, TN: 309 miles (4-5 hours)
Chicago, IL: 298 miles (4-5 hours)
Louisville, KY: 251 miles (4 hours)
Indianapolis, IN: 243 miles (3-4 hours)
(Miles and times are approximate)
Shuttle Students Safely With CharterUP's Verified Bus Network
Book a Bus Rental for Field Trips and St. Louis Students
When it comes to finding a St. Louis charter bus for your school events like field trips, we know that safety is at the top of your mind. That's why we only work with reputable charter bus companies. Each bus in our network is maintained and inspected regularly for safety, sanitized between trips, and driven by a highly trained driver with a clean background and driving record. A St. Louis charter bus comes with extra safety features unavailable to a regular school bus, such as seat belts. Plus, students can enjoy added amenities like A/C to keep cool, or WiFi and onboard TVs for entertainment. Using CharterUP's platform, you can ensure your bus has ADA accommodations, such as wheelchair lifts, to ensure that every student feels included.
Our marketplace gives you access to charter bus rentals in St. Louis for all age groups of students. college shuttle bus rentals provide rides for sports teams, academic events, Greek life formals, shuttles to offsite parking lots, and more. And for needs that are more than one-off occasions, you can secure a long-term rental, such as campus shuttles for faculty and students alike. You can opt for a customized shuttle bus rental that suits your campus and its specific needs.
Hassle-Free Airport Transfers in St. Louis
Almost nobody has fun traveling through the airport, but CharterUP is here to make the process less stressful and confusing for everybody, whether you need a charter bus for airport transfers and pickups at Lambert, or you are an airport professional seeking charters for airlines. A professional charter bus driver is familiar with the airport's layout, is in touch with you over the phone when needed, and will be exactly where they are supposed to be during pickup. And if you are in charge of airport logistics, you can rent charter buses to help shuttle staff and passengers to parking lots, other buildings, and even to local transit stations. Airport headaches are a thing of the past when you rent a bus with CharterUP.
Provide Safe And Reliable Shuttle Bus Transportation For St. Louis Employees
Set up Shuttle Services for Commuters
You can rent a shuttle service for employees using CharterUP's app. A shuttle service is a great way to take some stress off your current employees and attract new talent. With a shuttle bus, you can pick up your employees at a designated meeting spot, take them to work, and take them back to the meeting spot after the day is done. Instead of fighting traffic, they have more time to bond with their coworkers, relax, and even get a jumpstart on the day using the onboard WiFi. You can also book a shuttle service to transport employees to offsite parking, shuttle them between office locations, and more. CharterUP books shuttle buses for both short and long-term use, depending on which works best for your company.
Book a Charter Bus Rental in St. Louis for Corporate Outings
CharterUP can provide more than just shuttle services for all your corporate group transportation needs. You can use our app to book a St. Louis charter bus for conventions, trade shows, company retreats, and more. Your bus driver will aim to arrive 15 minutes early to each stop on your itinerary, helping ensure things run smoothly, and can even help you load and unload the bus upon request. The buses in our network can be rented for any industry, including medical and healthcare shuttle services. Use the CharterUP app to tailor your St. Louis charter bus rental to your company's specific needs.
Secure Your St. Louis Charter Bus Rental Today
Ride into your next St. Louis event with style when you rent from CharterUP! Our trusted network of providers spans across the entire country and can fulfill any group transportation request. All you need to do is know where you're going, when you are going there, and how many people you are going with. From there, you're empowered to choose the perfect bus for you with CharterUP.
Frequently Asked Questions
How do I know that my group will be safe when we travel with CharterUP?
CharterUP only partners with bus operators who share our vision for delivering the highest level of service and safety to all passengers. All bus operators go through a rigorous vetting process, which includes reviewing safety records, on-time performance, and customer reviews. Additionally, CharterUP requires bus operators to maintain high standards surrounding timeliness, cleanliness, and overall customer satisfaction.
What types of groups typically use CharterUP's services?
CharterUP's services are designed to meet the needs of schools, corporations, sports teams, church groups, wedding parties, and more. Groups and companies that travel frequently can partner with CharterUP to take advantage of additional benefits reserved for recurring customers.
Can I view pictures and reviews of the buses and operators before making a reservation?
CharterUP's online marketplace displays safety ratings, recent reviews, and detailed vehicle descriptions so you can see exactly what to expect when you make your reservation. Our platform also allows you to communicate directly with bus operators, giving you the opportunity to ask any questions you may have and ensure that you're booking the right bus for your group.
How can I make a reservation for a charter bus on CharterUP's marketplace?
Simply input your travel details and our platform will generate real-time pricing and availability from our network of hundreds of bus operators across the U.S.
From there, you can compare vehicles, prices, operator reviews, on-time performance, safety records, and amenities all in one place. Once you've selected the bus that best fits your needs, you can book your reservation and receive confirmation right away.
What kinds of vehicles and amenities can I find on CharterUP?
CharterUP's network of more than 4,000 vehicles includes minibuses, coach buses, and luxurious motor coaches. Amenities can include reclining seats, air conditioning, on-board restrooms, Wi-Fi, power outlets, and entertainment options such as TV screens or DVD players.
What if I need to change my itinerary or cancel my trip?
At CharterUP, we understand that sometimes plans change, and we're here to help make any adjustments as smooth as possible. While it's always best to finalize your itinerary in advance, we know that there are many moving pieces involved in travel, and we're happy to work with you to make any necessary changes or cancellations. Changes can only be made up to 3 days before your trip.
CharterUP also offers a flexible refund policy:
100% refund: Cancellations 30 days or more from pickup
90% refund: Cancellations between 29 days and 72 hours from pickup
No refund: Cancellations fewer than 72 hours from pickup
*All refund percentages are based on the total amount of the booked trip.
For more information about our policies, refer to our complete Terms & Conditions.
How do I pay for my charter bus rental? Is the full cost due at booking?
Once you've found the perfect bus for your trip and accepted a quote, you will be directed to a payment page to confirm your reservation. At that time, a deposit of 10% will be due to secure your booking. The confirmation screen will also show the date by which the remainder of the payment is due. We require a valid credit card to be on file to secure a reservation.
Get a Quote for your Charter Bus with our Online Marketplace!
Type of Buses Available and their amenities
Pax
Wifi
Reclining
seats
TV
Power
Outlets
PA
System
Restrooms
Luggage

Charter Bus

55

Minibus

23

Van
Testimonials
"I swear this is the best way to rent a bus."
AbiVegas
10/22/2022
"Charter up is a great service that I and my family has used several times to rent buses and compare prices. Pricing is more transparent and the people at Charter up are super accommodating. The cancellation policy makes it a lot easier to book without any risk. It's such a relief to know where our bus is and who the driver is ahead of time."
Ellen89
01/12/2022
"On the day of the trip I received a tracking link when the bus was on the way. Got a notification that the bus was in front of the lobby to get picked up. The driver was very courteous and thoughtful! We were really satisfied with CharterUp and ended up giving the driver a nice gratuity at the end."
blakecummings
10/06/2021
"CharterUP doesn't cut corners in their customer service. Our trip was on a a busy weekend and we couldn't find available buses to charter our kids to a summer camp. A nice CharterUP agent found us a bus at a reasonable price. So glad we made it happen.. our parents and kids had a happy trip!"
Stevenson
07/03/2022
"We are new to charterUP and could not be happier with our decision. Been through a different bus companies and travel agents and CharterUP is the real deal. Find the costs very competitive to booking directly with the companies but they save you the time and headaches."
Marie D
09/20/2022
"Could not have been more satisfied with the experience of using CharterUP. Amazing staff and the bus we had was very nice and had leather seats."
Tarsha
03/22/2023
"Never thought I would leave a review for CharterUP or any bus rental app out there, but CharterUP delivered on what we asked for. CharterUP was awesome and made our first bus charter experience an amazing one. Their system is great and makes choosing from different bus companies worth our time. The representative agent I spoke to answered all the questions that a first timer like us had."
Imani
08/26/2022
"I used CharterUP for my wedding in Nahant, MA. We had about 100 guests that needed to be shuttled from Salem, MA, to Nahant, MA, which was about a 30 minute trip. I had to make several changes in the itinerary leading up to the wedding, and CharterUP was great at updating the changes and communicating them with the local company. I had a positive experience overall and would recommend them!"
Teresa Z
10/22/2022