Dallas Charter Bus & Minibus Rentals
Need a Dallas charter bus? Renting a bus in Dallas has never been easier thanks to CharterUP's self-serve platform. In as little as 60 seconds, you can secure the perfect charter bus for your group, no matter your group size or occasion. Try our app today to see how easy and quick it can be to book group transportation in Dallas!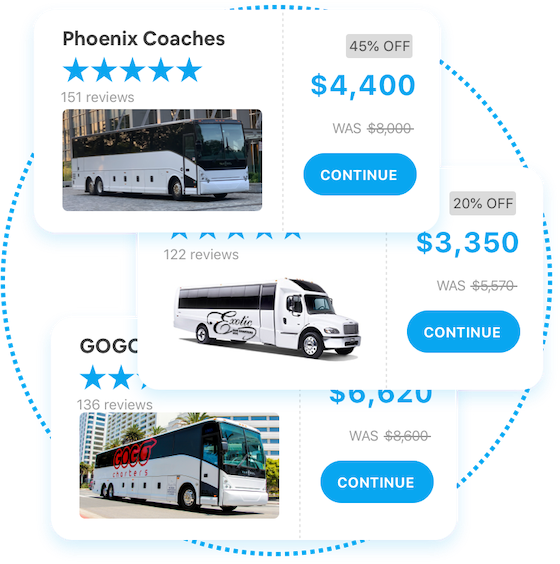 Clients that have trusted us with their transportation needs
How it Works
Charter a bus in under 60 seconds with our revolutionary marketplace

Tell us about your trip
Simply enter your trip details, including the pickup location, destination, travel dates and the number of passengers.

Compare quotes
CharterUP instantly calculates price quotes from different vendors in your area and displays them along with ratings, reviews and pictures of the buses.

Book with confidence
As soon as you confirm your reservation via our secure booking page, you can review your full itinerary and other details about your trip.
Dallas's First and Only Charter Bus Marketplace
With the help of CharterUP's industry-changing app, you can instantly compare quotes, vehicles, and reviews for charter bus rentals in Dallas and all over the country. This is the first bus marketplace of its kind, and is set to change the way travelers book group transportation. All the pains of booking travel the old-fashioned way, like uninterested travel agents, long wait times, and deceptive websites, are a thing of the past.
CharterUP offers bus rentals for all group sizes and itineraries, from weddings to conventions to field trips. The buses in the CharterUP network vary in size, from minibuses for smaller parties to full-size coach buses for larger events, and come with all the amenities a traveler needs. Plus, you can opt for ADA-compliant bus rentals with amenities like wheelchair lifts for no extra cost. All you need to do is put your travel dates, passenger count, and itinerary into the app, and you're ready to hit the road with one of the countless Dallas buses in CharterUP's network.
Benefits of Booking a Dallas Charter Bus
All the usual problems that you can run into with group transportation, such as finding parking, coordinating cars, and driving in unfamiliar areas, are eliminated with a Dallas bus rental from CharterUP. The drivers in our network have logged thousands of miles across the country, including Dallas, and our team regularly reviews their safety records. During your next Dallas outing, let a professional and highly trained driver take care of the transportation.
See Dallas with a Private Charter Bus
Home to the largest arts scene in the country, the Dallas Cowboys football team, booming restaurant and shopping districts, and even the original frozen margarita, Dallas has something to offer everybody. And when you need group transportation to enjoy some of the many opportunities that Dallas has to offer, you can count on CharterUP and our extensive network for finding the perfect Dallas bus rental.
Catch a Cowboys Game
You can't go to Dallas without checking out a Cowboys game. A visit to AT&T Stadium is a perfect outing for corporate events, bachelor parties, and any group that loves football. And a private Dallas charter bus rental is the perfect transportation for the big day. Your professional charter bus driver can pick you and your group directly up from the hotel, avoiding the complications of finding rides for multiple people and staggered arrival times, and take you to the stadium stress-free. And afterwards, enjoy the benefits of having a designated driver while you indulge in Dallas's thriving bar and restaurant scene after the big game.
Book Stress-Free Dallas Wedding Shuttles
Say "I do!" to less stress and better wedding transportation when you book a Dallas wedding shuttle with CharterUP. Our extensive bus marketplace has access to wedding shuttle rentals in Dallas and beyond. You can rent transportation from CharterUP's marketplace for any event in your wedding, whether you need a shuttle bus to transport guests from the ceremony to a different reception venue, or want reliable transportation for your out-of-town guests staying in hotels. From intimate elopements at the Dallas Arboretum to large-scale events at 2616 Commerce Event Center, CharterUP is here for you on your special day.
See the Dallas World Aquarium, Dallas Zoo, and More
Hit some of the biggest attractions the city has to offer, like the Dallas World Aquarium, Dallas Zoo, Reunion Tower, and more with a Dallas bus rental. All you need to do is make a list of everywhere you want to go, and have the list handy when you are ready to book. From there, open the CharterUP app, browse different buses in our marketplace, and secure your Dallas bus in our app from a provider of your choice. Our team can take it from there. You'll be set up with a trained and experienced charter bus driver who can take you to and from every stop on your list, so you can see the city in style and comfort.
Explore nearby destinations with CharterUP
They say everything is bigger in Texas. But there's no distance too big or too small for CharterUP to take your group! With a private bus rental in Dallas, you can have your own professional transportation to some of the best cities around Dallas. Take a day trip to The Heritage Farmstead Museum in Plano, see The Alamo and River Walk in San Antonio, and even cross the border in New Orleans in time for Mardi Gras. Your Dallas bus rental runs according to your schedule, giving you reliable and professional transportation no matter where your heart takes you.
Popular Trips from Dallas:
(Miles and times are approximate)
Easy Airport Transfers in Dallas
Flying in or out of Dallas soon with a larger group? Avoid the challenge of driving from the airport in multiple cars, splitting up groups, and the stress of Dallas highway traffic after a long flight. With the help of CharterUP's app, you can book a charter bus for airport transfers, including to and from the Dallas/Fort Worth International Airport. When you rent a Dallas charter bus, you have guaranteed airport pickup transportation for any group that will be there when and where you need it. Your experienced bus driver will be familiar with the Dallas airport, can easily be reached by phone if you get lost and need guidance, and will aim to arrive 15 minutes earlier than their planned pickup time – just in case.
And CharterUP is helpful for more than just airport passengers! If you are a logistics planner for any airport in the United States, including Dallas, you can secure charter bus rentals for airlines, which can assist you with passenger shuttles, employee shuttles, and even emergency transportation when you need it the most.
Shuttle Students Safely With CharterUP's Verified Bus Network
Book a Bus for Field Trips to the Dallas Zoo and More
At CharterUP, our biggest priority is your safety. That's why we only work with companies that employ highly trained and vetted bus drivers with on-the-road experience and a clean background check and driving record. So when it comes to Dallas charter bus rentals for school events, such as field trips, you can count on CharterUP to keep your students safe. Unlike school buses, which have no seatbelts or A/C, a Dallas bus rental will ensure your students are safely strapped into their seats and comfortable in the Texas heat. Students will enjoy onboard TVs and WiFi for entertainment on the way to their destination. There are Dallas buses in our network for all school-related needs, including college shuttle buses for campus events, campus tours, college sports teams, and other campus needs.
Provide Safe And Reliable Shuttle Bus Transportation For Dallas Employees
Set up Shuttle Services for Commuters
A popular reason cited for people leaving their jobs, no matter where they live in the United States, is the brutal commute into the city. If you rent a shuttle service for employees to your Dallas office, you can retain employees, attract top talent in a competitive job market by offering a unique perk, and foster creativity and closer relationships among your employees. A Dallas employee shuttle bus rental can take your employees to offsite parking lots, to and from different offices, and of course back home after a long day of work. Plus, using onboard amenities, employees can relax and avoid rush hour in cushioned seats, check up on their emails using WiFi, and charge their devices with power outlets.
Book a Charter Bus Rental to the Kay Bailey Hutchison Convention Center and More
You can use the CharterUP bus marketplace to connect you with Dallas buses for trade shows, airport pickups, weekend events, team building activities, and more. Each bus in our network comes with a professional driver that aims to arrive 15 minutes earlier than their designated arrival time, keeping things running according to schedule. With a Dallas bus rental from CharterUP, you can tailor your corporate transportation to your specific events and needs, whether you need transportation for a weekend, a week, or an entire year. Our Dallas shuttle bus rental services span all industries, including medical and healthcare shuttle services. No matter your Dallas corporate bus rental needs, CharterUP can find a way to make it happen.
Texas State Fair Shuttle Rentals
The State Fair of Texas, held almost every year in Dallas since 1886, is one of the biggest in the country, drawing in more than two million visitors annually. And while it might seem like a logistical nightmare to take a large group of people to the fair, or to organize logistics if you are a planner, CharterUP has an all-inclusive transportation solution. Due to the enormous nature of our Dallas bus network, you are able to rent more than one bus at a time, and in any size you would like. Book larger coach buses for guests at the far end of the parking lot, smaller buses for staff, and any other charter bus needs.
Secure Your Dallas Charter Bus Rental Today
Thanks to CharterUP's massive Dallas charter bus marketplace and easy-to-use app, it's never been easier or quicker to secure a bus in Dallas. Get a quote in less than 60 seconds for the exact charter bus (or buses) that you need. All you need to do is know where you're going, when you are going there, and how many people you are going with. From there, let CharterUP handle the rest.
Frequently Asked Questions
How do I know that my group will be safe when we travel with CharterUP?
CharterUP only partners with bus operators who share our vision for delivering the highest level of service and safety to all passengers. All bus operators go through a rigorous vetting process, which includes reviewing safety records, on-time performance, and customer reviews. Additionally, CharterUP requires bus operators to maintain high standards surrounding timeliness, cleanliness, and overall customer satisfaction.
What types of groups typically use CharterUP's services?
CharterUP's services are designed to meet the needs of schools, corporations, sports teams, church groups, wedding parties, and more. Groups and companies that travel frequently can partner with CharterUP to take advantage of additional benefits reserved for recurring customers.
Can I view pictures and reviews of the buses and operators before making a reservation?
CharterUP's online marketplace displays safety ratings, recent reviews, and detailed vehicle descriptions so you can see exactly what to expect when you make your reservation. Our platform also allows you to communicate directly with bus operators, giving you the opportunity to ask any questions you may have and ensure that you're booking the right bus for your group.
How can I make a reservation for a charter bus on CharterUP's marketplace?
Simply input your travel details and our platform will generate real-time pricing and availability from our network of hundreds of bus operators across the U.S.
From there, you can compare vehicles, prices, operator reviews, on-time performance, safety records, and amenities all in one place. Once you've selected the bus that best fits your needs, you can book your reservation and receive confirmation right away.
What kinds of vehicles and amenities can I find on CharterUP?
CharterUP's network of more than 4,000 vehicles includes minibuses, coach buses, and luxurious motor coaches. Amenities can include reclining seats, air conditioning, on-board restrooms, Wi-Fi, power outlets, and entertainment options such as TV screens or DVD players.
What if I need to change my itinerary or cancel my trip?
At CharterUP, we understand that sometimes plans change, and we're here to help make any adjustments as smooth as possible. While it's always best to finalize your itinerary in advance, we know that there are many moving pieces involved in travel, and we're happy to work with you to make any necessary changes or cancellations. Changes can only be made up to 3 days before your trip.
CharterUP also offers a flexible refund policy:
100% refund: Cancellations 30 days or more from pickup
90% refund: Cancellations between 29 days and 72 hours from pickup
No refund: Cancellations fewer than 72 hours from pickup
*All refund percentages are based on the total amount of the booked trip.
For more information about our policies, refer to our complete Terms & Conditions.
How do I pay for my charter bus rental? Is the full cost due at booking?
Once you've found the perfect bus for your trip and accepted a quote, you will be directed to a payment page to confirm your reservation. At that time, a deposit of 10% will be due to secure your booking. The confirmation screen will also show the date by which the remainder of the payment is due. We require a valid credit card to be on file to secure a reservation.
Get a Quote for your Charter Bus with our Online Marketplace!
Type of Buses Available and their amenities
Pax
Wifi
Reclining
seats
TV
Power
Outlets
PA
System
Restrooms
Luggage

Charter Bus

55

Minibus

23

Van
Testimonials
"I swear this is the best way to rent a bus."
AbiVegas
10/22/2022
"Charter up is a great service that I and my family has used several times to rent buses and compare prices. Pricing is more transparent and the people at Charter up are super accommodating. The cancellation policy makes it a lot easier to book without any risk. It's such a relief to know where our bus is and who the driver is ahead of time."
Ellen89
01/12/2022
"On the day of the trip I received a tracking link when the bus was on the way. Got a notification that the bus was in front of the lobby to get picked up. The driver was very courteous and thoughtful! We were really satisfied with CharterUp and ended up giving the driver a nice gratuity at the end."
blakecummings
10/06/2021
"CharterUP doesn't cut corners in their customer service. Our trip was on a a busy weekend and we couldn't find available buses to charter our kids to a summer camp. A nice CharterUP agent found us a bus at a reasonable price. So glad we made it happen.. our parents and kids had a happy trip!"
Stevenson
07/03/2022
"We are new to charterUP and could not be happier with our decision. Been through a different bus companies and travel agents and CharterUP is the real deal. Find the costs very competitive to booking directly with the companies but they save you the time and headaches."
Marie D
09/20/2022
"Could not have been more satisfied with the experience of using CharterUP. Amazing staff and the bus we had was very nice and had leather seats."
Tarsha
03/22/2023
"Never thought I would leave a review for CharterUP or any bus rental app out there, but CharterUP delivered on what we asked for. CharterUP was awesome and made our first bus charter experience an amazing one. Their system is great and makes choosing from different bus companies worth our time. The representative agent I spoke to answered all the questions that a first timer like us had."
Imani
08/26/2022
"I used CharterUP for my wedding in Nahant, MA. We had about 100 guests that needed to be shuttled from Salem, MA, to Nahant, MA, which was about a 30 minute trip. I had to make several changes in the itinerary leading up to the wedding, and CharterUP was great at updating the changes and communicating them with the local company. I had a positive experience overall and would recommend them!"
Teresa Z
10/22/2022