The September chill in the air and the Friday Night Lights shining like stars can only mean one thing: Fall sports are back! The frustrating logistics of team transportation, however, can stay a thing of the past.
CharterUP handles the logistics of planning the trip so coaches, chaperones and student athletes can focus on what's most important – the team and the game they're about to play.
As schools gear up for fall sports, we're diving into the benefits of chartering a bus instead of taking the school bus to away games.
School Buses vs. Charter Buses
While some school districts are opting for greener, more comfortable e-buses, most school buses on the road are still the big yellow buses we all grew up with. School buses have been the same for over 80 years, and you can feel it.
When traveling to away games, whether short- or long-distance, your team deserves reliable and comfortable transportation that a school bus just can't provide.
Enter the charter bus: Ample storage, complete visibility and control over reservations, and spacious, comfortable seating that makes even long journeys feel like a breeze. With onboard amenities such as WiFi, restrooms, power outlets, premium leather seats and more, your team can relax and save their energy for the big game. This is especially helpful for teams traveling to away games, such as Atlanta teams needing an Orlando charter bus.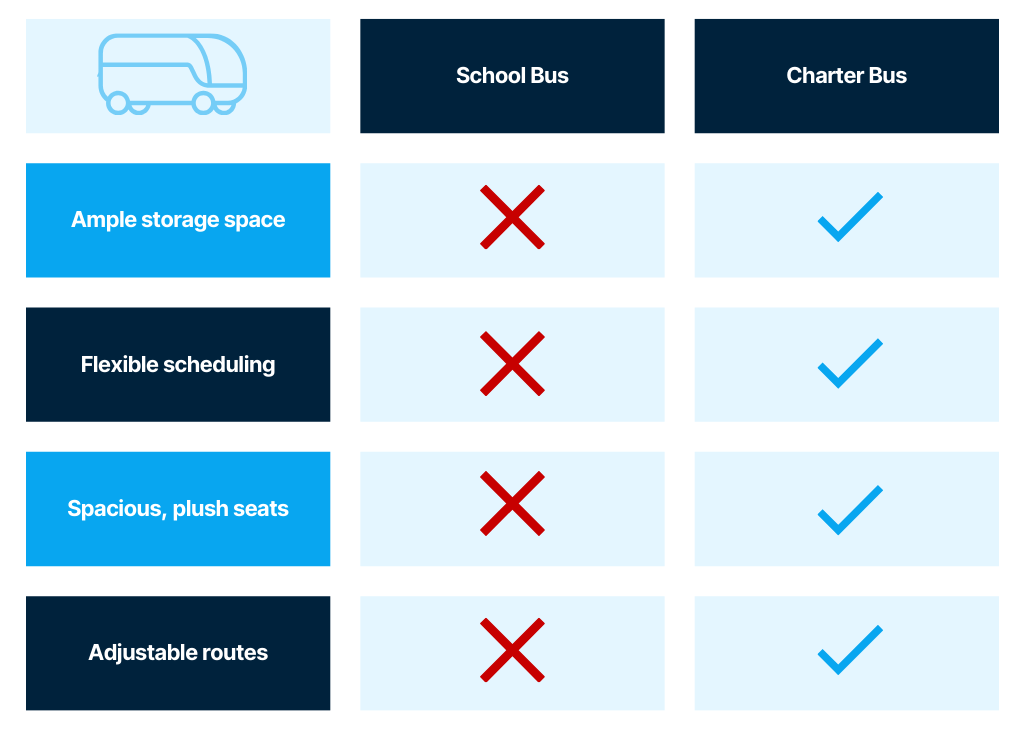 Reliable Transportation
You'll be able to see safety ratings, recent reviews and detailed vehicle descriptions on our marketplace. Before your trip, you can communicate with your charter bus provider and request images of your specific bus rental for added transparency.
Flexible Scheduling
You've planned your team's itinerary down to the minute, accounting for warm-ups, cool-downs and meals, only to find out at the last minute that there's been a change to the competition schedule. Before panic can set in, you can quickly go online and modify your reservation as needed. You can also message the support team from your dashboard to let us know what's changed, and we'll handle the rest.
Ample Storage for Gear
Fitting an entire team on the bus is one thing. But trying to fit all of the gear, equipment and luggage can be a whole new ballgame. With a versatile fleet of 4,000+ vehicles available through CharterUP's network, you can take the precarious maneuvering out of storing all the team's gear. With ample room for equipment and dedicated storage compartments, teams can ensure their belongings arrive safely and securely at their destination.
Never Compromise on Comfort
A charter bus is much more comfortable and spacious than your typical school bus, so players arrive in tip-top shape, ready to lead your school to victory. No matter the size of your team, we've got a vehicle that can keep you all together. We offer motor coaches that hold 56 passengers and minibuses ranging from 16 to 35 passengers.
All-Inclusive Transportation
Your charter bus rental will get you to and from the game, but that's not all. You can even use your charter bus to travel to city sights and restaurants when not competing instead of trying to figure out rideshare options or public transportation or cajoling the school bus driver to take the team into the city. With a charter bus rental, you can all stay connected without the hassle.
Administrator-Approved Reservations
With CharterUP's streamlined online reservation platform, you can collect quotes from multiple operators at once, rather than spending hours going back and forth on the phone with local operators. Our marketplace has everything you need in one place.
Tax documents and operator insurance certificates can easily be found on the reservation page, ensuring school administrators and finance teams have all the information they need.
Up Your Game with CharterUP
Sports teams deserve a reliable transportation partner that offers ample storage, full visibility and control over reservations and comfortable travel, ensuring team members arrive rested and energized instead of cranky and sore. CharterUP will get you there on time with real-time tracking and 24/7 support for any last-minute changes.
Get a Quote