A memorable road stop does more than just offer a break from the monotony of the highway; it serves as a portal to the local culture and a snapshot of the region's character. It's not merely a waypoint for refueling your vehicle and stretching your limbs; it's a chance to stretch your mind as well, to engage with the local flavors, crafts and stories.
The distinction between a good road stop and a truly exceptional one lies in its ability to linger in your memory, beckoning you for a return visit even before you've resumed your journey. It's that rare find that becomes a chapter in your travel story, not just a footnote.
For those who believe that every mile of a journey weaves the narrative of an adventure, the choice of road stop is pivotal. That's why we've gone the extra mile to rank the top 15 road stops for buses in the country. We've considered factors like parking availability, proximity to major routes, amenities, hours of operation, and uniqueness. Here's how it breaks down:
| Parking | Proximity to Route | Amenities | Hours | Uniqueness |
| --- | --- | --- | --- | --- |
| 1 point: Tough squeeze or no parking | 1 point: It's a bit of a detour, over 5 miles from the main drag | 1 point: Pack your snacks; there's nowhere to grab a bite or a souvenir here | 1 point: Not open weekends or evenings | 1 point: It's got the classic road trip kitsch – oversized yarn balls included |
| 2 points: Moderate parking space | 2 points: Close enough to the freeway that you won't need to ask for directions, under 5 miles away | 2 points: Restaurants <5 miles away with a gift shop at the location | 2 points: Open for the better part of the day and most of the week, like your local bank | 2 points: Stands out among the rest and might deserve a post-trip mention |
| 3 points: Ample parking space | 3 points: Practically on the freeway's shoulder, less than a mile away | 3 points: Restaurants <1 mile away or located on premises, with a gift shop and more | 3 points: Always open, any hour, any day – they're there for you | 3 points: The kind of place that might just deserve its own postcard |
Bronze Medalists
#15: Hood Milk Bottle (9 points)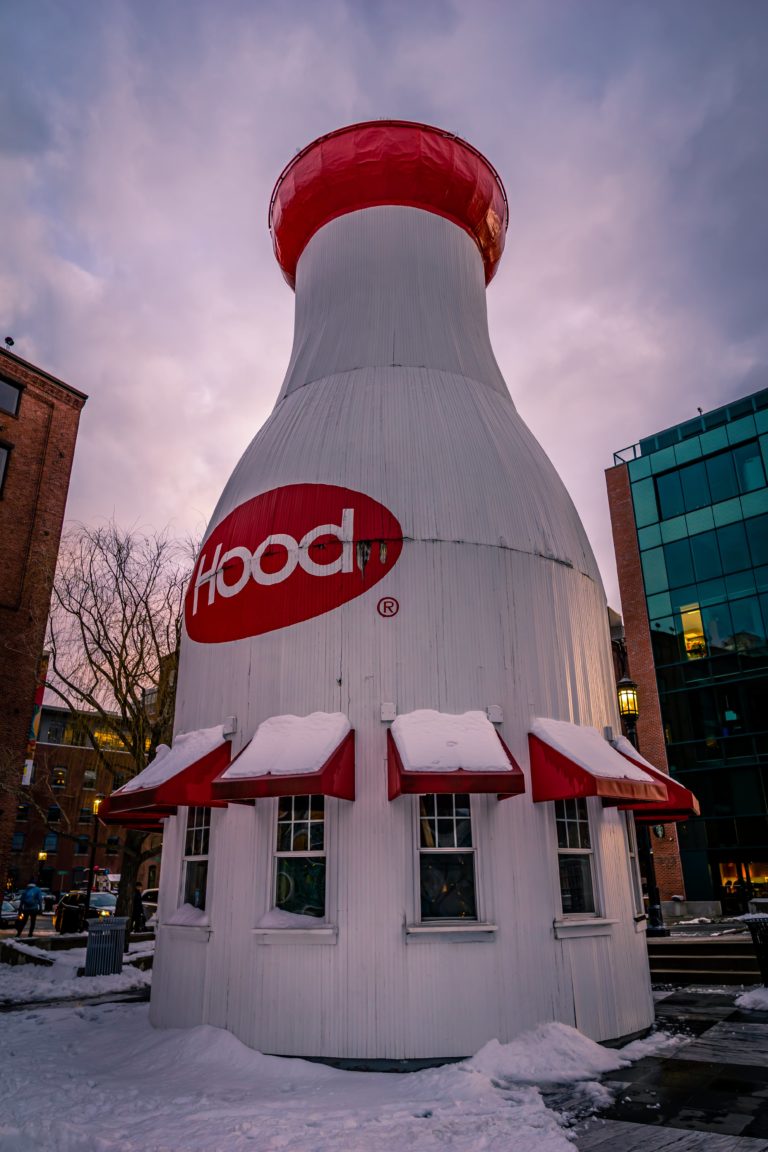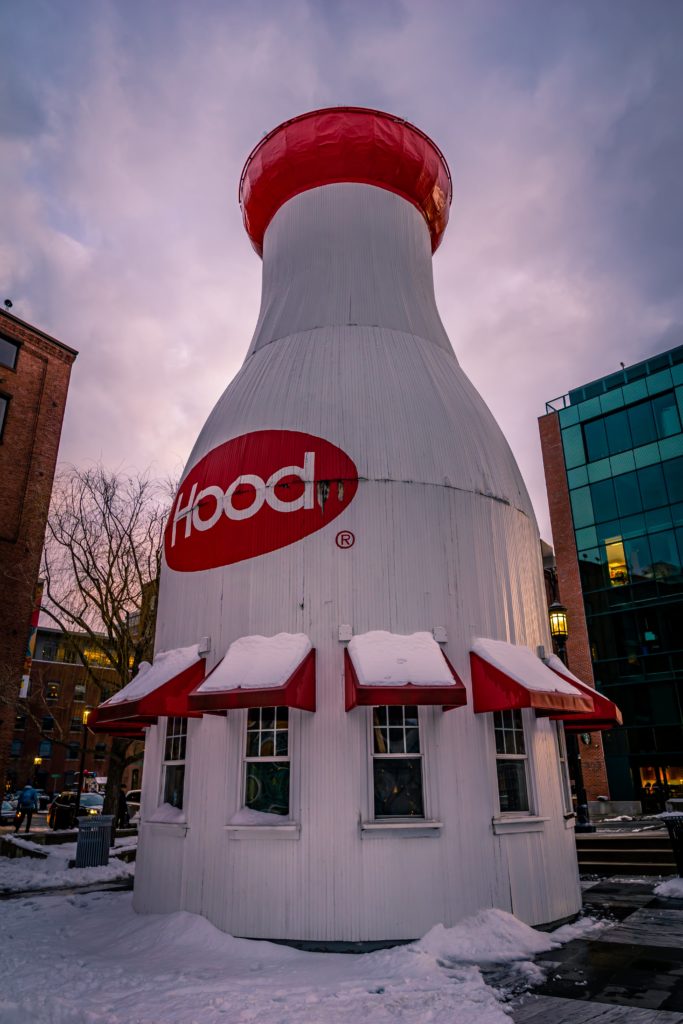 | | |
| --- | --- |
| Parking | 2 |
| Proximity to Route | 2 |
| Amenities | 2 |
| Hours | 1 |
| Uniqueness | 2 |
Score: 9 points
The Hood Milk Bottle is a beloved and iconic landmark in Boston, located just 15 minutes from Boston Logan Airport. At an impressive 40 feet tall and weighing a staggering 15,000 pounds, this monumental structure has attracted the attention of residents and visitors alike. Built in 1930 as a sign for the Hood Milk Company's ice cream stand, it captures the imagination of all who look at it.
With its steel frame covered in porcelain enamel, the Hood Milk Bottle boasts a truly unique appearance. Stepping inside this giant container, visitors are transported into a world where they can envision life as a drop of milk. Beyond its inherent charm as a quirky photo opportunity, the Hood Milk Bottle also serves as a poignant reminder of Boston's rich industrial heritage and the city's significant role in the economy.
Food options:
In 2022, Glenn's Kreme and Kone opened a satellite location within the Hood Milk Bottle, meaning the Hood Milk Bottle Ice Cream Stand is once more open for business!
Nearest Charter Bus Rentals: Boston
---
#14: Storm King Art Center (9 points)
| | |
| --- | --- |
| Parking | 2 |
| Proximity to Route | 1 |
| Amenities | 3 |
| Hours | 1 |
| Hours | 2 |
Score: 9 points
Storm King Art Center, located in the picturesque Hudson Valley, is a 500-acre outdoor museum that offers a unique and captivating art experience. With its expansive grounds, visitors can explore the rolling hills and pristine wilderness while admiring a diverse collection of sculptures by world-renowned artists. From minimalist installations to monumental creations, there is something for every art enthusiast to appreciate.
Throughout the year, Storm King Art Center provides engaging activities and amenities for visitors to enjoy. Take advantage of free audio tours to gain deeper insights into the artwork, or hop on the tram service for a convenient and scenic tour of the grounds. If you prefer a more leisurely experience, indulge in picnics amidst the serene environment or satisfy your hunger with delicious snacks. For adventure seekers, embark on hikes to explore hidden nooks or attend enlightening talks to broaden your understanding of art and its significance.
Accessibility is a top priority at Storm King. The center is designed to accommodate individuals with varying needs, offering wheelchair-friendly paths and facilities, as well as resources for those with hearing or vision concerns. Furthermore, Storm King Art Center takes pride in its commitment to eco-friendly practices and sustainability, setting an example as a distinguished cultural landmark.
Immerse yourself in the beauty of Storm King Art Center and discover the harmonious blend of art, nature and culture that awaits you.
Food options:
Storm King Art Center's Outdoor Cafe keeps the same hours as the center itself and offers a full menu of seasonal and locally sourced sandwiches, salads, snacks, treats and drinks, including wine and beer. The Cafe Cart and Food Truck offer specialty sandwiches and hot dogs and are both open only on weekends.
Nearest Charter Bus Rentals: New York City
---
#13: International UFO Museum & Research Center (9 points)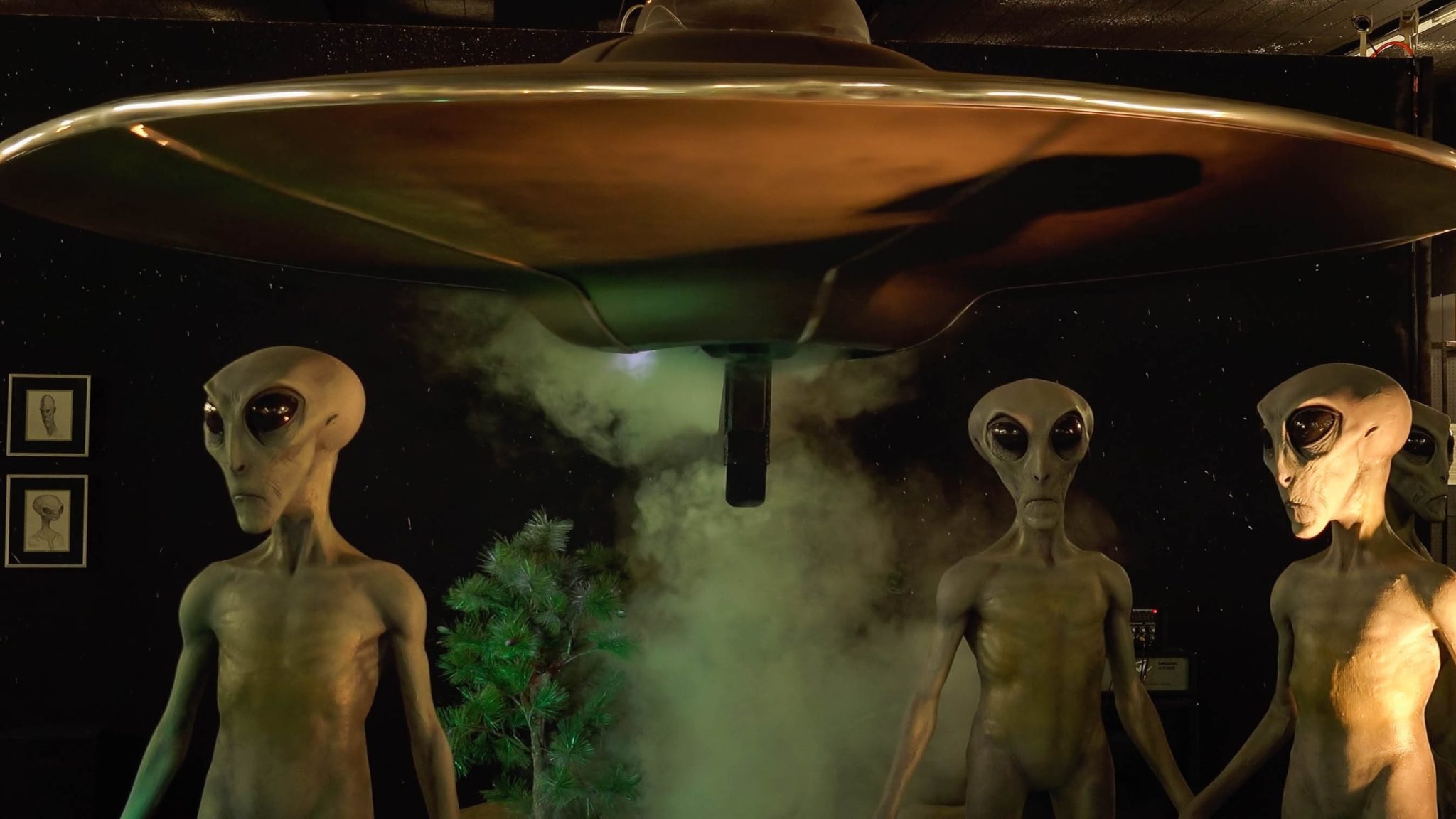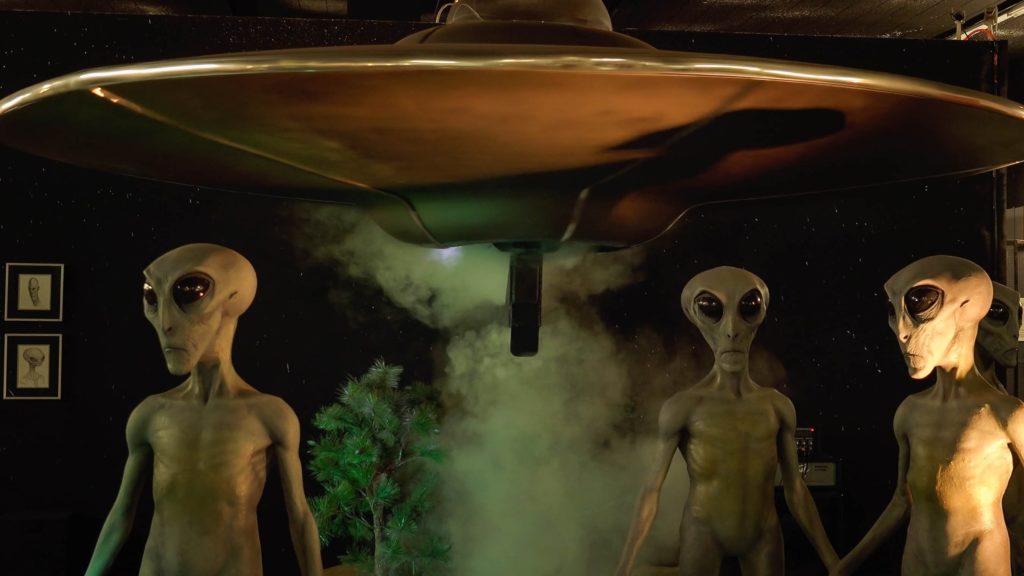 | | |
| --- | --- |
| Parking | 2 |
| Proximity to Route | 1 |
| Amenities | 2 |
| Hours | 2 |
| Uniqueness | 2 |
Score: 9 points
The International UFO Museum & Research Center in Roswell, New Mexico, is a must-visit destination for both UFO enthusiasts and those intrigued by the possibility of extraterrestrial life. Established in 1991, this renowned museum attracts over 40,000 visitors annually. Its remarkable exhibits offer valuable insights into the rich history of UFOs and notable incidents like the infamous Roswell Incident.
Alongside the captivating displays, the museum hosts various engaging events throughout the year, including lectures, film screenings and a highly anticipated annual festival. Visitors can also explore the museum's comprehensive library and research archive, which houses a vast collection of books, articles and documents related to UFOs and extraterrestrial life.
Food options:
Both 0.1 miles away, Sara's Cafe & Grill offers delicious Mediterranean cuisine in the heart of Roswell and Laura's Cafe boasts local southwestern fare.
---
#12: International Cryptozoology Museum (9 points)
| | |
| --- | --- |
| Parking | 2 |
| Proximity to Route | 1 |
| Amenities | 2 |
| Hours | 2 |
| Uniqueness | 2 |
Score: 9 points
The International Cryptozoology Museum is an exceptional destination that is entirely devoted to the study of cryptids. With a wide range of exhibits that draw from eyewitness reports, folklore and legends, this museum offers an extensive collection for enthusiasts to explore. Visitors have the opportunity to engage in interactive, hands-on activities, conduct experiments and even participate in outdoor expeditions, all of which aim to provide a comprehensive understanding of the field of cryptozoology.
Conveniently located in downtown Portland, the International Cryptozoology Museum combines education, exploration and entertainment into one captivating package. This must-see attraction is a haven for individuals who are intrigued by the mysterious and awe-inspiring aspects of the natural world.
Food options:
Located a half mile away, Tony's Donuts offers delicious fresh-baked goods.
---
Silver Medalists
#11: Betty's Diner (10 points)
| | |
| --- | --- |
| Parking | 1 |
| Proximity to Route | 3 |
| Amenities | 3 |
| Hours | 1 |
| Uniqueness | 2 |
Score: 10 points
Betty's Diner in Livingston, Montana is a hidden gem that deserves a spot on your must-visit list. With over two decades of serving hearty meals and fantastic desserts, this family-owned establishment offers a memorable dining experience. The diverse menu, including daily specials with creative twists on traditional favorites, ensures that your cravings will be satisfied.
The friendly staff, retro-inspired ambiance and affordable prices further enhance the overall value of dining at Betty's Diner. It's not just a meal; it's an opportunity to step back in time and become part of the Americana culture.
By supporting this beloved local business, you'll not only enjoy great food but also contribute to the close-knit community. Whether you're passing through Montana or staying in Livingston, Betty's Diner's conveniently located spot makes it a perfect choice for a delightful dining experience.
---
#10: Fort Cody Trading Post (10 points)
| | |
| --- | --- |
| Parking | 2 |
| Proximity to Route | 2 |
| Amenities | 2 |
| Hours | 2 |
| Uniqueness | 2 |
Score: 10 points
The Fort Cody Trading Post in Nebraska offers a captivating Wild West experience that caters to a wide range of interests. Established in 1963, this trading post holds a special place along the historic Oregon Trail and pays homage to the renowned Buffalo Bill. Step back in time and immerse yourself in the rich history as you explore the museum, delving into fascinating details about Buffalo Bill.
For outdoor enthusiasts, the Trading Post provides an opportunity to witness a majestic buffalo herd, enjoy the interactive petting zoo, or take a thrilling helicopter tour, offering breathtaking views of the scenic surroundings. Meanwhile, shoppers can delight in an extensive selection of merchandise while relishing the chance to watch authentic Old West reenactments. Experience the excitement at the shooting gallery or dine at the onsite restaurant, savoring a taste of the Old West.
To ensure a truly memorable visit, the Fort Cody Trading Post also offers a miniature train ride for visitors of all ages, making it an enjoyable experience for families. Let your little ones create lasting memories at the Homestead playground while you indulge in the nostalgia and charm that defines this one-of-a-kind destination.
Food options:
Fort Cody Trading Post offers snacks and treats, but if you're looking for a sit-down meal, Penny's Diner and Perkin's Restaurant and Bakery are both 0.2 miles away and offer a slice of homemade Nebraskan delights.
Nearest Charter Bus Rentals: Omaha
---
#9: Marietta Diner (11 points)
| | |
| --- | --- |
| Parking | 2 |
| Proximity to Route | 2 |
| Amenities | 3 |
| Hours | 3 |
| Uniqueness | 1 |
Score: 11 points
Marietta Diner, located in the heart of Georgia, is a beloved institution that offers a delightful dining experience. With a menu featuring a wide variety of dishes from breakfast classics to juicy burgers and an impressive dessert selection, Marietta Diner ensures that every diner's cravings are satisfied. What sets this diner apart is its commitment to quality, as all dishes are made from scratch with the highest quality ingredients. One can expect generous portions and the signature Southern hospitality that makes it a must-visit destination.
Whether you're a breakfast lover, health-conscious, a fan of classic burgers, or seeking vegetarian options, Marietta Diner has something for everyone. Their extensive breakfast menu serves up fluffy pancakes, omelets and the famous stuffed French toast. The menu also boasts lighter options like the Greek Salad with grilled chicken, robust burgers served with hand-cut fries and a delicious veggie burger for plant-based eaters. To top it all off, their dessert display is an impressive sight, featuring various cakes, pastries and pies that will satisfy any sweet tooth. With its diverse menu and tempting offerings, Marietta Diner is sure to provide a memorable dining experience for all.
Nearest Charter Bus Rentals: Atlanta
---
#8: Cadillac Ranch (11 points)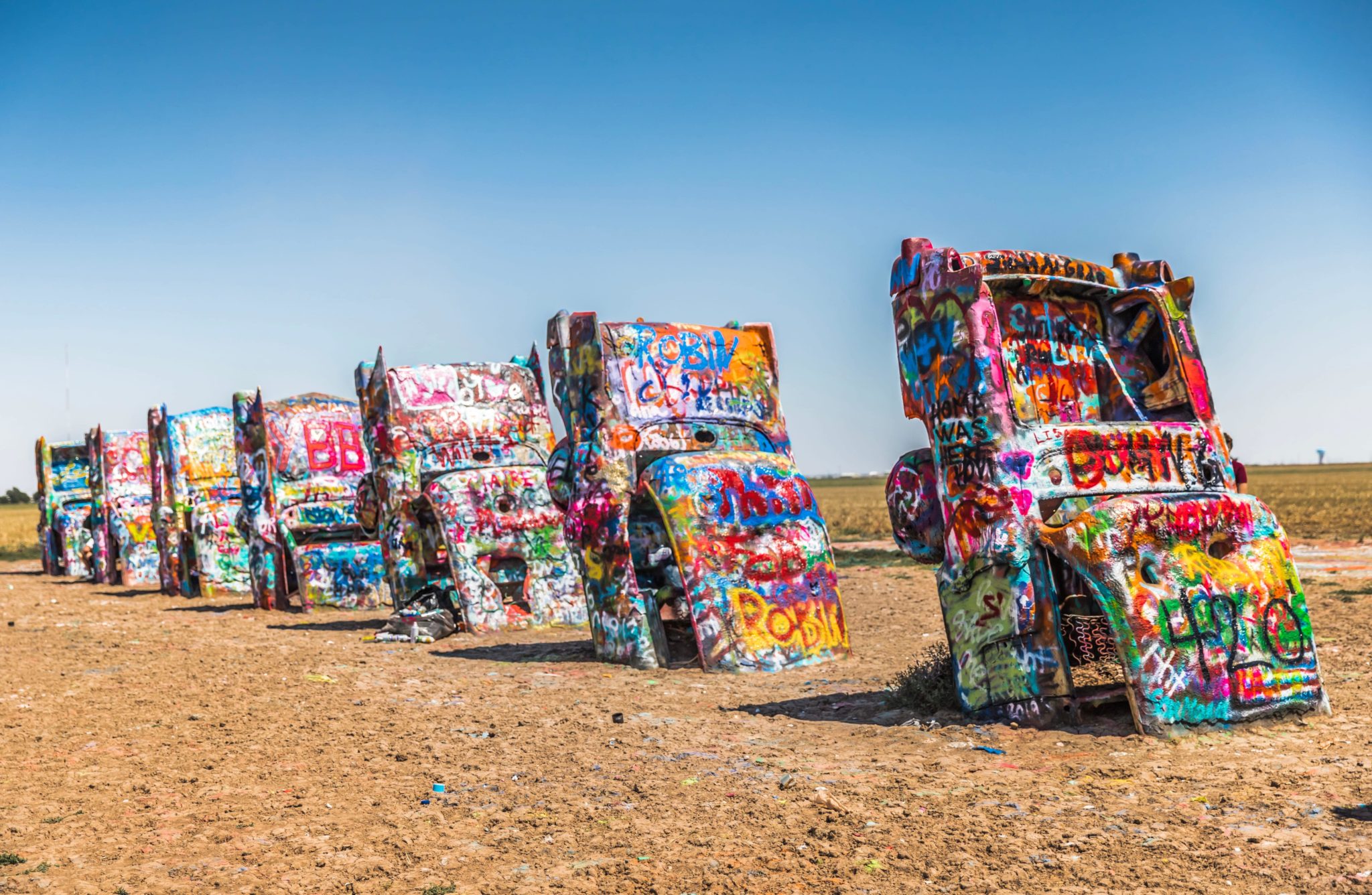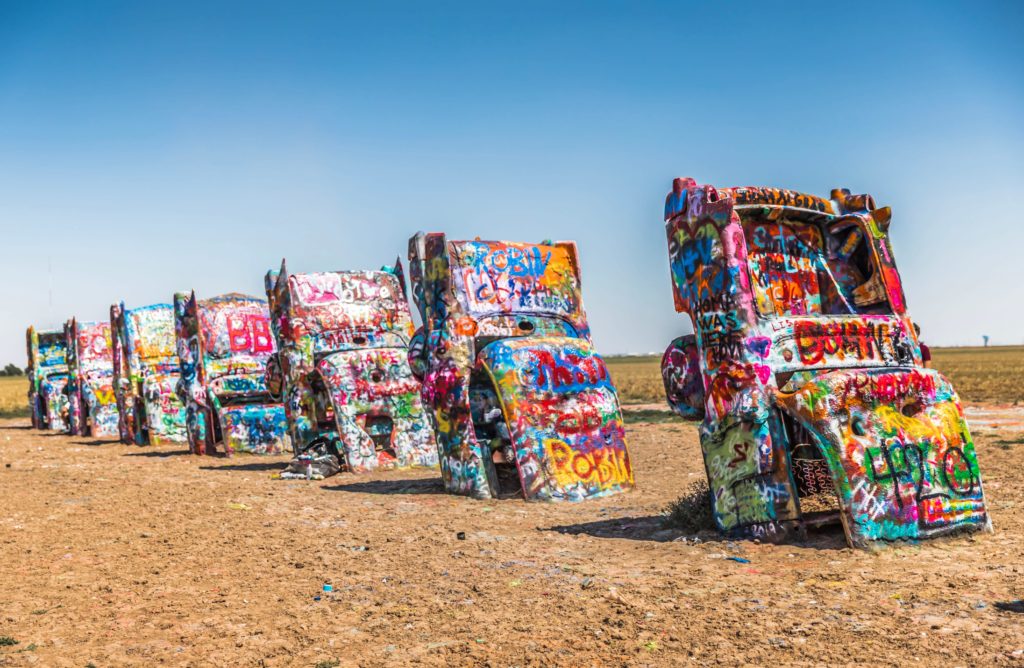 | | |
| --- | --- |
| Parking | 1 |
| Proximity to Route | 3 |
| Amenities | 1 |
| Hours | 3 |
| Uniqueness | 3 |
Score: 11 points
Located in Amarillo, Texas, along Route 66, Cadillac Ranch is a mesmerizing art installation that features ten classic Cadillac cars buried nose-first in the ground. Beyond its striking appearance, Cadillac Ranch offers a unique opportunity for visitors to become a part of the artwork themselves. Each visitor is encouraged to leave their mark on the colorful landscape by adding their own designs and messages through graffiti. This interactive element ensures that the artwork on the Cadillacs is constantly changing as the influx of visitors continues to repaint and revamp them.
When visiting Cadillac Ranch, it is recommended to bring spray paint so that you can leave your own personal touch. However, it is important to exercise respect for the artwork and the experience of others by avoiding the use of inappropriate or offensive images or language. A visit to Cadillac Ranch is not just an ordinary stop, but an essential part of any Texas experience–so grab a can of spray paint and join the creative journey!
Food options:
Located right on the highway, the nearest restaurant to Cadillac Ranch is Fire Slice Pizzeria, a local favorite 3.7 miles away.
Nearest Charter Bus Rentals: Plano, Dallas
---
#7: Enchanted Highway Sculptures (11 points)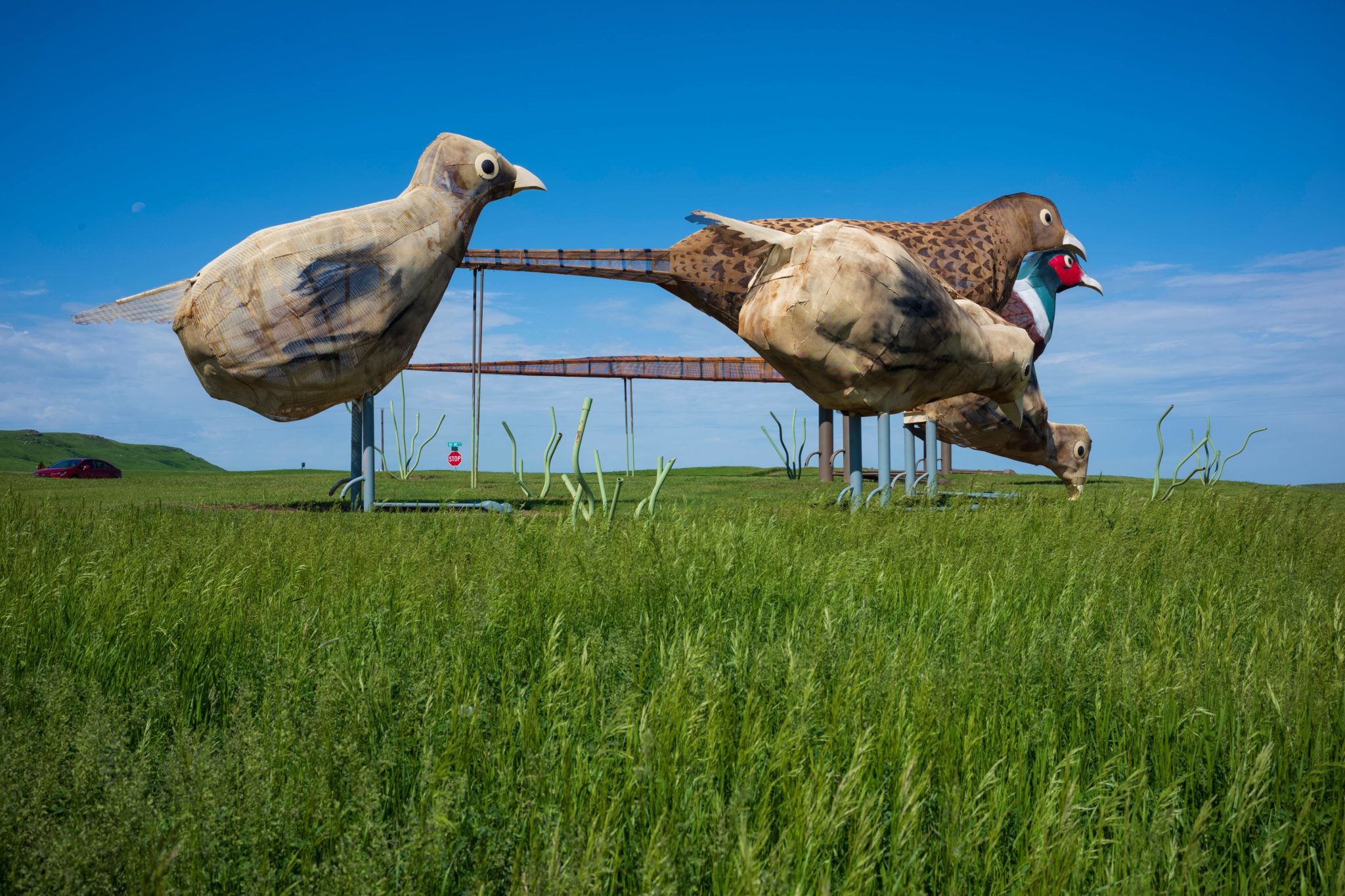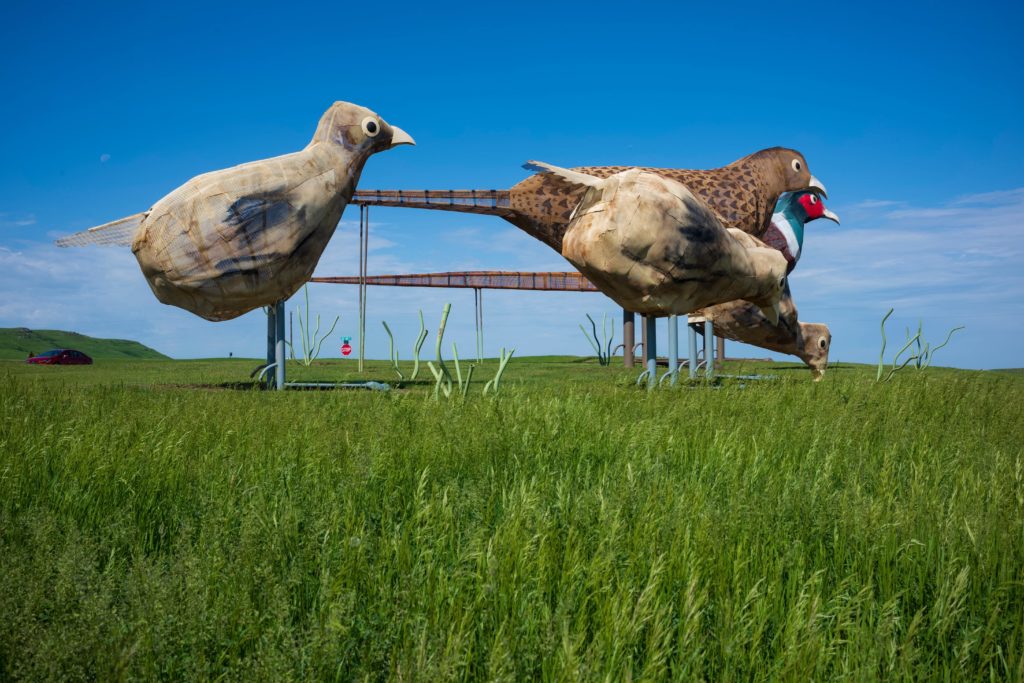 | | |
| --- | --- |
| Parking | 1 |
| Proximity to Route | 3 |
| Amenities | 1 |
| Hours | 3 |
| Uniqueness | 3 |
Score: 11 points
Discover the awe-inspiring Enchanted Highway sculptures in North Dakota, the world's largest collection of scrap metal sculptures. Created by artist Gary Greff, these magnificent creations are strategically placed along a 32-mile stretch, beckoning travelers to explore the rural beauty of the region. Each sculpture tells a unique story, showcasing whimsical and imaginative designs that reflect the spirit of North Dakota.
Embark on the Enchanted Highway tour, starting in Regent and ending in Gladstone, and immerse yourself in the breathtaking drive through rolling hills, expansive prairies and vast skies. Along the way, you'll encounter iconic sculptures like Geese in Flight, Deer Crossing, Grasshoppers in the Field and the enchanting Tin Family, capturing the essence of the Midwest. Don't miss the opportunity to connect with nature, appreciate the scenic backdrop, and experience this one-of-a-kind artistic journey in North Dakota.
Food options:
The Enchanted Highway is a 32-mile stretch, broken only by the beauty of these scrap metal sculptures.
---
#6: Bronner's Christmas Wonderland (11 points)
| | |
| --- | --- |
| Parking | 2 |
| Proximity to Route | 2 |
| Amenities | 3 |
| Hours | 2 |
| Uniqueness | 2 |
Score: 11 points
Bronner's Christmas Wonderland, founded by Wally Bronner in 1945, reigns as the world's largest Christmas store, occupying a whopping 27-acre space. As you step inside this enchanting wonderland, prepare to be dazzled by a grand showroom that boasts an extensive array of decorations. Themed trees, elegant ornaments, exquisite garlands and magnificent wreaths are just a small taste of what awaits you. But the magic goes beyond mere decorations – immerse yourself in special events like Santa visits and awe-inspiring Nativity scenes, available throughout the months of November and December.
For those seeking an unforgettable experience, there are various dining and accommodation options in close proximity. The Maple Grille, Frankenmuth Brewery, Bavarian Inn Lodge and Drury Inn & Suites Frankenmuth offer impeccable choices, with enticing vacation packages to choose from. To ensure a delightful visit, consider a weekday trip early in the season, allowing you to explore this winter wonderland with ease. Dress comfortably and explore beyond the dazzling decorations – you may stumble upon unique and unforgettable gifts that will make your Christmas truly special.
Food options:
0.2 miles away is the Elf Hollow Cafe, a cozy cafe that would feel right at home in the North Pole. Just 0.6 miles away is Norlins, a cajun cafe.
Nearest Charter Bus Rentals: Detroit
---
#5: Wall Drug Store (11 points)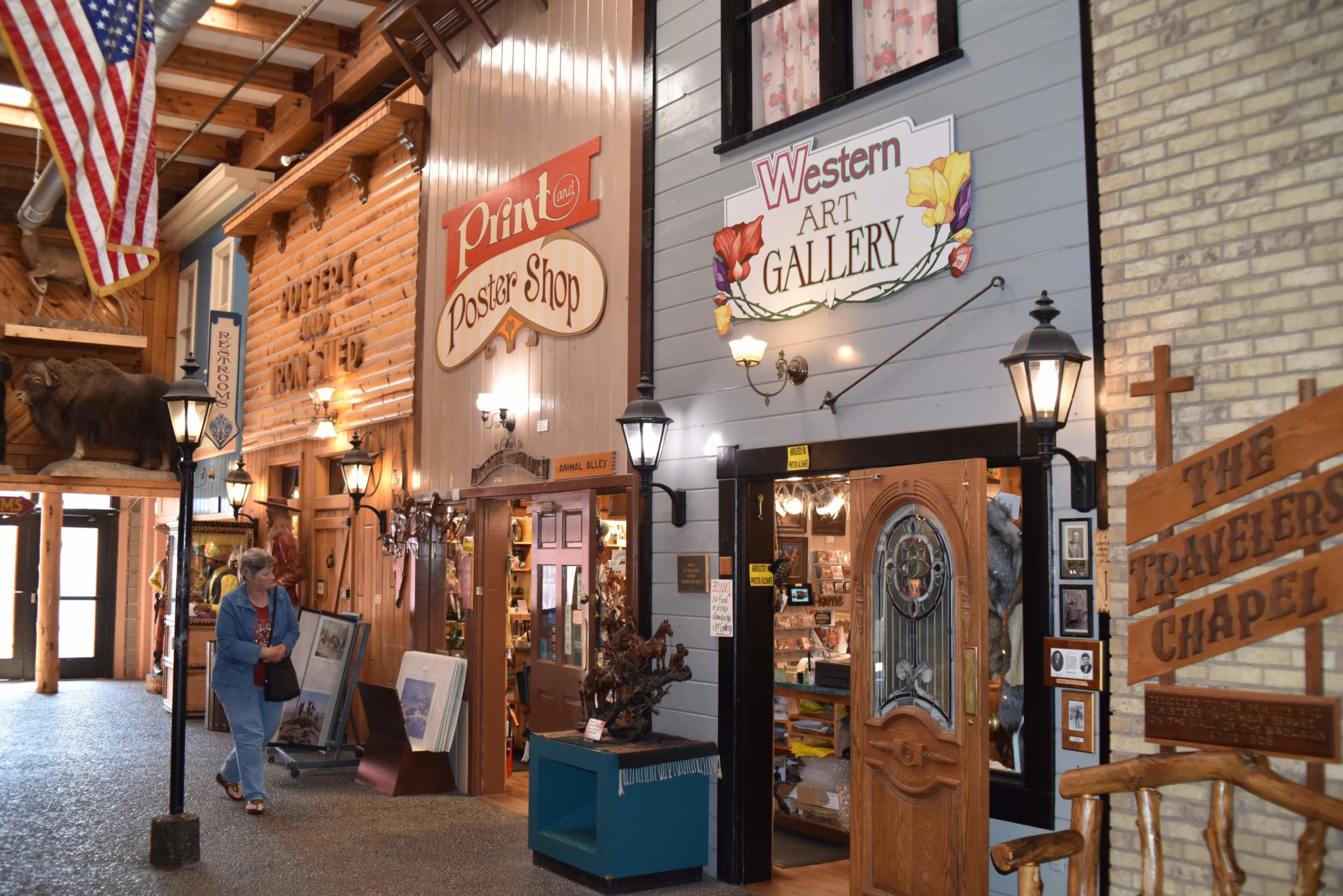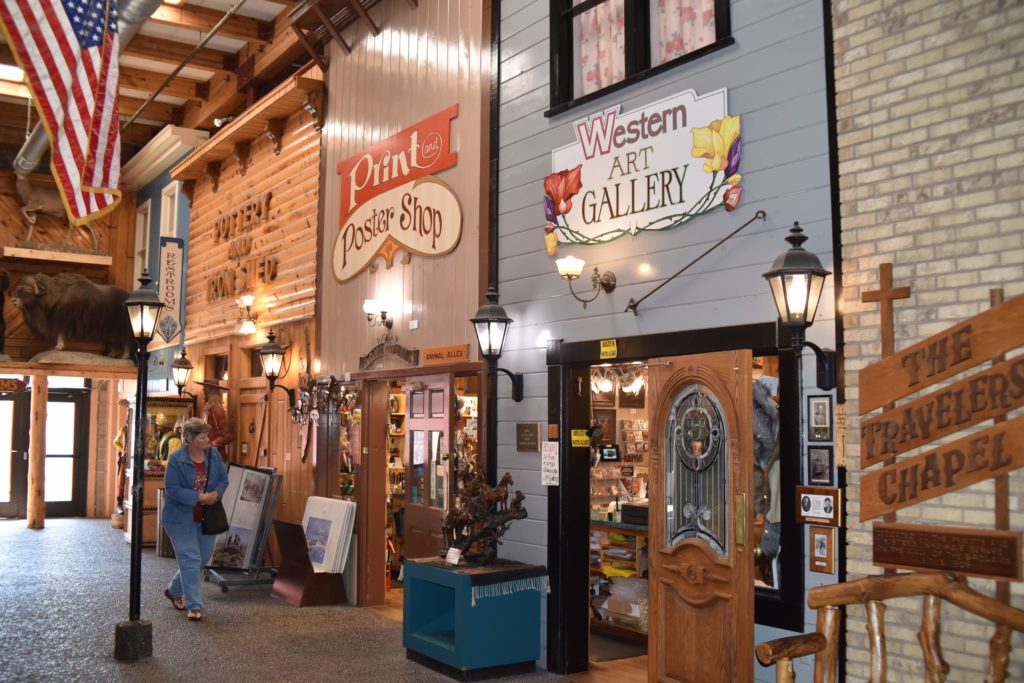 | | |
| --- | --- |
| Parking | 3 |
| Proximity to Route | 1 |
| Amenities | 3 |
| Hours | 2 |
| Uniqueness | 2 |
Score: 11 points
Established in 1931, Wall Drug Store in South Dakota has garnered a well-deserved reputation. From the iconic signage to the invigorating free ice water, this place exudes charm and excitement.
Take a stroll through the store and discover a treasure trove of shopping options. From cowboy gear to gifts and souvenirs, there's something for everyone. But the thrill doesn't stop there. Mechanical singing cowboys, a donut factory and an old-fashioned pharmacy await to captivate and entertain.
Outside, explore the Dinosaur Park and unwind in the family-friendly backyard, complete with picnic areas and a playground. And as if that wasn't enough, inside you'll find affordable dining options and enticing coffee shops.
Whether you're seeking a memorable family excursion or in search of that perfect travel memento, Wall Drug Store is the place to be. With free admission and a vibrant atmosphere, it's an experience that will leave you wanting more.
Food options:
Located on premises, Wall Drug Store's Western Art Gallery Restaurant seats more than 500 people and is known for its famous homemade donuts and 5-cent coffee. Make sure you leave room for dessert and stop by the Soda Fountain Ice Cream Shop after dinner.
---
#4: Abita Mystery House (11 points)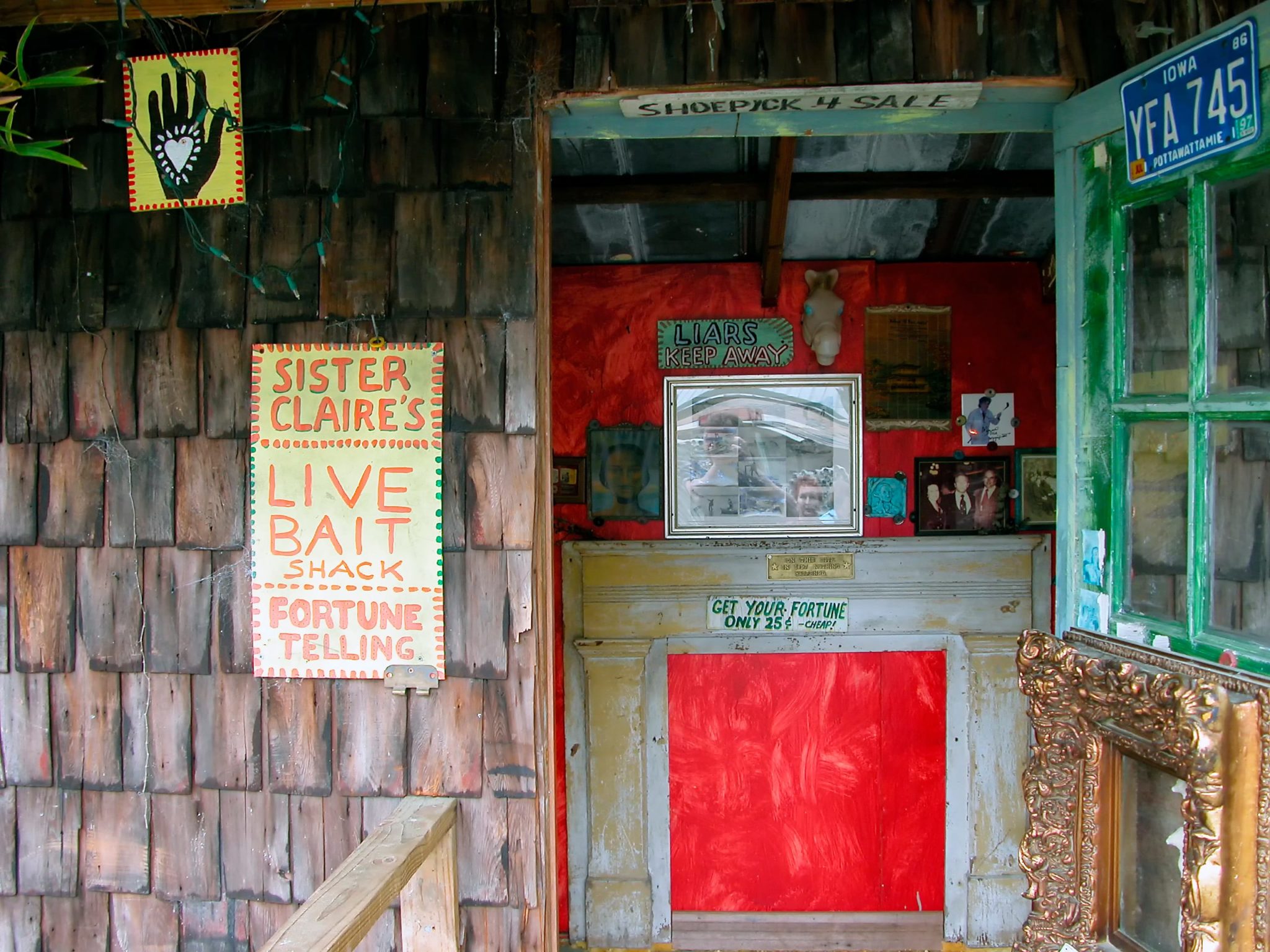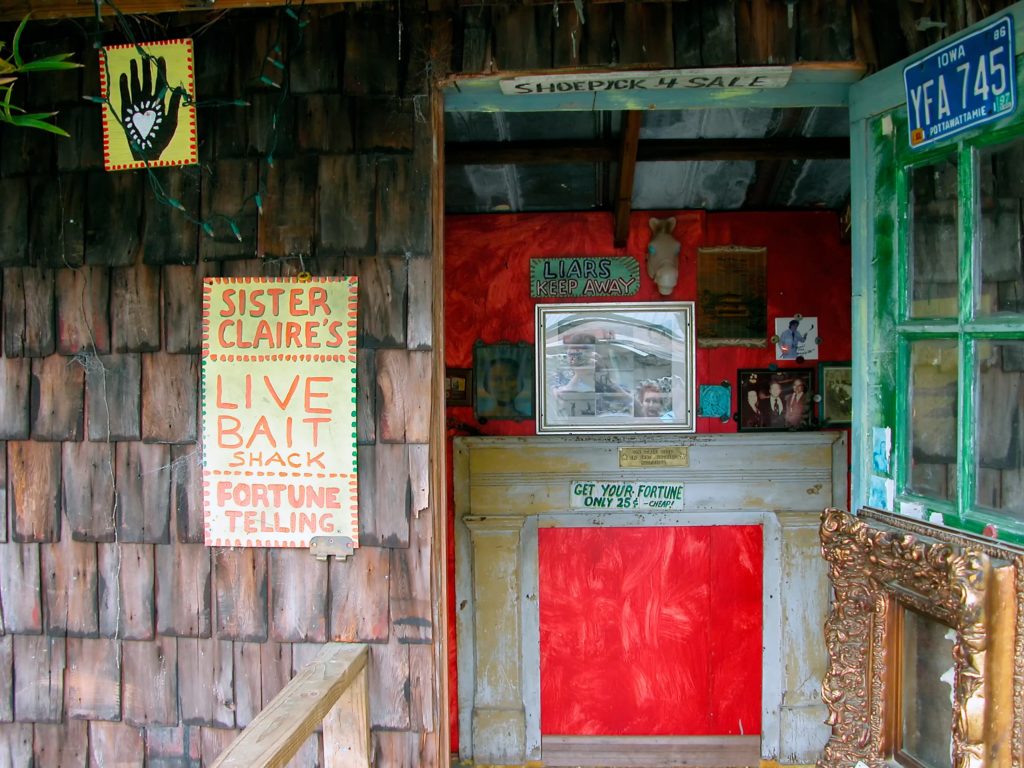 | | |
| --- | --- |
| Parking | 2 |
| Proximity to Route | 2 |
| Amenities | 3 |
| Hours | 2 |
| Uniqueness | 2 |
Score: 11 points
The Abita Mystery House in Abita Springs, Louisiana is a captivating attraction that intrigues visitors from around the globe with its collection of oddities and curiosities. Boasting over 50,000 artifacts, this unique museum is home to a variety of fascinating exhibits, including vintage toys, Mardi Gras memorabilia, antique dental equipment and homemade inventions. One of the most captivating features is the "House of Shards," where fragments of broken glass and pottery collected from local forests are on display.
But the Abita Mystery House is more than just a collection of oddities. In addition to its permanent displays, the museum also offers rotating exhibits that showcase the incredible work of local artists. This ensures that each visit to the Abita Mystery House offers a fresh and exciting experience to its visitors. With its affordable admission price and unparalleled offerings, a trip to the Abita Mystery House is a must for any traveler exploring the beauty and charm of Louisiana.
Food options:
Just 300 feet away is the Abita Springs Cafe, and 0.2 miles away is Mama D's Pizza.
Nearest Charter Bus Rentals: New Orleans
Gold Medalists
#3: Unclaimed Baggage (12 points)
| | |
| --- | --- |
| Parking | 2 |
| Proximity to Route | 2 |
| Amenities | 3 |
| Hours | 2 |
| Uniqueness | 3 |
Score: 12 points
Unclaimed Baggage in Scottsboro, Alabama is not just your ordinary retail store. It is a treasure trove of lost and abandoned luggage, offering incredible discounts on a wide variety of items. From stunning designer handbags to high-end watches and jewelry, as well as top-of-the-line camera equipment, you can find it all at Unclaimed Baggage, with discounts of up to a remarkable 80% off.
But Unclaimed Baggage offers more than just great deals. It also hosts the captivating 'Luggage Museum', a one-of-a-kind attraction that takes you on a fascinating journey through the history of luggage, from ancient times to the modern day. With its unique exhibits and displays, the museum offers a glimpse into the evolution of travel and the stories behind the lost possessions.
Not only does Unclaimed Baggage provide an exceptional shopping experience, but it also holds a special offer for those who have lost their belongings. With proof of ownership, the rightful owners can reclaim their items free of charge, providing a ray of hope and relief.
With its exceptional reputation and media recognition in notable publications like Forbes and USA Today, Unclaimed Baggage has become a destination for travelers from all around the world. Don't miss out on this thrilling experience that should definitely be on everyone's travel itinerary. Visit Unclaimed Baggage and discover a world of amazing deals and captivating history all under one roof.
Food options:
Located on the main floor of Unclaimed Baggage's secondhand metropolis, Cups Cafe serves Starbucks coffee as well as barbecue, sweets, baked goods, Dippin' Dots ice cream and award-winning chicken salad.
---
#2: Oregon Vortex Mystery House (13 points)
| | |
| --- | --- |
| Parking | 3 |
| Proximity to Route | 3 |
| Amenities | 3 |
| Hours | 1 |
| Uniqueness | 3 |
Score: 13 points
The Oregon Vortex Mystery House, situated near Gold Hill, Oregon, has captivated tourists for over a century. This iconic attraction resides on a peculiar piece of land renowned for its unconventional characteristics and unexplained motions. Delve into the enigmatic allure of this site through engaging guided tours and interactive experiments. Thrill-seekers and science enthusiasts alike can revel in the opportunity to witness and personally experience extraordinary phenomena at the one-of-a-kind Oregon Vortex Mystery House. Discover the secrets concealed within its walls and unlock the mysteries that have intrigued visitors for generations.
Food options:
0.8 miles away is The Tea Pot on Wheels, a charming teahouse and creperie.
---
#1: Iowa 80 Truck Stop (15 points)
| | |
| --- | --- |
| Parking | 3 |
| Proximity to Route | 3 |
| Amenities | 3 |
| Hours | 3 |
| Uniqueness | 3 |
Score: 15 points
Iowa 80 Truck Stop stands as a truly remarkable travel destination, proudly holding the title of the world's largest truck stop. Spanning across a massive 220 acres, it attracts an impressive 5,000 customers each day. This expansive stop offers an array of enticing features to cater to every traveler's needs and preferences.
Indulge in a wide range of dining options that cater to various tastes, from mouthwatering comfort food that evokes nostalgia from the 50s to delectable, upscale steaks that promise an elevated culinary experience. For those looking to shop, the Walcott Iowa 80 Gift Shop presents a treasure trove of offerings, including clothing, accessories, electronics and souvenirs, ensuring that there is something for everyone.
But the Iowa 80 Truck Stop experience doesn't end there. Immerse yourself in entertainment at the 60-seat movie theater or challenge your friends to a game of air hockey in the Game Room, which is also equipped with enticing video games. Additionally, the truck stop hosts regular customer appreciation events to show their gratitude to loyal patrons.
Travelers can also enjoy a range of convenient amenities such as clean restrooms, well-maintained shower facilities, laundry services, a barbershop and even health services. Safety is of utmost importance at Iowa 80 Truck Stop, with well-lit areas, diligent patrolling staff and state-of-the-art surveillance cameras ensuring peace of mind for all visitors.
Experience the epitome of a truck stop that seamlessly combines convenience, entertainment and top-notch amenities for an unparalleled travel experience.
---
Elevated Transportation Solutions for Elevated Roadtrips
These roadstops add a dash of fun and excitement to your journey, making the ride just as enjoyable as the destination. Whether you're a fan of the quirky, the classic or the downright strange, there's a road stop on this list for everyone. So why not redefine your charter bus experience and make these pit stops a part of your itinerary? After all, the journey matters just as much as the destination.
Get a Quote