Elisabeth Middleton Brings East Coast Tenacity To CharterUP's Customer Success Team
Published June 26, 2023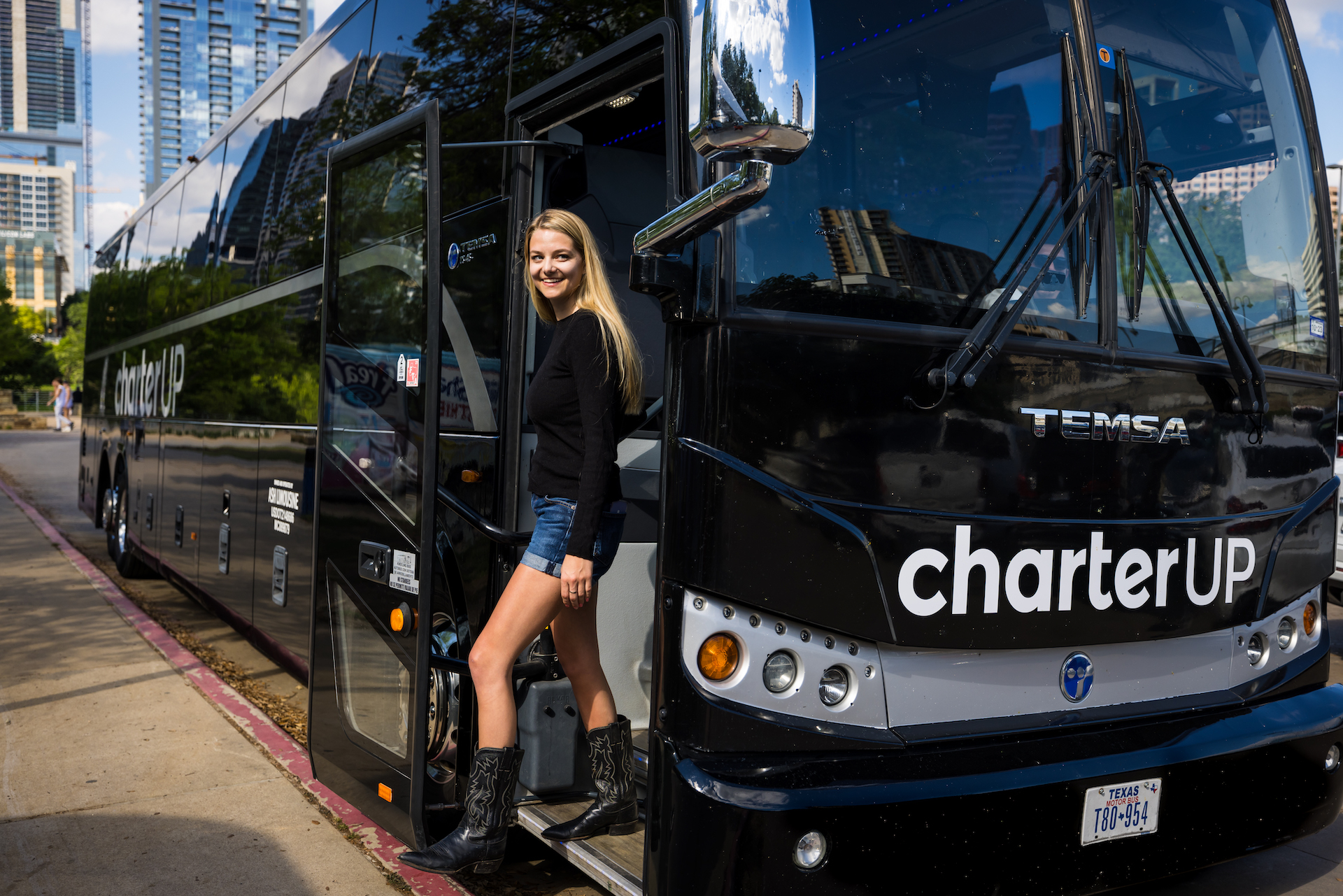 As a Customer Success Account Manager based in Austin, Elisabeth Middleton has come a long way from her metro New York beginnings.
But it was her upbringing that gave Elisabeth the ambition to join CharterUP's mission to build a better future for group travel.
"I have that East Coast drive. I'm a proud Jersey girl with some NYC tenacity," she said. "I wanted to break free from the familiarity of my surroundings and embrace new challenges, which is probably why I am so passionate about the work CharterUP is doing to push boundaries in the industry."
After a fruitful job search on Indeed, Elisabeth discovered a position at CharterUP and was excited by the company's mission. Elisabeth had traveled by charter bus a few times in high school and college, and a friend's family owned a party bus company – experiences that heightened her understanding of the market's old-school operations. 
Her background in technology helped her recognize the potential for revolutionizing the industry by automating processes and providing customers with instant quotes, which is now a core feature at CharterUP.
"At CharterUP, I'm sending customers an email with their quotes and itinerary as soon as they finish describing their trip, " she said.
Elisabeth's role at CharterUP has evolved over time, marked by her determination and adaptability. She recounts how she began in sales in January, and by June of the same year transitioned into a role on the partnerships team.
"During that quarter my team was able to onboard 120 new partners," Elisabeth said. "We broke a record."
Elisabeth's time on the partnerships team allowed her to make some notable contributions to the company's processes. Not only did she author a manual for partner support, she also brainstormed ideas to prevent trip cancellations and enhance the customer experience.
 "I was allowed to innovate and bring ideas straight to the top," she said. "Not only did leadership listen to my proposals, they actually allowed me to help implement them."
Working on the partnership side of CharterUP's business and speaking with hundreds of independent operators, Elisabeth developed a unique understanding of bus operations. That perspective is helpful now that she has moved back to the sales side of CharterUP.
Elisabeth was hired as an entry-level Customer Success Account Manager, but has now moved into an upper level position that allows her to work on more complex accounts and contribute strategies to reduce churn and develop customer loyalty.

After working closely with the independent bus companies that power CharterUP's marketplace, Elisabeth can speak personally about how CharterUP holds all operating partners to high standards.
Elisabeth often jokes about how the art of forming relationships at CharterUP requires the finesse of an expert matchmaker.
In sales, she works to build a reservation that is sure to convince a customer to 'swipe right' as if it were a dating app, pairing them with the bus operator best equipped to meet the requirements.
On the other hand, relationships with operating partners can mirror the complexities of a marriage. Her partnership work required a delicate balance of fostering mutual trust and respect while being prepared to hold operators accountable for less than stellar service.

"It's about balancing everyone's needs and changing things when they don't fit," she said.
In the last month, Elisabeth worked on-site at an enterprise customer's campus, a shift that has given her a newfound appreciation for the grit and resourcefulness required to execute complicated contracts and coordinate operations on the ground. 
"On paper it's like, 'Oh, it's a few shuttle routes,' she said. "But it can get really complicated and the coordination it takes to actually pull off those contracts is huge."
Throughout her journey, one thing has remained constant: Elisabeth's desire to excel. 
"I want to be a top contributor here. I want to use my skills, my initiative and my goal orientation to help build a great company," she said. 
It's an attitude she recognizes in all of her colleagues at CharterUP: "We're making things happen. We're relentless."
---
Charting Our Course introduces the team members helping to build a better future for group travel. The series will showcase the passion and talent of our team and the role they play in driving our mission.